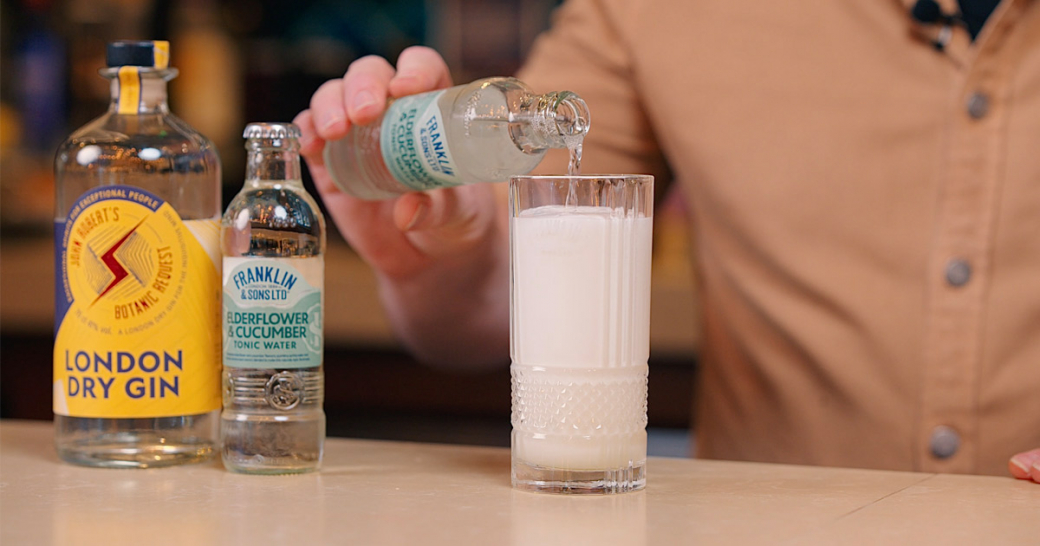 Mixer
Franklin & Sons launch 'Drinks In Trade' vodcast series
On December 5th, Franklin & Sons celebrates the remarkably independent and vibrant hospitality industry with the launch of its new vodcast series 'Drinks In Trade.' The series, which visits a different city in each episode, features open and honest conversations with industry legends and local drinks businesses, spanning several topics from developing careers within hospitality, cocktail concepts and methods, mental well-being, to challenges facing these fiercely independent businesses.
The 45-minute episodes produced by the pioneering & independent tonic and mixer creators Franklin & Sons, has launched on YouTube, and the franklinandsons.co.uk Drinks Collective trade hub. This bi-monthly series is hosted by seasoned drinks consultant Tim Garratt, (formerly Shaker Group) who has lived and breathed the hospitality industry over the last two decades.
Split into 3 key segments, each episode begins by visiting the industry legend's establishment, where Tim explores their career, achievements, inspirations & concept exploration and how they stepped into the hospitality industry. Tim then heads back to the Franklin & Sons bar for the meet the distiller segment and finishes off with a creative serve, using recipes and flavours explored throughout the segments, paired with the outstanding spirit explored in the episode.
For the first episode, the team head to Leeds, with industry legend Tom Kirk at the award-winning bar, Below Stairs, (listed in 2022's Top 50 Cocktail Bars) and Ben Peel, co-founder of John Robert's Botanic Request, previously NPD and innovation manager at Sipsmith. Ben champions liquid innovation, using pioneering techniques and approaches to flavour extraction, such as ultra-sonic sound waves to effectively extract flavour during their distilling process.
This first episode of 'Drinks In Trade' is available to watch on Franklin & Sons' YouTube channel and the Franklin & Sons Drinks Collective Hub, from December 5th.
Tom Singleton, Brand Director at Franklin & Sons: "Franklin & Sons are thrilled to support the UK's exciting hospitality scene, by showcasing industry legends, experts, and friends, and sharing their expertise through our new Drinks In Trade vodcast.
"We're truly honoured to have a great network that elevates, supports and celebrates 'best-in-class' within the drinks industry. As an independent business focused on innovation, we enjoy talking to fellow industry pioneers about their inspirations, approach, and vision – and can't wait to share this with the wider community.
"Regardless of whether you're just entering the hospitality industry, or are an experienced bar operator or business owner, there's plenty in this series that will apply to your craft and you'll find interesting."
Alongside the series, Franklin & Sons are adding a huge range of resources to their Drinks Collective Hub, designed to help anyone from fledgling bar staff through to bar owners and operators. These include:
Drinks Training series
Management features Hub (How to calculate ABV/units of a drink, how do I calculate GP and target margins)
The Franklin & Sons interactive pairing guide & Flavour Chain
ranklin & Sons Bespoke Menu builder
The second episode is set in Manchester, and will be released in January.
About Franklin & Sons
Franklin & Sons drinks were first introduced in 1886, by the Franklin brothers who pioneered the introduction of sodas and non-alcoholic beverages in the UK after a visit across the Atlantic. From pioneering roots, we continue to grow the brand to this day with passion, simplicity and great taste at its heart.
Franklin & Sons have an extensive award-winning product range, including tonic waters, flavoured tonic waters, soft drinks and sodas. Each unique creation includes natural flavours and ingredients and never includes preservatives or sweeteners. With our variety of flavours we elevate drinks to turn the ordinary into the extraordinary.
Franklin & Sons set benchmarks for success year on year by continuing to win awards in a variety of categories including Great Taste Awards, The Spirit Business Tonic & Mixer Masters and The Bartenders Brand Awards.
To keep up with everything Franklin & Sons follow the brand on @franklinandsons or visit www.franklinandsons.co.uk where you can purchase all Franklin & Sons products.
Source: Franklin & Sons
https://www.about-drinks.com/wp-content/uploads/2022/12/franklin-sons.jpg
630
1200
Redaktion
https://www.about-drinks.com/wp-content/uploads/2019/12/logo-ad-680.png
Redaktion
2022-12-07 10:31:55
2022-12-07 10:31:55
Franklin & Sons launch 'Drinks In Trade' vodcast series