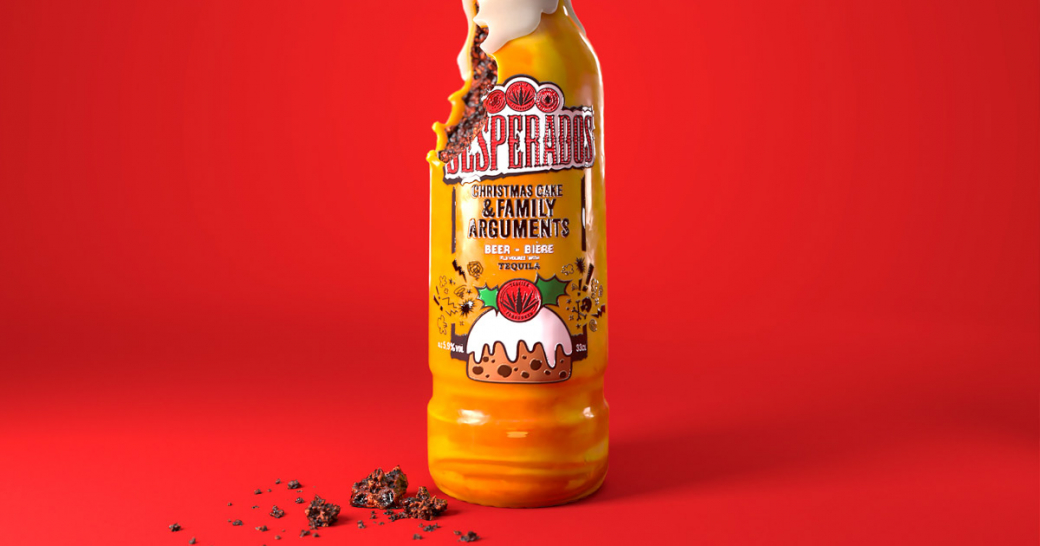 Limited-edition
Desperados offers refreshing take on true flavours of Christmas with launch of festive beer
It's that time of year again. The Christmas lights are up, the weather is getting colder, the pile of presents under the tree grows, and plans for people to come together are well underway.
This year, Desperados is making the most of the holiday spirit by launching a quirky and original beer crafted especially to celebrate all elements of the festive season. Labelled Desperados Christmas Cake and Family Arguments, the limited-edition beer is created to bring together the flavours of two well-established Christmas traditions, Christmas cake and festive family arguments – because we wouldn't have it any other way with our loved ones over the holidays!
The latest beverage innovation infuses Desperados beer with classic Christmas cake flavours, including tasting notes of cinnamon, ginger, clove and nutmeg. But not all is as it seems, with an unexpected spicy kick of chilli to mirror those zingy disagreements that naturally happen around the Christmas table.
Rutger van der Stegen, Global Marketing Manager for Desperados, said: "Experimentation is at Desperados' core, so we're excited to bring some festive fun to our beer this year. Our special beer will certainly tickle the tastebuds with all the flavours of Christmas, while also providing an unexpected spicy twist by trying to capture the flavour of those, all too often, seasonal disagreements that bubble up when everyone comes together around the Christmas tree."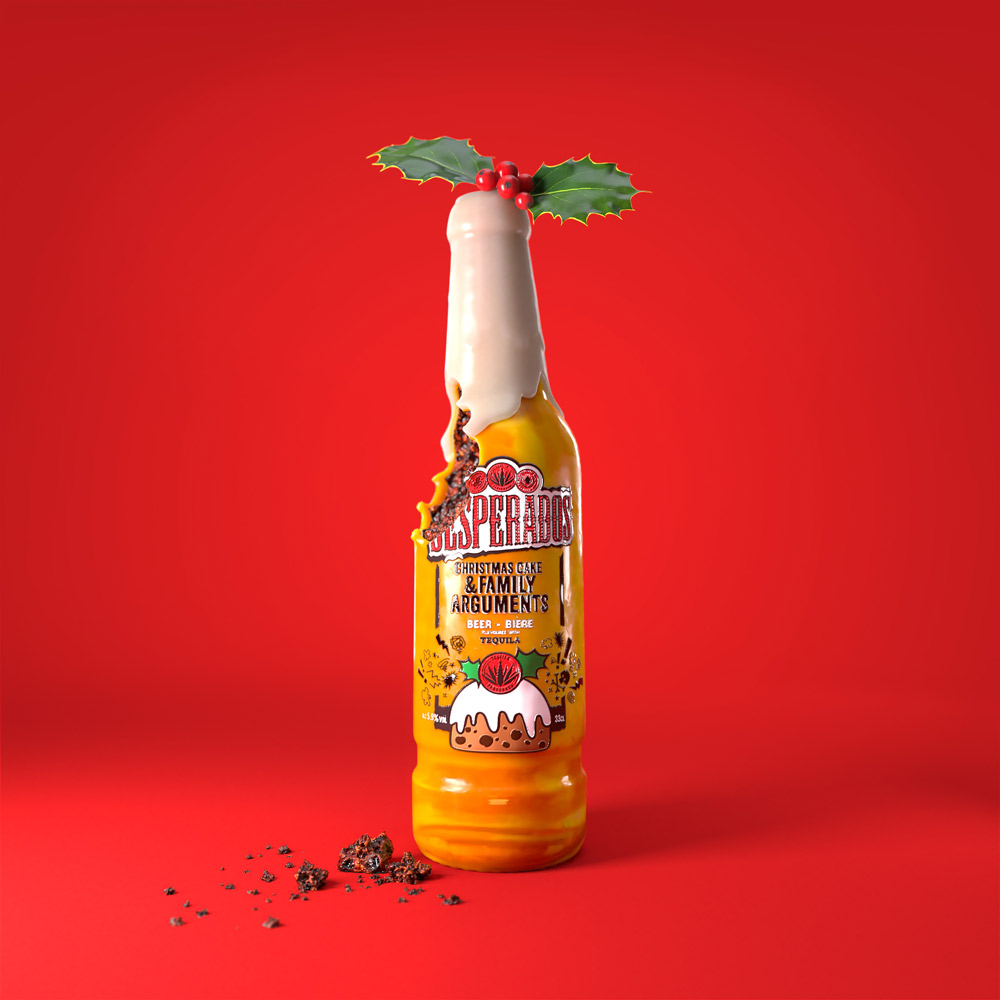 While the Desperados Christmas Cake and Family Arguments won't be available to purchase this holiday season, the brand is collaborating with well-known creators who push the boundaries of creativity and fun, just as Desperados does with its beer. The collaborations have come to life through a social media campaign that cheekily brings people together over the holidays, harnessing the creators' positive energy to show the truth behind the product's innovative bind of holiday food and family friction.
Ben Cullen shares his unique creative flair to the launch with a film of his hyper-realistic Desperados beer bottle-shaped Christmas cake. And Iris Enthoven and Jack Fowler will be entertaining viewers with a Christmas gift box, featuring the new beer, that gets them both out of those spicy situations.
With its unexpected flavour combination, the product innovation embraces Desperados platform of playfulness and experimentation, encouraging people to go beyond the expected to seek festive fun this Christmas. For more information about Desperados Christmas Cake and Family Arguments, created by We Are Pi and Billion Dollar Boy, visit our website or check it out on social – #DesperadosChristmasCakeandFamilyArguments #Desperados.
About Desperados:
Born 20 years ago, Desperados is a distinctive combination of full-bodied lager with a boost of Tequila flavor, targeted to young adults. Since its origin, Desperados has been igniting the spirit of playful experimentation through innovative product launches, epic nights out and bold advertising. Desperados approach to creativity is the same as its approach to beer – a blend of the unexpected that goes beyond the obvious. Desperados has become an international success, now sold in 84 countries across the world. www.desperados.com
About HEINEKEN:
HEINEKEN is the world's most international brewer. It is the leading developer and marketer of premium beer and cider brands. Led by the Heineken® brand, the Group has a portfolio of more than 300 international, regional, local and specialty beers and ciders. We are committed to innovation, long-term brand investment, disciplined sales execution and focused cost management. Through "Brewing a Better World", sustainability is embedded in the business. HEINEKEN has a well-balanced geographic footprint with leadership positions in both developed and developing markets. We employ over 80,000 employees and operate breweries, malteries, cider plants and other production facilities in more than 70 countries. Heineken N.V. and Heineken Holding N.V. shares trade on the Euronext in Amsterdam. Prices for the ordinary shares may be accessed on Bloomberg under the symbols HEIA NA and HEIO NA and on Reuters under HEIN.AS and HEIO.AS. HEINEKEN has two sponsored level 1 American Depositary Receipt (ADR) programmes: Heineken N.V. (OTCQX: HEINY) and Heineken Holding N.V. (OTCQX: HKHHY).
Source: HEINEKEN
https://www.about-drinks.com/wp-content/uploads/2022/12/Desperados-Cake.jpg
630
1200
Redaktion
https://www.about-drinks.com/wp-content/uploads/2019/12/logo-ad-680.png
Redaktion
2022-12-20 09:11:32
2022-12-20 09:11:32
Desperados offers refreshing take on true flavours of Christmas with launch of festive beer