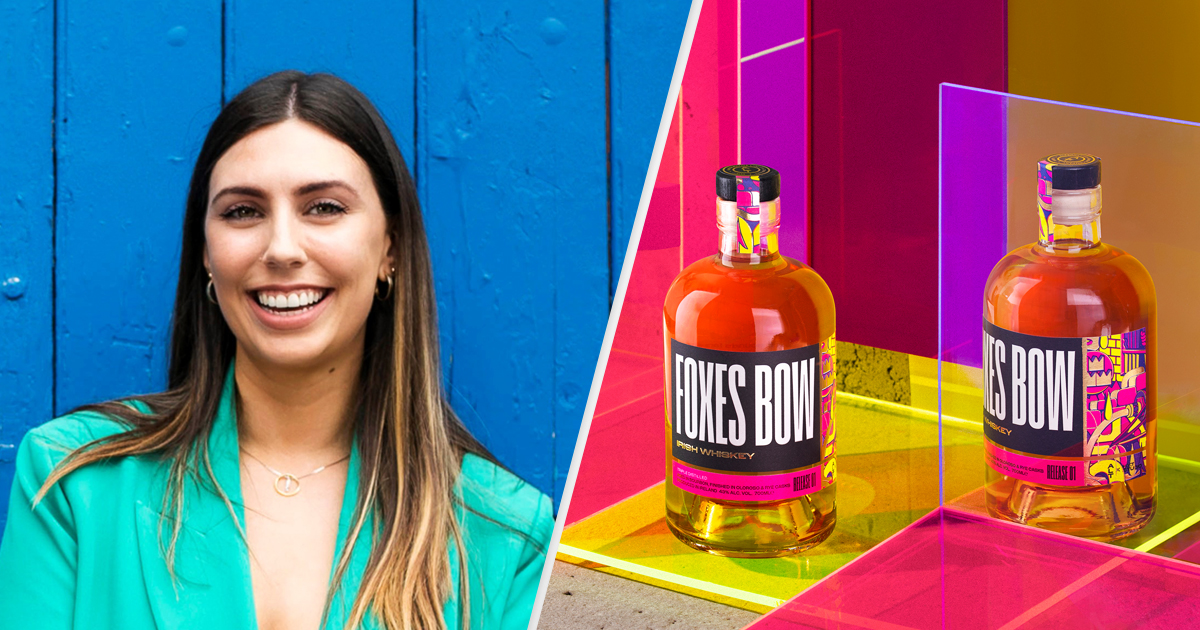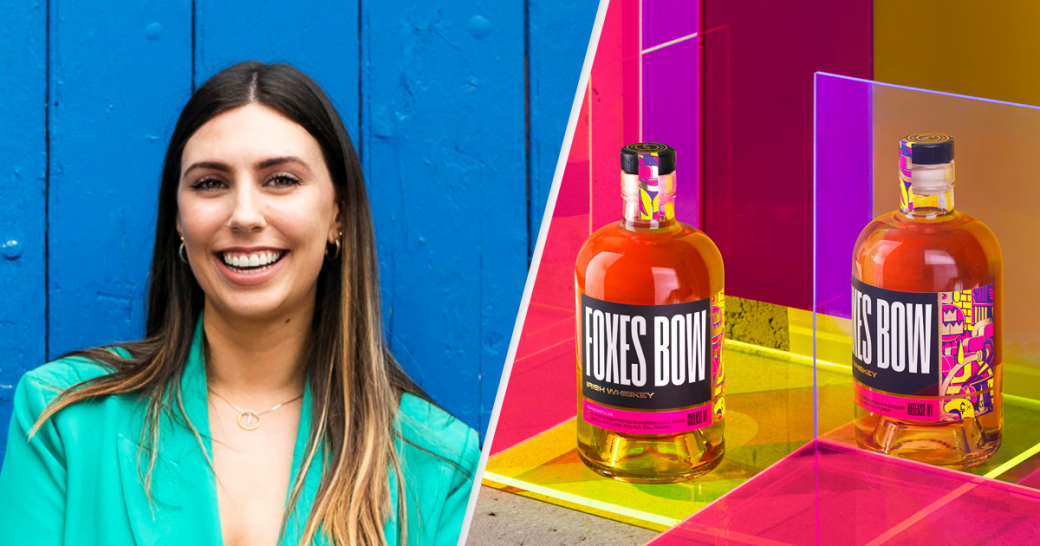 Interview
A contemporary, vibrant, and creative Irish Whiskey: Alice Carroll about Foxes Bow
Alice Carroll has spent her entire career to date in the world of whisk(e)y. She was Jameson Brand Ambassador in Europe, worked in the Canadian market for Pernod Ricard on the development of imported brands including Jameson, Redbreast, The Glenlivet and Chivas Regal. At Diageo, she helped develop the Roe & Co Irish Whiskey brand. Then, in 2021, the move to her own brand: Foxes Bow Whiskey. Together with Tony Foote, she developed an Irish whiskey that would bring something contemporary, lively and creative to the whiskey category. A spirit for those looking for something bold and different.
In the interview, we talked to Alice Carroll about her brand – how it came about, how the whiskey tastes, and why neon colors and artwork are featured on the bottles.
Please introduce yourself and your brand to our readers!
Alice Carroll: Hi, I'm Alice Carroll and I'm the proud co-founder of Foxes Bow Whiskey. Foxes Bow Whiskey was launched in November of last year and is designed to bring something contemporary, vibrant, and creative to the whiskey category for those who are looking for something bold and different.
As avid drinkers of whiskey and proud Irish founders, we felt like the Irish Whiskey category was full of traditional whiskies with a focus on the heritage of whiskey making in Ireland, and the past. However, there were no whiskies that would be reflective of the modern, creative, contemporary Ireland that we know and love. So we created Foxes Bow Whiskey for that very reason – and it truly is inspired by the vibrancy and creativity alive and well in Ireland today.
Have you worked in the spirits industry before?
Alice Carroll: Actually, I have spent all of my career to date working in the whiskey world – lucky me!
I started my career as a Jameson Brand Ambassador in Europe before moving over to North America with Pernod Ricard, looking after the brand development of the imported whiskies the company owned, including Jameson, Redbreast, The Glenlivet and Chivas for the Canadian market for several years. Following this, for a year I helped Diageo develop the Roe & Co Irish Whiskey brand with a particular focus on their distillery experience in Dublin.
As both a whiskey fan and an Irish women, I've keenly followed the growth in popularity of Irish Whiskey and have enjoyed working across such different types of expressions of Irish whiskey. I know I'm biased, but I think it's just such an interesting and fast paced category to work in, I couldn't imagine doing anything else!
What makes Foxes Bow Whiskey stand out? How does the Whiskey taste?
Alice Carroll: In a category that tends to be quite focused on the past, Foxes Bow Whiskey is designed to encapsulate the modern vibrancy and creativity of the Ireland of today, and the modern drinker. With that in mind, we set out to create something different but at a price point that was still accessible enough that Foxes Bow could be regularly enjoyed. This isn't one to keep on the shelf and only crack open on special occasions. This is your delicious, quality Friday night tipple.
We worked with the incredible team at Great Northern to create a bespoke recipe for Foxes Bow. We like to refer to them as mad scientists there because every idea we had, they found a way to make it work! We knew we wanted to play around with Rye in some capacity. Having spent so much time in Canada (and Tony in the US), we saw the prevalence of rye in the whiskey world there. We were really interested to see what impact it would have on an Irish whiskey. So we set about finishing Foxes Bow in rye casks and the result was incredible – a delicious layer of spice that lingers on the palette.
We bottled in at 43% because we felt that best worked for the flavour profile. It also means Foxes Bow Whiskey stands up nicely in mixed drinks and cocktails which really is an added bonus. There's also inclusions of Oloroso sherry cask in the blend and bourbon casks so you get a burst of sweeter flavours in there too like dried red fruits as well as a nice nuttiness often associated with Irish Whiskey.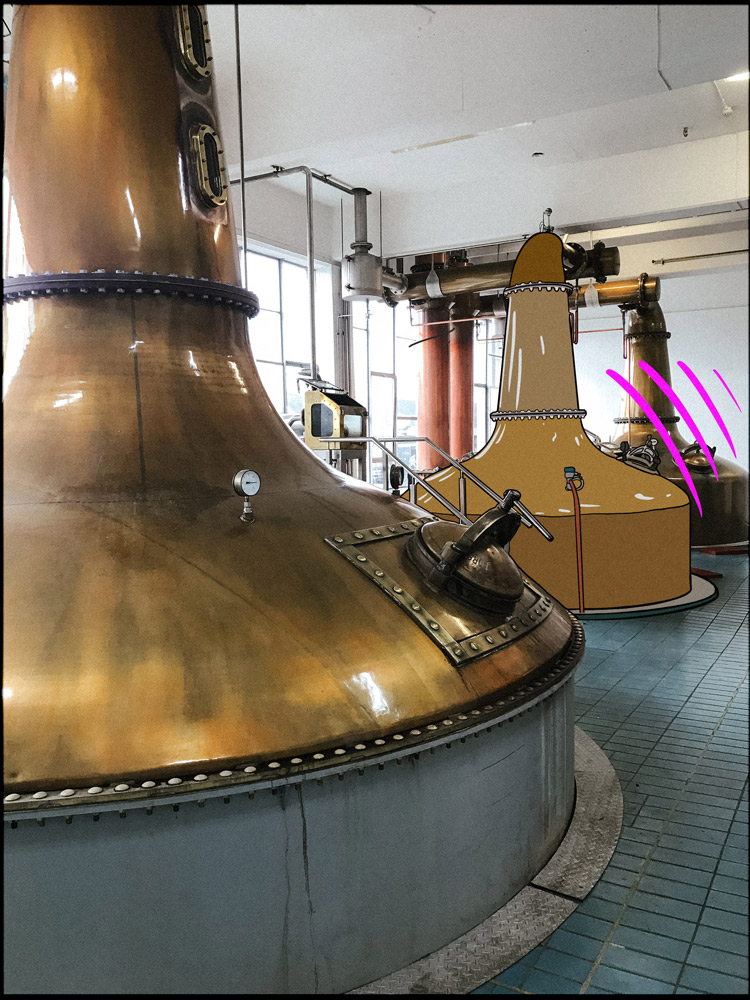 The exclusive design of your bottle immediately catches the eye. What did you inspire?
Alice Carroll: The idea for Foxes Bow actually came from Tony when he was in an amazing whisky bar in San Francisco and he looked up at the shelves lined with hundreds of whiskies but noticed that a lot of them looked the same. A sea of black and green bottles with gold, traditional looking detailing and emblems of the past like castles, rolling hills, bridges etc. But there were none that captured the essence of the modern, contemporary and vibrant Ireland of today. Or that really captured the feel of the modern days consumer.
So for us when we were thinking about the bottle design, we started with that. We thought 'how can we make this as distinctive as possible and really reflected of today's Ireland?' And what we landed on really was, 'in a sea of black and green, let's make it electric and add neon!'
Your bottles are decorated with real artwork. How did that come about?
Alice Carroll: Because Foxes Bow was really inspired by modern, contemporary Ireland, we wanted to make sure we were working with as many creatives that really embody that energy as possible. So our first port of call was to John Slade who is a graphic designer and a Limerick native. John owns H.Y.T Studios in London and has created amazing work for the likes of Nike, Van and Delta Airlines in the past.
We tasked him with creating his interpretation of the creative spirit alive and well in Ireland today, and the artwork you see on the bottle is what he came back with. Well, technically only a portion of it can be seen on the bottle. That's actually a small piece of a larger artwork he created for us. But we absolutely LOVED the result so are so proud to have it displayed on every bottle. And, again, it's bringing something different to the whiskey world.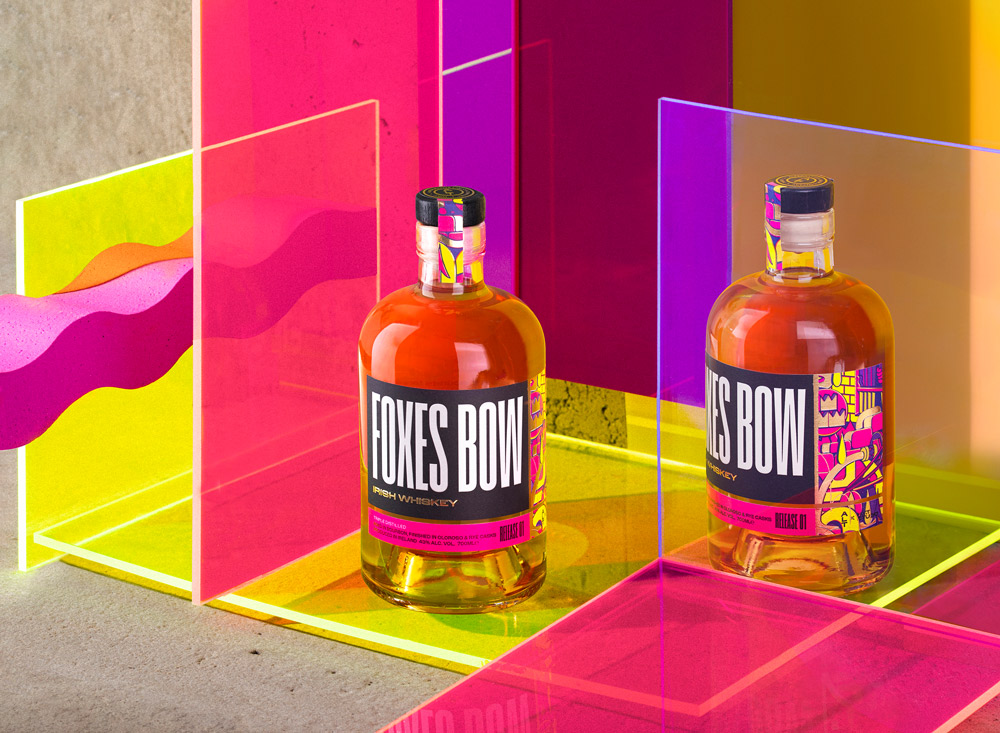 Through which distribution channels is Foxes Bow Whiskey marketed in Germany?
Alice Carroll: In Germany, Foxes Bow is distributed by the wonderful Mareike Spitzer of Irish Whiskeys. We're also available in select off trade stores as well as online stores in Germany. We're also available to purchase on Amazon.
For the development of your whiskey, you have also resorted to crowdfunding. What experience have you had with this?
Alice Carroll: Yes, so because we said from the start that we wanted to do things differently, we decided to crowdfund for our fundraising. Not only did this allow us to do things in a unique and new way, it meant that we could make whiskey investments accessible to anyone who was interested.
It's often very expensive to invest in whiskey, with many barrel ownership programmes starting at €7k + or direct investment asks of €50k +. With crowdfunding, people were able to invest in our company and own a piece of Foxes Bow for as little as €10 / £10.
We found it really successful, with over 400 people coming onboard as investors. We actually exceeded our original €500k target by €130k!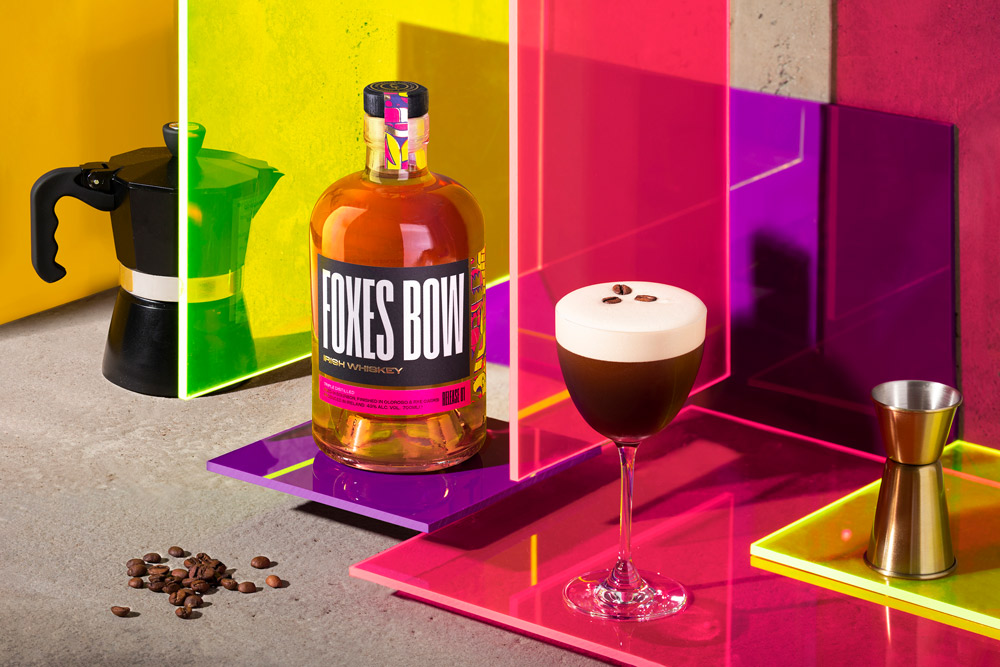 What can we expect from Foxes Bow Whiskey in the future?
Alice Carroll: We're currently working on expanding our footprint to new markets. We're still very new so getting the name out there and getting people to try Release 01 is our main focus at the moment. So in the near future, you'll see us doing things very differently within the whiskey space, and maybe ruffling a few feathers of the whiskey purists along the way.
Further in the future, we'll be exploring new expressions that will always be focused on bringing something different to the category. We're already working on some ideas with our GND 'mad scientists' at the moment which we're excited to share with the world when the time is right.
But for now, watch this space and follow along @foxesbowwhiskey on Instagram, Twitter and Facebook where we'll be taking you behind the scenes on the journey.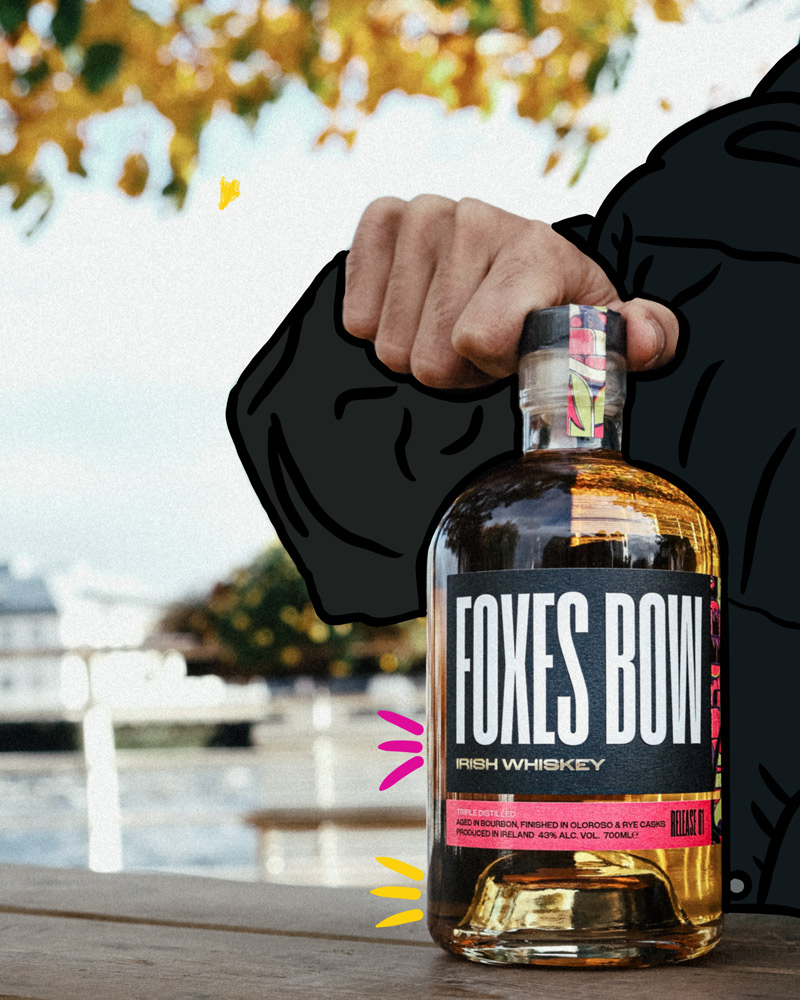 Foxes Bow Whiskey | Website
+++ We would like to thank Alice Carroll for the open and very interesting interview and wish him continued success! If you also have an interesting brand, then we should talk. Just send us an email with the subject "about-drinks interview" to redaktion@about-drinks.com – we look forward to hearing from you! +++
https://www.about-drinks.com/wp-content/uploads/2022/12/Foxes-Bow-Whiskey-Interview-1.jpg
630
1200
Redaktion
https://www.about-drinks.com/wp-content/uploads/2019/12/logo-ad-680.png
Redaktion
2022-12-16 10:01:30
2022-12-16 10:02:28
A contemporary, vibrant, and creative Irish Whiskey: Alice Carroll about Foxes Bow