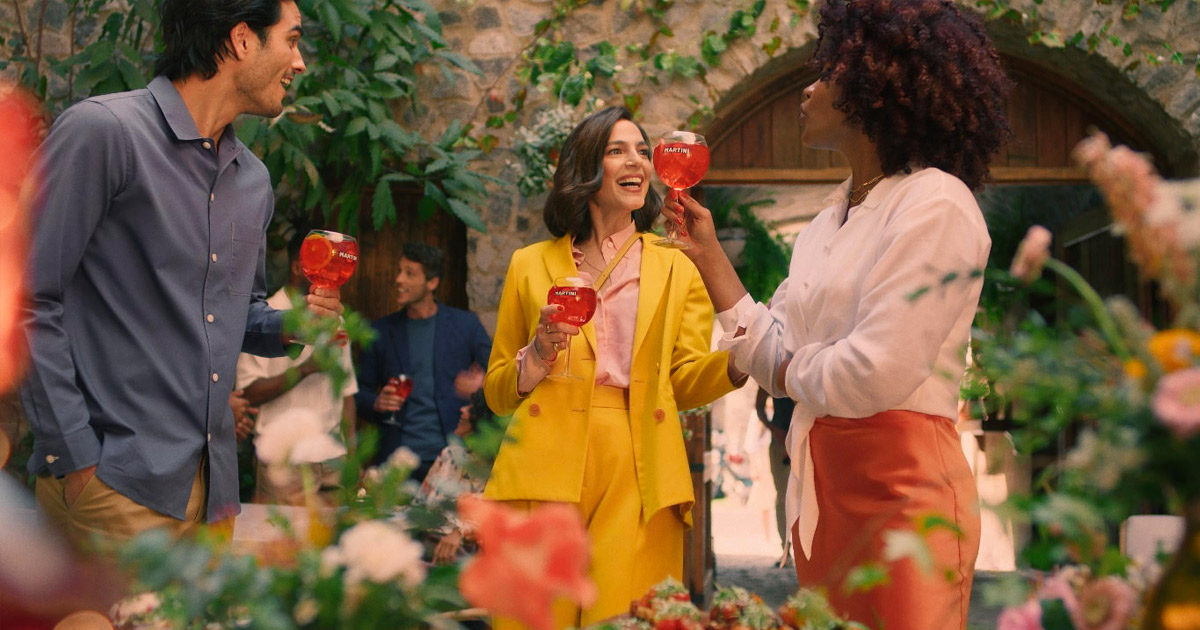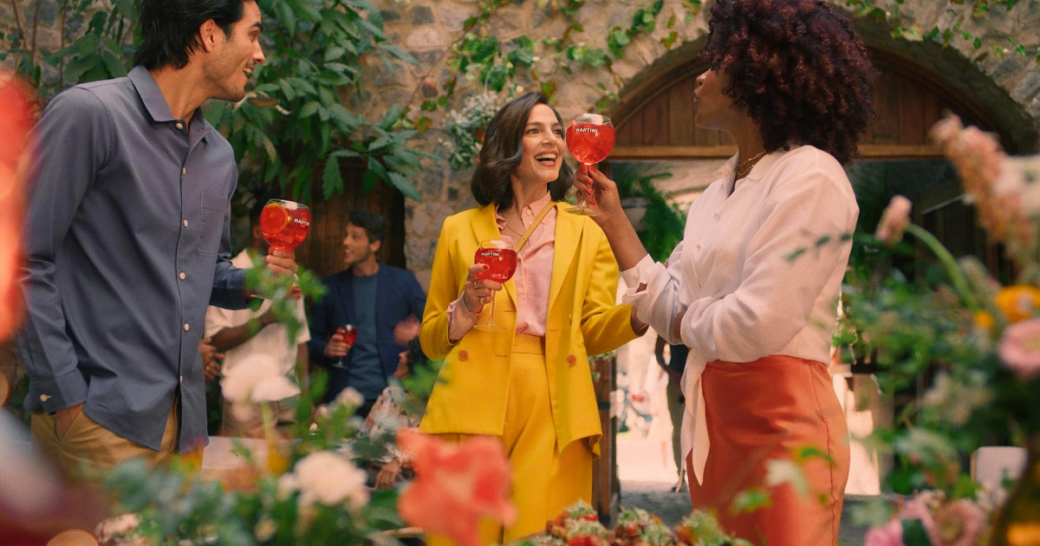 Above-the-line campaign
MARTINI launches new fully integrated 'Time Best Shared' campaign
Bacardi-owned MARTINI announces 'Time Best Shared'; a new, fully integrated brand campaign that will be executed through the line from March 2022.
'Time Best Shared' reflects that when we spend time with those closest to us, we open the door to creating new memories and forging lasting bonds. In a world that's often hectic and full of commitments, MARTINI's new campaign heros the power of sharing quality moments and the impact that this can have.
The above-the-line campaign will launch with two compelling new creatives, directed by renowned Italian-Canadian filmmaker and artist, Floria Sigismondi. The first, which will premiere on television, 'Shared Memories', shows a woman returning to her hometown where the memories of her friendships remain vividly with her. 'Shared Connections' will be shown across digital channels and demonstrates how the bonds between friends connect their lives in a magical way.
Mirroring the message of 'Time Best Shared' , 'Shared Memories' features music from Tigerstate, an Oslo-based band that was formed during lockdown in the spring of 2020 when a group of longstanding friends decided to finally focus on their passion for music.
MARTINI will be activating Time Best Shared across advertising, PR and social media and aims to reach a new generation of Aperitivo drinkers. The above-the-line campaign was created by advertising agency AMV BBDO and rolls out across Europe from late March.
The campaign will also live online through a calendar of innovative video and social media content, alongside a dedicated PR and influencer campaign.
Victoria Morris, Global Vice President of MARTINI, comments: "At MARTINI, we understand the importance of time spent with friends; it's been at the very heart of our brand since it was founded by three friends over 150 years ago. The best memories are made with those closest to us, most often when it is catching up over a drink and sharing stories. MARTINI TIME BEST SHARED reminds people about those magical moments when we meet friends and create lasting connections . The campaign celebrates those everyday moments when you can truly be yourself in the company of the people that matter most."
About MARTINI FIERO
MARTINI FIERO (14.9% ABV) is made with a blend of white wines and carefully sourced botanicals including sweet Spanish oranges grown in Murcia, which are hand peeled and dried under the sun in a laborious traditional method that protects the essential oils in the peel.
While the orange peel provides the vermouth's vibrant citrus notes, Artemisia absinthium and Artemisia pontica – which are both harvested in the village of Pancallieri in Turin – contribute the signature bitterness and herbal aromatics that are the distinguishing characteristic of Italian aperitivo drinks. The result is the distinctive bittersweet orange flavour of MARTINI FIERO.
About MARTINI®
One of the most iconic brands in the world, MARTINI is the leading name in Italian winemaking and a purveyor of the highest quality aromatized and sparkling wines. The award- winning, vibrant and bittersweet taste of the MARTINI vermouth range is the result of secret blends of more than 40 botanicals sourced from the finest locations across the globe.
The MARTINI portfolio includes: MARTINI FIERO, MARTINI RISERVA SPECIALE RUBINO, MARTINI RISERVA SPECIALE AMBRATO, MARTINI RISERVA SPECIALE BITTER, MARTINI BIANCO, MARTINI ROSATO, MARTINI ROSSO, MARTINI EXTRA DRY, MARTINI ASTI, MARTINI PROSECCO AND MARTINI ROSÉ EXTRA DRY. CASA MARTINI, the MARTINI brand home, is located Pessione di Chieri, in Turin, at MARTINI & Rossi's historic premises and is now open for private events, conference meetings and social occasions.
Created in 1863 in Turin, Italy, the MARTINI brand is part of the portfolio of Bacardi Limited, headquartered in Hamilton, Bermuda, and continues to be the market leader of the category. Bacardi Limited refers to the Bacardi group of companies, including Bacardi International Limited.
Source: MARTINI
https://www.about-drinks.com/wp-content/uploads/2022/03/MARTINI-Time-Best-Shared-Spot.jpg
630
1200
Redaktion
https://www.about-drinks.com/wp-content/uploads/2019/12/logo-ad-680.png
Redaktion
2022-03-31 13:47:56
2022-03-31 13:47:56
MARTINI launches new fully integrated 'Time Best Shared' campaign