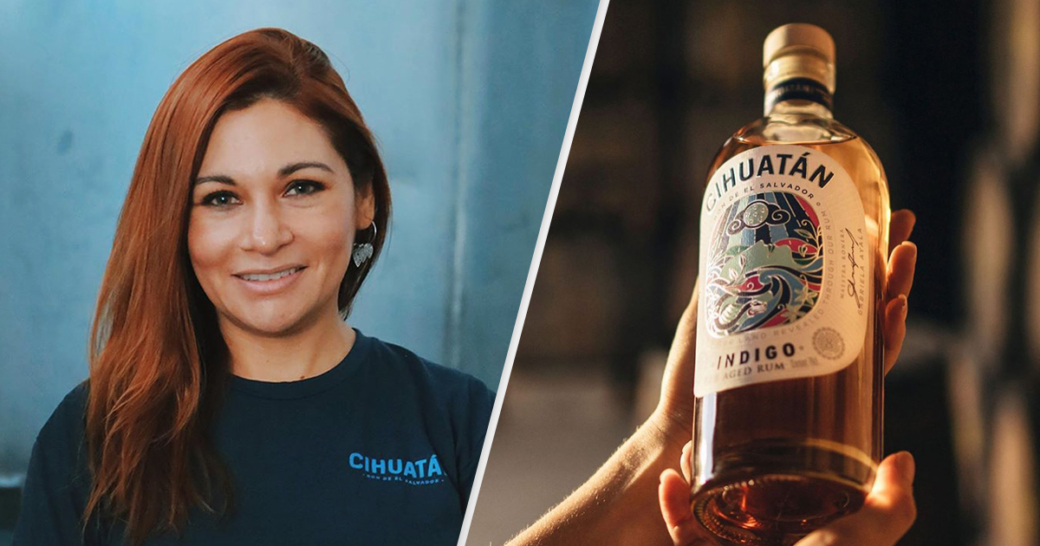 "The Rum of Mayan Gods"
El Salvador's only rum producer: Master Blender Gabriela Ayala about Cihuatán Rum
Cihuatán Rum is described as "The Rum of the Mayan Gods". The word "Cihuatán" means "next to the woman". Legend has it that many centuries ago a Mayan goddess came to the Cihuatán Valley and has watched over the inhabitants ever since. This "sleeping woman" can be seen – today in the form of a mountain – on the brand's logo. Between the mountains in the Cihuatán Valley lies the distillery, which, by the way, is the only one in all of El Salvador. This is a special feature, but also a commitment – to the highest quality and best taste. Thanks to the sales cooperation with Perola, Germany is now also getting a taste of Cihuatán Ron de El Salvador.
In this interview, Gabriela Ayala, Master Blender at Cihuatán Rum, talks about the products and the Mayan gods. She also reveals the importance of rum in El Salvador.
First of all: Please tell our readers your name and the position you're working in at Cihuatan Rum.
Gabriela Ayala: My name is Gabriela Ayala, and I am Cihuatan Rum's Master Blender. I am delighted to be in charge of our distillery and along with my team, I oversee the crafting of Cihuatán Rum. I am fascinated with the art of rum making, it is a process that has allowed me to grow and experiment with distillation, aging and blending techniques to deliver rums that tell the charming stories of our distillery's Mayan heritage.
When did the idea for Cihuatan Rum come about?
Gabriela Ayala: Cihuatan Rum was born in 2004, when we started aging rum in the Cihuatán valley, in the heart of El Salvador. We are vertically integrated with one of our country's most diversified sugarmills, which has been mastering sugarcane for almost a century. Over the years, a group of visionaries within this mill kept asking themselves "Why hasn't anyone made rum in El Salvador before?". This dream finally became a reality in November 2014 when we bottled our first 50 bottles in a pilot plant. Some of these bottles were shared with all the staff of the sugarmill at their Christmas party.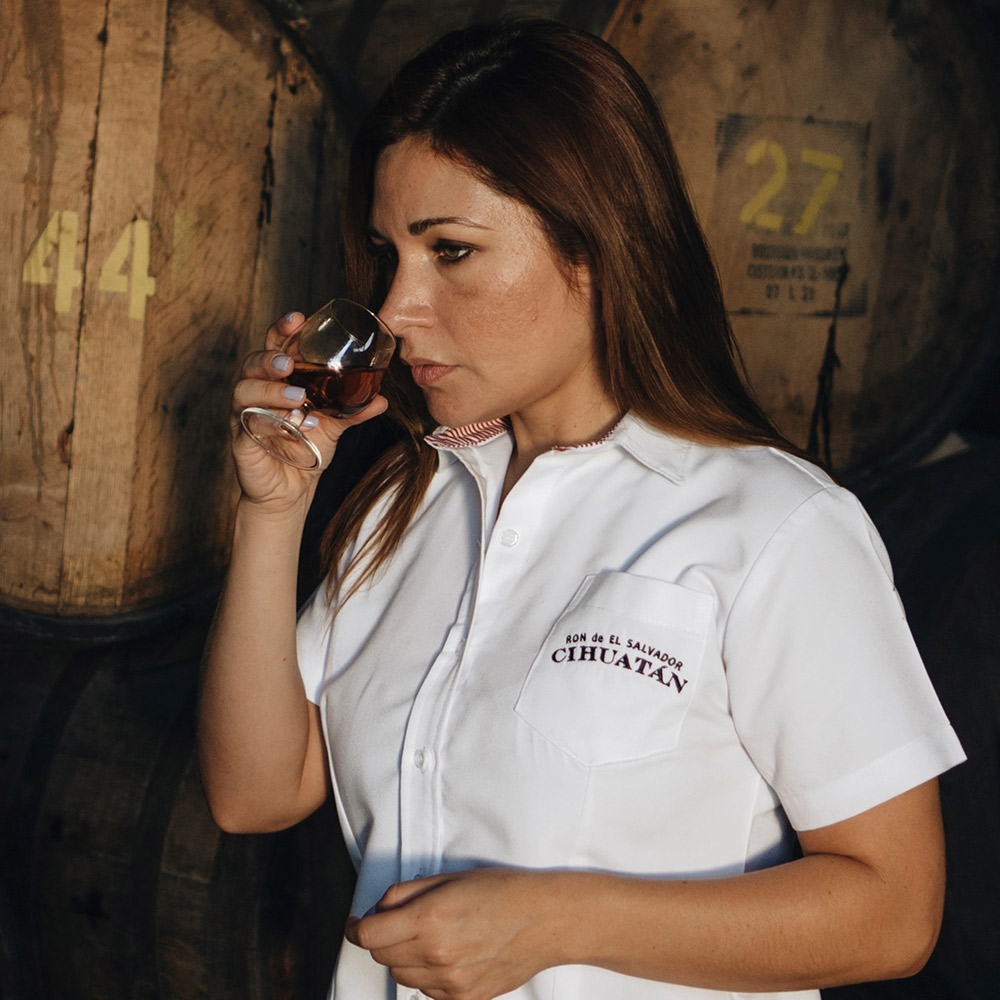 Cihuatan Rum is the only premium rum producer in all of El Salvador. What status does rum generally have in your country?
Gabriela Ayala: We are proud to be our country's only rum producer. As mentioned above, this wouldn't have been possible without the vision and entrepreneurial spirit of a group of Salvadorans that wanted to create El Salvador's ambassador to the world through rum. From the start, they were commited to quality. If they were to make a product worthy of being our country's ambassador, it had to be top quality. That is why since 2004, we kept distilling and aging and waited 10 years to sell our first bottle of rum. This rum was 8 years old. Now we are very happy, because Ron Cihuatán is the perfect souvenir that Salvadorans proudly give from their country.
Was it difficult to establish the rum?
Gabriela Ayala: As with all dreams, this process had its challenges. We were pioneers in the crafting of rum. But this also allowed us the liberty to experiment. For example, after our inaugural distillation in 2004, we aged some of this rum in new American oak barrels, as opposed to only using ex-Bourbon barrels. These treasured barrels are now one of the jewels of Cihuatán's private reserves. Over time, this experiment has paid off and we have rums with unique and delicious flavor profiles. The rum market is extremely competitive, however, the fact of staying true to our origin and history has allowed us to position ourselves as an attractive option for our consumers.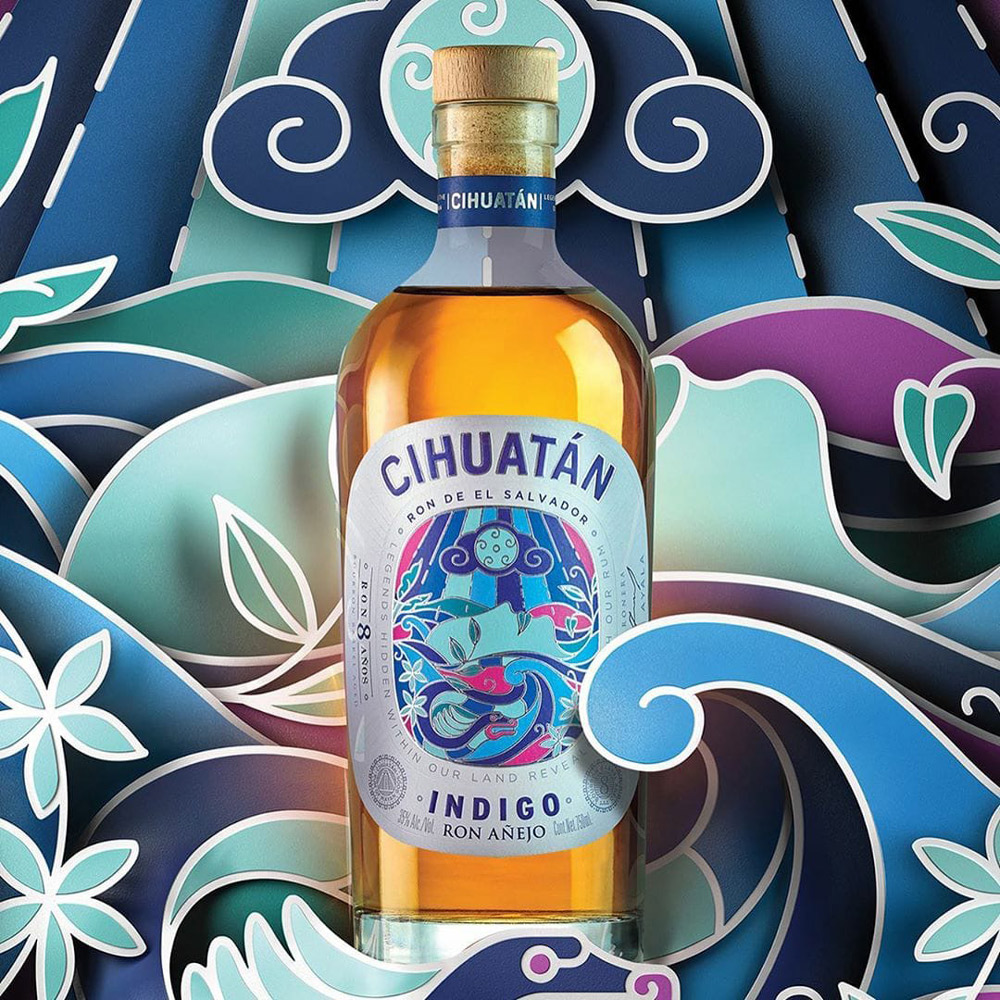 What are the different qualities? What is special about each one?
Gabriela Ayala: No matter which of our expressions we are crafting, we remain commited to quality and crafting rums that look beautiful and eye-catching on the outside, with a spirit that is delicious and tells a story within each bottle. Our inspiration is that we are "The Rum of Mayan Gods", which is why each one of our rums share a different and charming Mayan legend. I love to describe them in the following way:
Cihuatán Indigo:
This is the youngest rum in our portfolio with 8 years, it shares the story of Tlaloc, Mayan god of rain, and was the first to hit the market. Personally, I describe it as a very friendly rum, very easy to taste, qualities that we needed since it was responsible for going out to travel the world. Its notes include aromas and flavors that are loved worldwide: chocolate, vanilla, dulce de leche, hazelnuts.
Cihuatán Cinabrio Rum:
This is our 12 year old rum, shares the story of Kinich Ahau, Mayan god of the sun. I define this rum as the perfect balance between the sweetness of the sugar cane and the character that the barrel gives us. It is a dry rum proposal with a subtle fruity elegance that has been very popular.
Cihuatán Obsidiana / Exclusive Traveler's Edition:
For this rum, I was inspired by the legend of the goddess Itzpapalotl, who took the form of a butterfly and on the tips of her wings you could found obsidian daggers with which she protected Mayan travelers. The smell of this rum is extremely feminine, floral and sweet, just what you associate with a butterfly. However, on the palate, it has a lot of character from the oak, something unexpected due to its subtle aroma.
Cihuatán Xamán XO:
This is our rum crafted as an homage to Xaman, Mayan god of the North Star. It features 16 year old rums which have been finished in Mayan Ceiba barrels. I am proud to be the only distillery in the world to have these kinds of barrels, made using the indigenous Ceiba tree. This gives this rum its sophisticated flavor profile. I personally selected the wood of this tree because according to the legend of this god, he would come out at night and rest during the day atop a sacred Ceiba tree.
To round out our portfolio, we also craft limited edition rums. So far, we've released three of these: Cihuatán Nahual, Cihuatán Nikté and Cihuatán Sahumerio. I love limited editions because these allow me to draw from my dearest personal memories and blend them together with our Mayan heritage to create rums with unique flavor profiles that tell a story and delight collectors around the world. Cihuatán Nahual is sold out as is Cihuatán Nikté, so if you can get your hands on a bottle of Sahumerio, be sure to treasure it in your rum collection!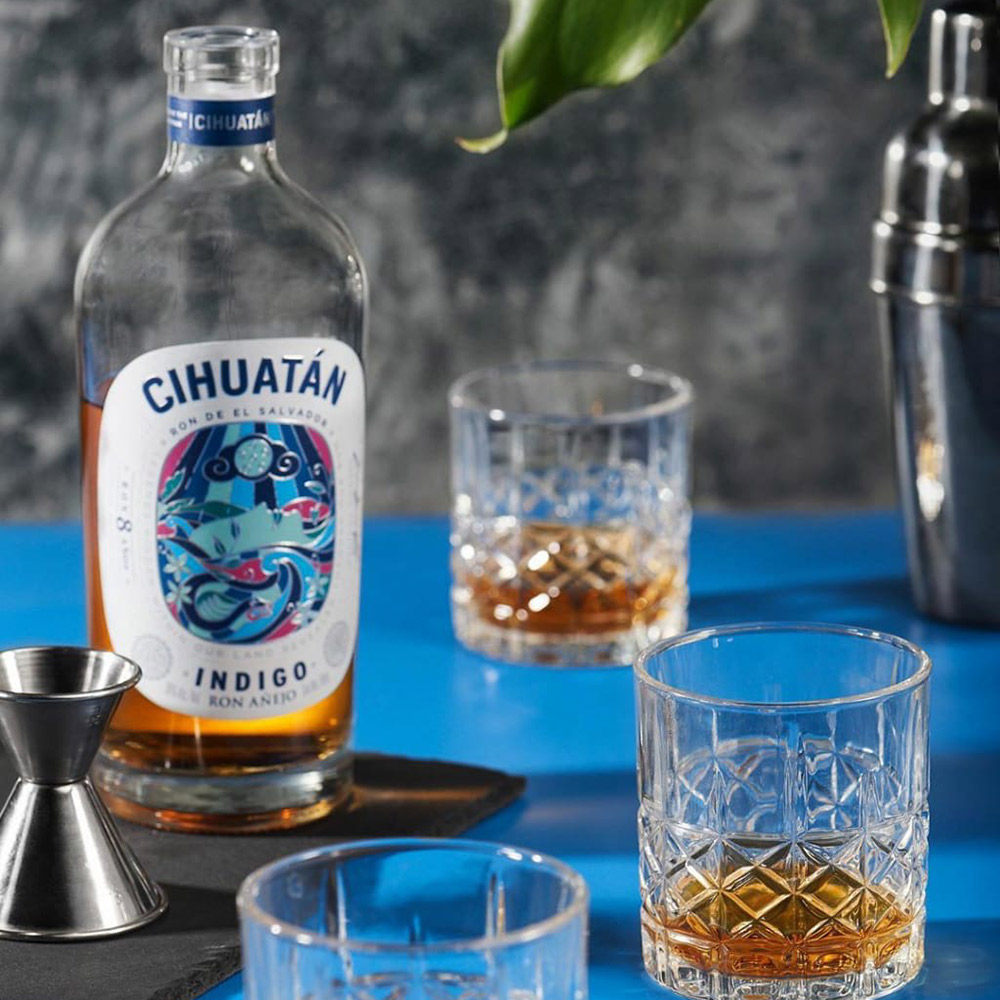 How and where are the products manufactured?
Gabriela Ayala: One of the biggest advantages we have as a company is the fact that we control every single step of the production process: from the sugarcane seed to the bottle. This not only allows us to guarantee the top quality of our rums, but also allows us to invoke our curiosity to create unique flavor profiles and innovate in our production techniques. I am excited about the future to see what new creations will come! Cihuatán Rum is produced from sugarcane grown exclusively in El Salvador.
Our distillery and aging warehouses are located in the Cihuatán valley, the place from which our name comes. It provides the ideal soil and climate for the sugar cane growth and our rum's aging. Our distillation process is continuous, with our own modifications, which allow us to produce fresh rums with low and high congeneric loads.
For aging, we bet on the pyramidal arrangement of the barrels, which allows us to be homogeneously exposed to the environment and the rums mature exquisitely. The formulation and bottling is carried out by a small work team that feels a great commitment and love for the brand and that is aware that we have to give 100% every day so that Cihuatán Rum remains in the consumers' mind. I believe that this love and human quality is transmitted in each bottle and has been the key to our growth.
Is the production in El Salvador subject to strict quality controls?
Gabriela Ayala: Totally, in El Salvador we are continuously audited by different government entities in order to verify Good Manufacturing Practices, good handling of chemical substances such as alcohol, and the different quality controls of our process. Apart from the above, our product is sold in the United States and within the European Union, this also requires us to comply with the quality regulations of these markets.
At the plant we have a series of procedures, both quality and food safety, in order to guarantee that all consumers of Cihuatán Rum have an excellent rum and a pleasant experience in each bottle.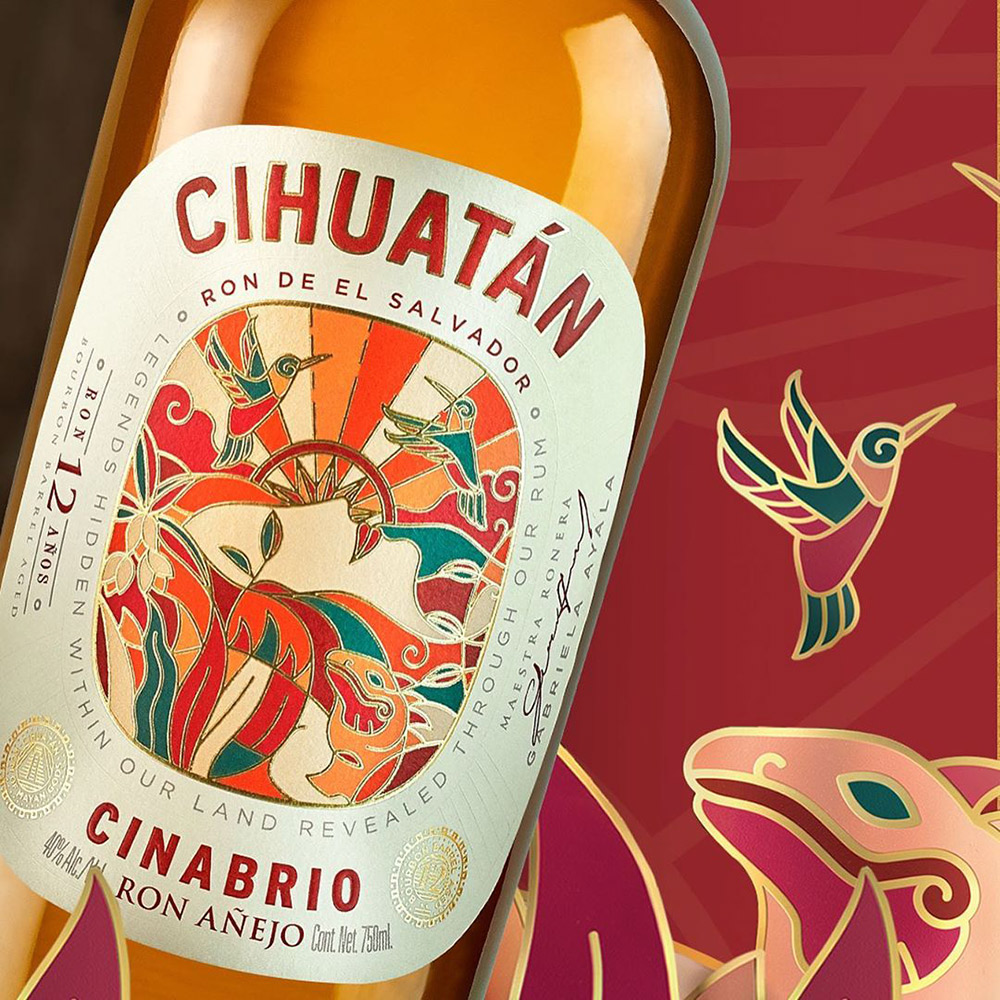 The logo of the distillery has a special meaning. Tell us about it!
Gabriela Ayala: As mentioned previously, we are "The Rum of Mayan Gods". The word "Cihuatán" is actually a nahuat word that means "next to the woman". Legend has it that many centyries ago, a Mayan goddess came to the Cihuatán valley and chose it for the ancient Maya to flourish. In order to always look after the valley and its people, she went to sleep in this valley. She can now be seen in the shape of a mountain. So what you can see in the logo is this "Sleeping Woman", guardian goddess of Cihuatán.
Where are the products available in Germany?
Gabriela Ayala: Perola is the exclusive importer of Cihuatán Ron de El Salvador for Germany. The qualities of Cihuatán can be found online, in well-stocked food retailers as well as specialized retailers and, of course, also in the upscale gastronomy".
What do you particularly appreciate about working with Perola?
Gabriela Ayala: We have a great relationship with Perola GmbH. Proud to be part of their select portfolio of premium products. They have other brands but have a special dedication for Cihuatán, we are in good hands!
Cihuatán Rum | roncihuatan.com | facebook.com/roncihuatan | instagram.com/roncihuatan
Perola GmbH | perola.eu | facebook.com/perolagmbh | instagram.com/perola_finespirits
+++ We thank Gabriela Ayala for the open and very interesting interview and wish you continued success! If you also have an interesting brand, then we should talk. Just send us an email with the subject "about-drinks interview" to redaktion@about-drinks.com – we look forward to hearing from you! +++
https://www.about-drinks.com/wp-content/uploads/2021/12/Cihuatan-Rum-Teaser-1.jpg
630
1200
Redaktion
https://www.about-drinks.com/wp-content/uploads/2019/12/logo-ad-680.png
Redaktion
2021-12-16 15:17:56
2021-12-16 15:17:56
El Salvador's only rum producer: Master Blender Gabriela Ayala about Cihuatán Rum