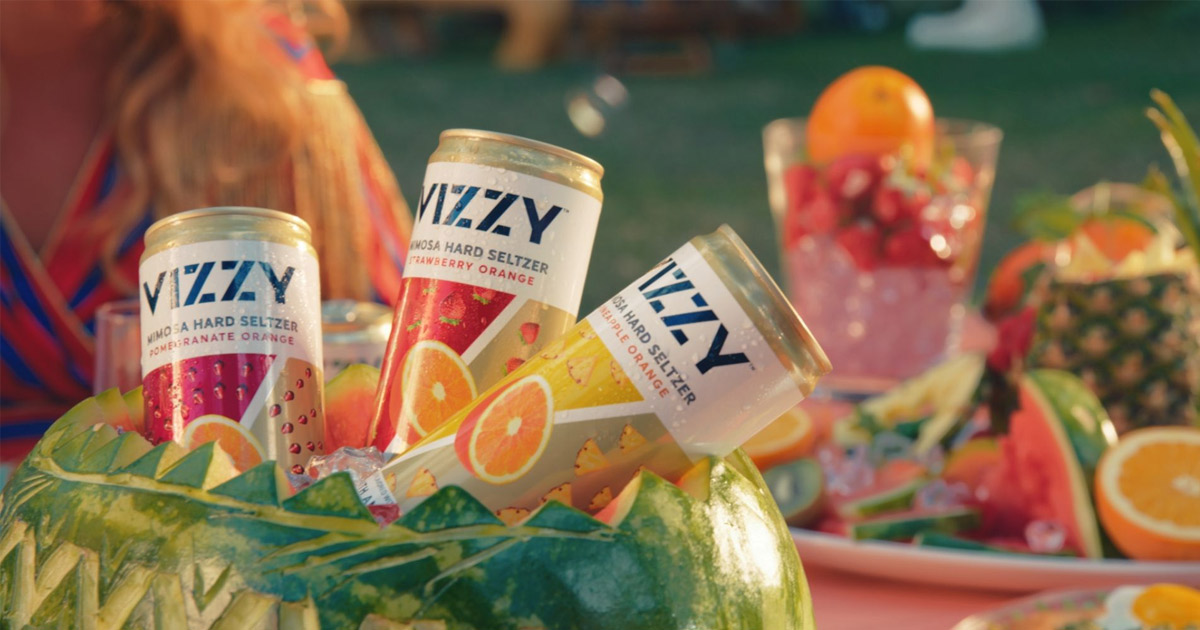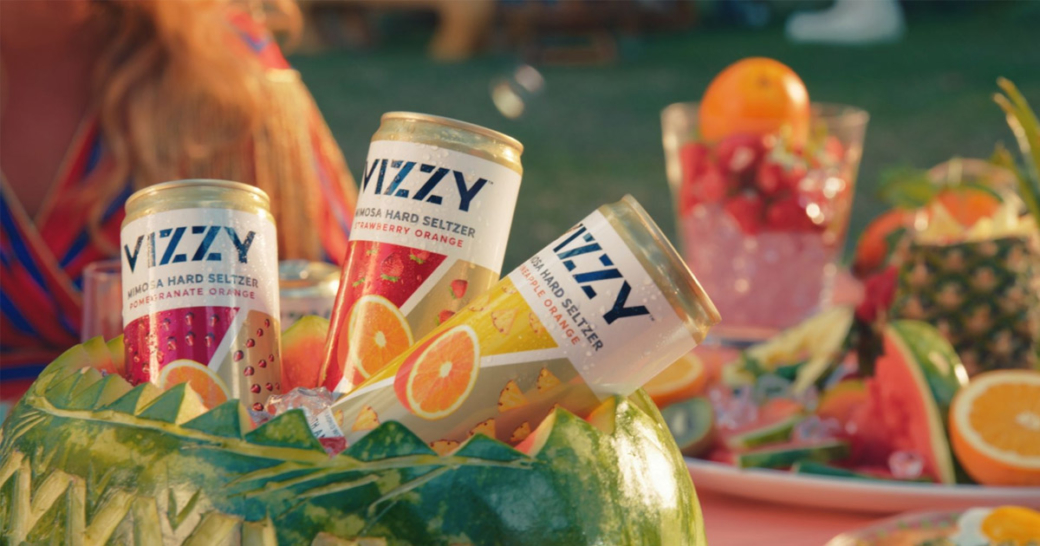 New
With real orange juice and mimosa-inspired flavors: Vizzy releases Mimosa Hard Seltzer
In a world in desperate need of more brunch beverages and positive vibes, Vizzy Hard Seltzer is bringing two big announcements to the hard seltzer group chat – the release of Vizzy Mimosa Hard Seltzer variety pack and the debut of IZ A VIBE, Vizzy's brand new personality-packed, North American marketing campaign.
That's right – your favorite brunch beverage is now available in hard seltzer form, thanks to Vizzy Mimosa Hard Seltzer. Now available nationwide in the United States, Vizzy Mimosa Hard Seltzer is the first-of-its-kind hard seltzer made with REAL orange juice, mimosa-inspired flavors and of course Antioxidant Vitamin C from Acerola Superfruit.
"Let's be real– no one has ever been sad drinking a Mimosa and Vizzy Mimosa Hard Seltzer takes the bubbles, orange juice and real fruit flavor people love about the signature brunch cocktail and flips it on its head," said Liz Cramton, director of marketing for Vizzy Hard Seltzer. "Not only is Vizzy Mimosa Hard Seltzer one of the best-tasting liquids we've tested in the past two years, it brings an entirely new vibe to the seltzer aisle and to brunch, lunch and really, any celebration."
Arriving just in time to up the vibe at brunch this spring, Vizzy Mimosa Hard Seltzer will offer consumers a new way to enjoy the fizzy brunch favorite, in a can. Vizzy Mimosa Hard Seltzer comes in four fruity and refreshing flavors: Strawberry Orange Mimosa, Pineapple Orange Mimosa, Peach Orange Mimosa and Pomegranate Orange Mimosa. With natural flavors and orange juice, your beverage and your taste buds have no choice but to sparkle.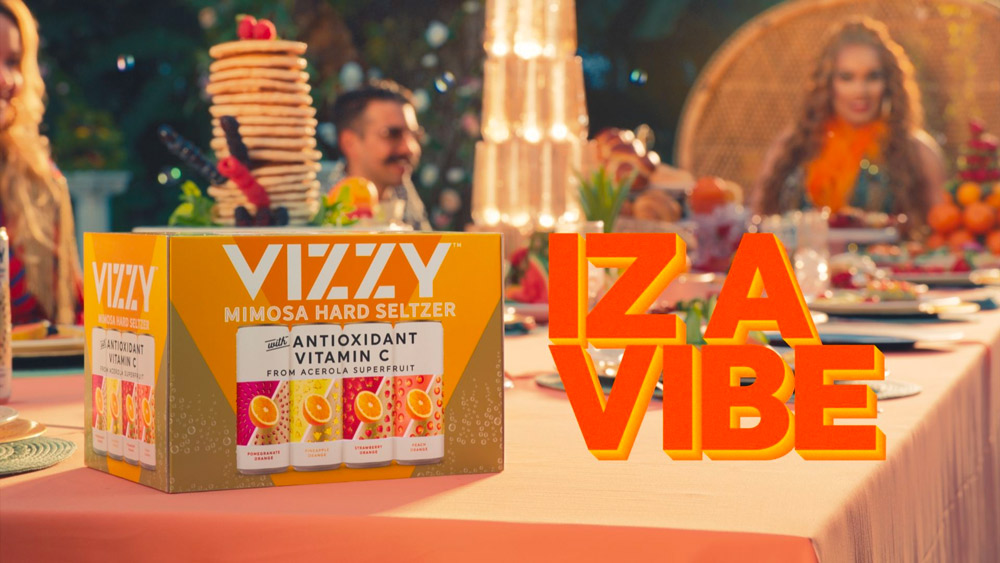 Hit you with the nutrition facts? Each can of Vizzy Mimosa contains 100 calories, ZERO grams of sugar and 5% alcohol per 12-oz. The new Vizzy Mimosa variety pack comes in 12-oz slim can 12-packs and is available nationwide in store and through select online alcohol delivery services. Vizzy Strawberry Orange Mimosa Hard Seltzer will also retail individually in standalone 16oz and 24oz cans. Mimosa Hard Seltzer variety pack joins the Vizzy variety pack lineup including Variety Pack #1, Variety Pack #2, Lemonade and Watermelon. Vizzy is a Top 5 hard seltzer brand, and is the fastest among the Top 5 hard seltzer brands year to date according to IRI multi-outlet and convenience data.
But that's not all. The release of Vizzy Mimosa Hard Seltzer also coincides with the premiere of IZ A VIBE, the brand's first North American lifestyle campaign that will cover not only Vizzy Mimosa Hard Seltzer in the United States but all of the Vizzy brand in both the United States and Canada. Spanning national television, radio, online video, podcasts, paid and organic social media, influencer marketing and retail, the new creative shows how Vizzy always packs positivity and good vibes with any occasion.
Iz a Vibe will debut with two spots: one for Vizzy equity showcasing a vibrant and welcoming, backyard pool party complete with throwback beats, colorful fits, and garden gnomes driving lawn mowers. And another for Vizzy Mimosa Hard Seltzer specific to the United States, where a drag queen is holding court during a fantastical, springtime brunch with aerial acrobats and mile-high piles of pancakes.
"Vizzy brings a burst of positivity to every occasion and that's exactly what IZ A VIBE shows," said Cramton. "We're taking these seemingly ordinary situations in the campaign, and making them shimmer with a touch of the unexpected. With a Vizzy in hand, anything can become an absolute vibe and anyone can shine like a disco ball."
IZ A VIBE will be brought to life in the real world with a one-day brunch in Los Angeles celebrating the release of Vizzy Mimosa Hard Seltzer. Not just any brunch though, but a completely "Vizzyfied" brunch experience, that will include performances by drag superstars Morgan McMichaels, Foxie Adjuia, and Honey Davenport. The event will take place in Los Angeles on Saturday, March 19. Fans of the brand can learn more HERE.
Go to vizzyhardseltzer.com for more information on Vizzy Hard Seltzer and to find NEW Vizzy Mimosa Hard Seltzers near you by visiting our product locator at https://www.vizzyhardseltzer.com/ (we know you want to). Also, you should probably follow us on Instagram and Facebook @vizzyhardseltzer and on Twitter @vizzyseltzer.
About Molson Coors Beverage Company
For over two centuries Molson Coors has been brewing beverages that unite people for all of life's moments. From Coors Light, Miller Lite, Molson Canadian, Carling, and Staropramen to Coors Banquet, Blue Moon Belgian White Belgian-Style Wheat Ale, Leinenkugel's Summer Shandy, Creemore Springs and more, Molson Coors produces some of the most beloved and iconic beer brands ever made. While the company's history is rooted in beer, Molson Coors offers a modern portfolio that expands beyond the beer aisle with sparkling cocktails, canned wine, kombucha, cider and more.
Molson Coors Beverage Company is a publicly traded company that operates through Molson Coors North America and Molson Coors Europe, and is traded on the New York and Canadian Stock Exchange (TAP). The company's commitment to raising industry standards and leaving a positive imprint on our employees, consumers, communities and the environment is reflected in Our Beer Print and our 2025 sustainability targets. To learn more about Molson Coors Beverage Company, visit molsoncoors.com.
Source: Molson Coors Beverage Company
https://www.about-drinks.com/wp-content/uploads/2022/03/Vizzy-Mimosa-Hard-Seltzer.jpg
630
1200
Redaktion
https://www.about-drinks.com/wp-content/uploads/2019/12/logo-ad-680.png
Redaktion
2022-03-02 08:47:36
2022-03-02 08:47:36
With real orange juice and mimosa-inspired flavors: Vizzy releases Mimosa Hard Seltzer