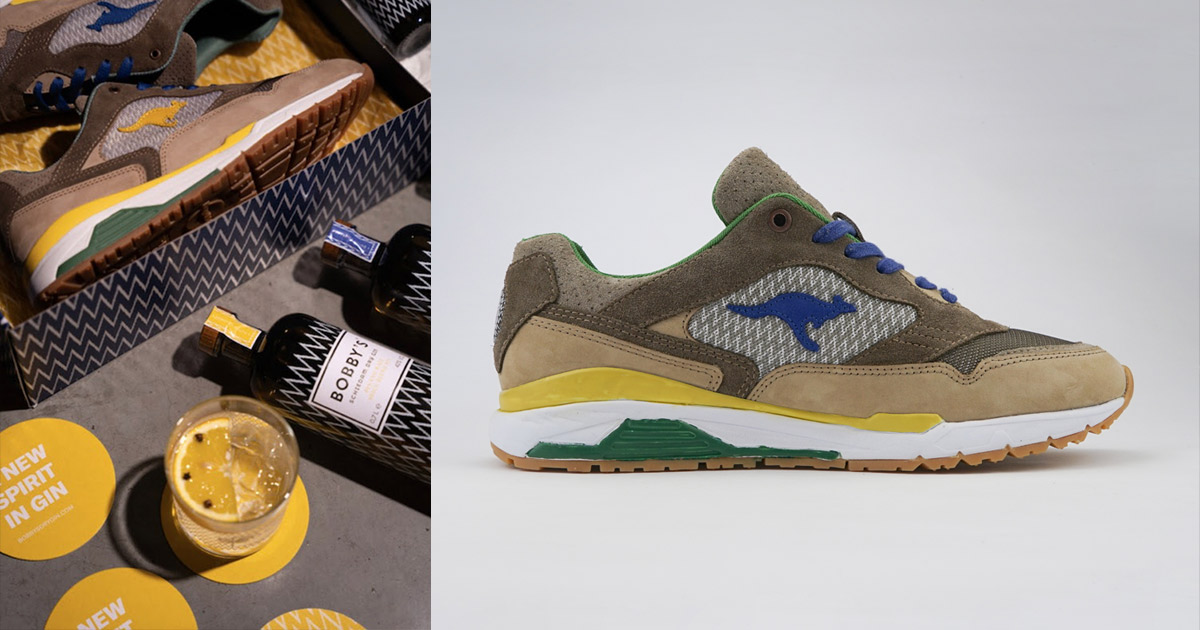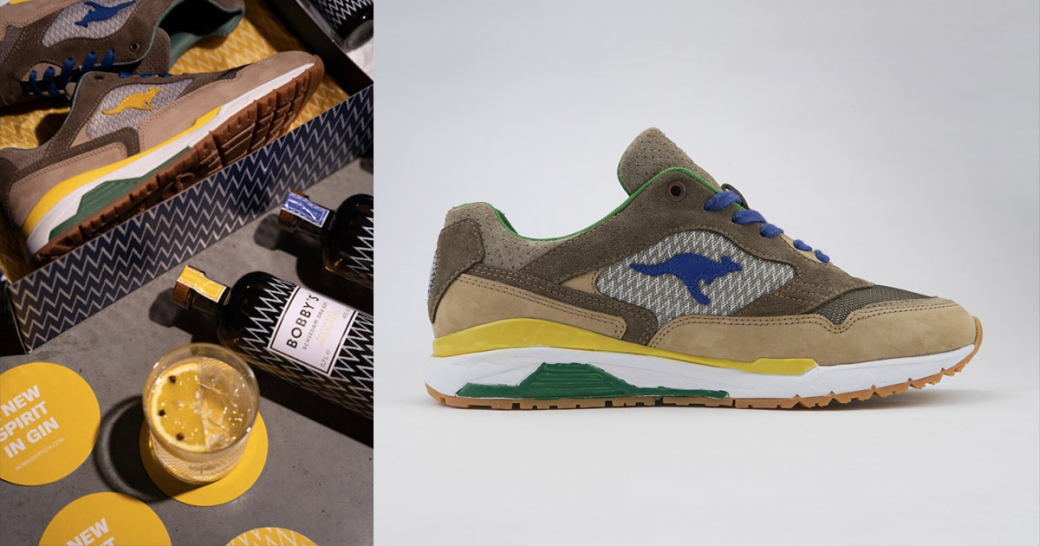 Collaboration
Sneakers meet gin: The KangaROOS x Bobby's Gin Ultimate
Bobby's Dry Gin Founders, the brothers David Blom and Sebastiaan van Bokkel, sharing their passion not only for good gin tonic but also for fashion and sneakers. Just like the members of KangaROOS do. So, it came that David met Rajko from KangaROOS Netherlands one day and they recognized they have a lot in common.
They both found out that they share the same roots and history. Both of their grandfathers came from Ambon and were soldiers between '45 and '49 for the Dutch army in Indonesia. Bobby's Dry Gin is named after David's and Sebastian's grandfather, Jacobus Alfons, known to his friends and family as Bob or Bobby. The man who unwittingly created the recipe of Dutch Courage and Indonesian Spirit.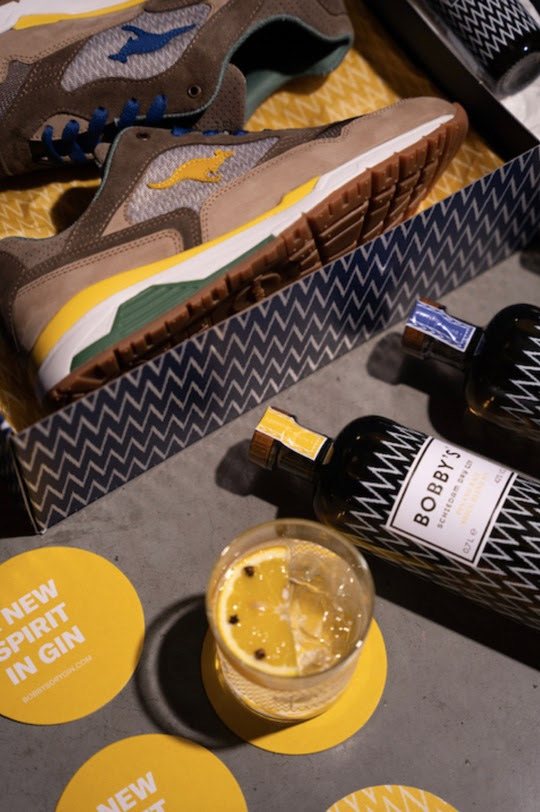 The shoe is based on different colours which is all taken from the rich history of Bobby's Dry Gin and the Netherlands. Green from the leaves of an orange, the leaves from rose hip, a green tone from the green trunk that the soldiers had for their belongings when they came from Indonesia. The Brown colour reflects the tone from the cloves or spices such as pepper, juniper and others. The blue, green and yellow colours also reflects to the seals of the Bobby's Jenever, Bobby's Gin and the newest Bobby's Pinang Raci Gin Bottle.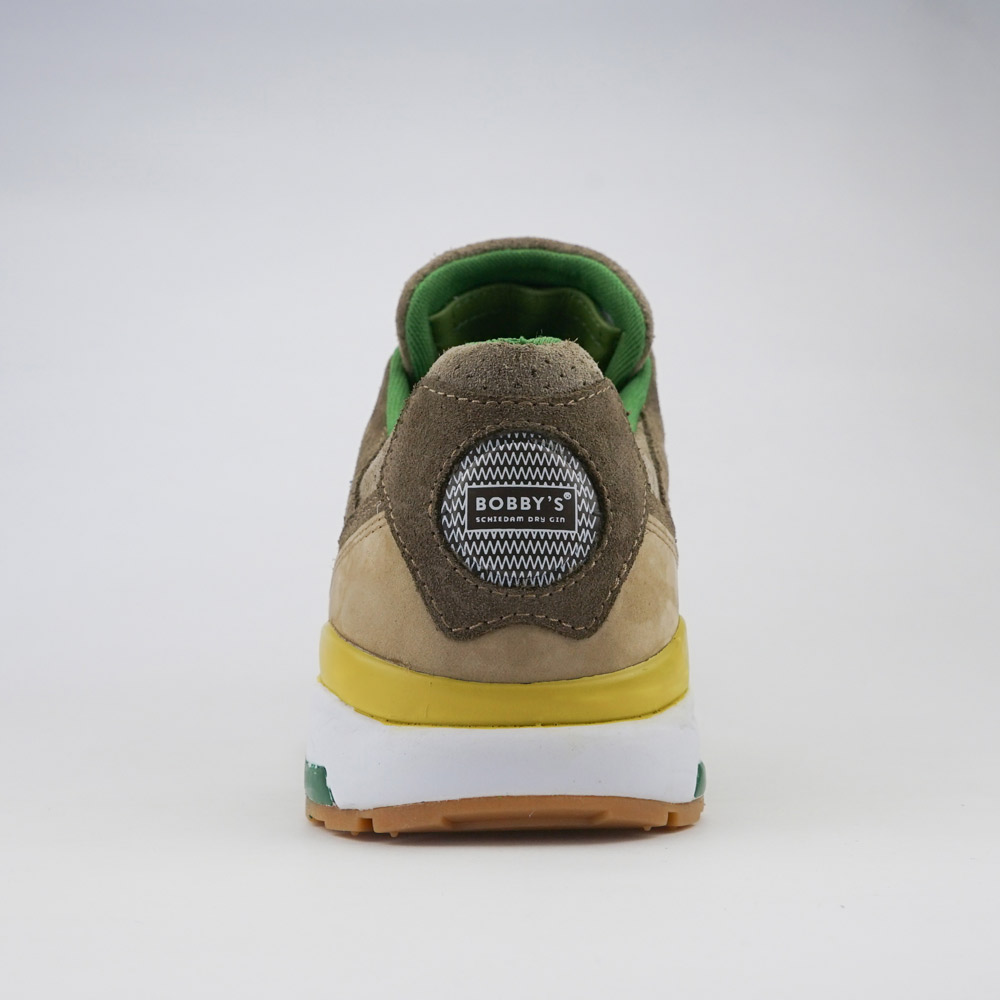 The KangaROOS x Bobby's Schiedam Dry Gin model is based on ROOS successful silhouette, the Ultimate and comes with three different laces with printed tips, a small bottle of gin and a dustbag with cloves. The KangaROOS x Bobby's Ultimate with its printed insole is handcrafted in Germany in the Hummel & Hummel shoe manufactory.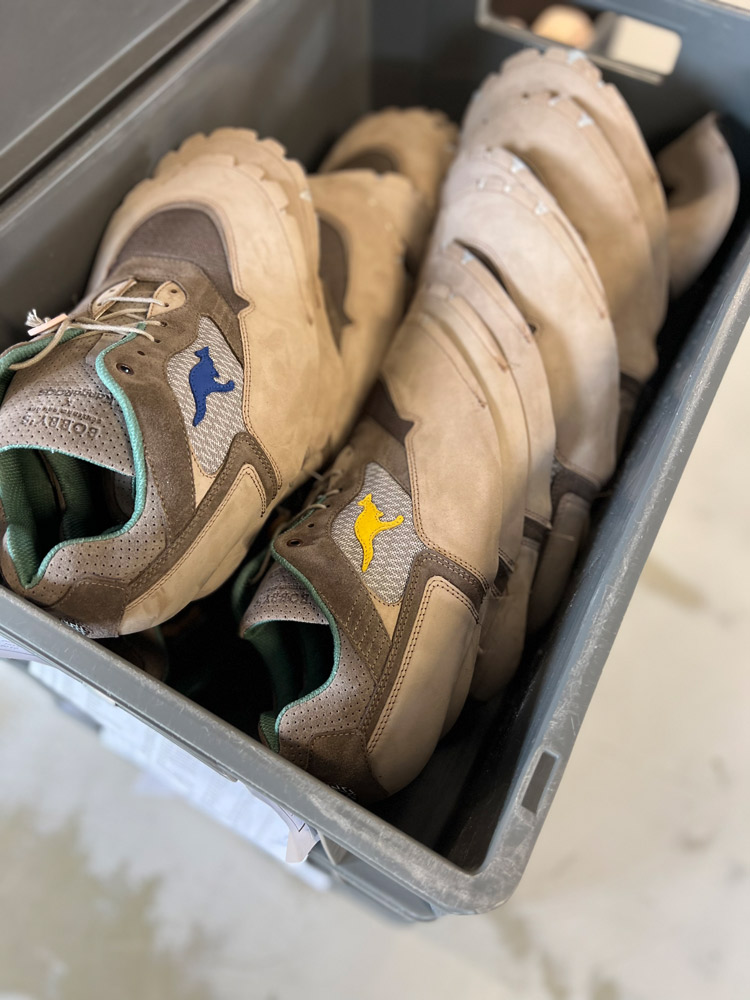 About Bobby's Dry Gin:
Bobby's Dry Gin is a unique blend of Indonesian spice and traditional botanicals. Spicy and fragrant Lemongrase on the nose, a fresh burst of citrus and herbs with the first sip, with a slight hum of cubeb pepper. Traditional Indonesian botanicals and spices give Bobby's Dry Gin its unique flavour profile. Bobby's Dry Gin only uses organic ingredients to create its characteristic scent and taste. Botanicals such as juniper, fennel and rose hips make Bobby's a 'Schiedam Dry Gin' and create the balance between East and West. www.bobbysdrygin.com
THE KangaROOS Story:
From running shoes to a lifestyle brand. KangaROOS has revolutionized the market for over 40 years. Bob Gamm, an architect and avid jogger, founded KangaROOS in 1979. Gamm designed running shoes with a practical, distinctive enhancement: a small pocket, with the kangaroo as an appealing logo. With technical innovations such as Dynacoil, the product line continues to expand. KangaROOS was the first sports brand to sponsor marathon stars, basketball icons, football legends, and hockey teams. KangaROOS developed from an American sports outfitter into an international lifestyle brand, with innovative products, reissued classics and collaborations with hip designers and boutiques.
KangaROOS is cleverness plus coolness plus likeability, versus know-how and design. With fast internal decision-making and a feel for international trends, the brand can react quickly: it's creative and flexible! Sporting ambition is still the brand incentive. KangaROOS runs ahead of the pack and is the first to act instead of merely react. KangaROOS combines tradition with quick reaction: open-minded and authentic – just fresh. Welcome to the urban lifestyle. www.kangaroos.com
Source: Bobby's Dry Gin / KangaROOS
https://www.about-drinks.com/wp-content/uploads/2022/11/Bobbys-Gin-Kangaroos-Titel.jpg
630
1200
Redaktion
https://www.about-drinks.com/wp-content/uploads/2019/12/logo-ad-680.png
Redaktion
2022-11-02 15:30:05
2022-11-04 10:18:19
Sneakers meet gin: The KangaROOS x Bobby's Gin Ultimate