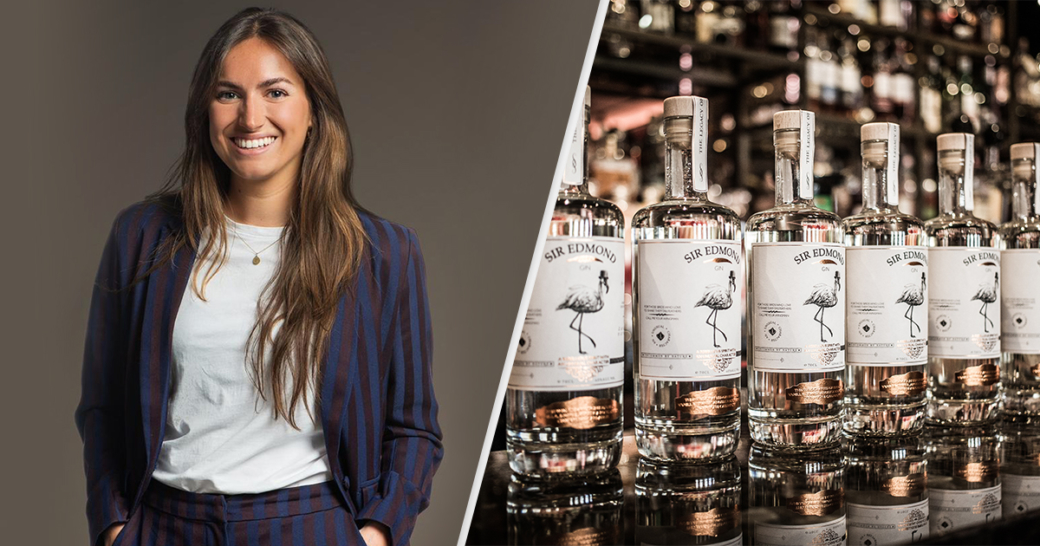 From the Netherlands
Sir Edmond Gin: Fleur Vonk about the Gin, the Vanilla and the Flamingo
From the Netherlands has come with Sir Edmond a gin, which has a more than unusual character. Meant, however, not only the taste, but the entire appearance. Named after the inventor of the pollination of vanilla pods, Edmond Albius, and inspired by star chefs who use bourbon vanilla in their cooking, the world's first Vanilla Infused Gin has been created. The bottle as well as the entire brand identity is adorned by "The Sir" – a flamingo, extraordinary and rebellious. 
In this interview, about-drinks spoke with Fleur Vonk, Junior Brand Manager at Sir Edmond Gin, about the creation and production of the spirit and its lifestyle character, among other things. She also reveals what the flamingo is all about.
What was your idea when you started? When was the brand Sir Edmond founded?
Fleur Vonk: Sir Edmond Gin is an ambitious and fast-growing company found in Amsterdam, born from the desire to create a gin that is truly unique. Since 2016 it's our missions to be the most versatile and high quality gin the in the world. Sir Emond Gin wants to create a gin experience that fits everyone's personal taste.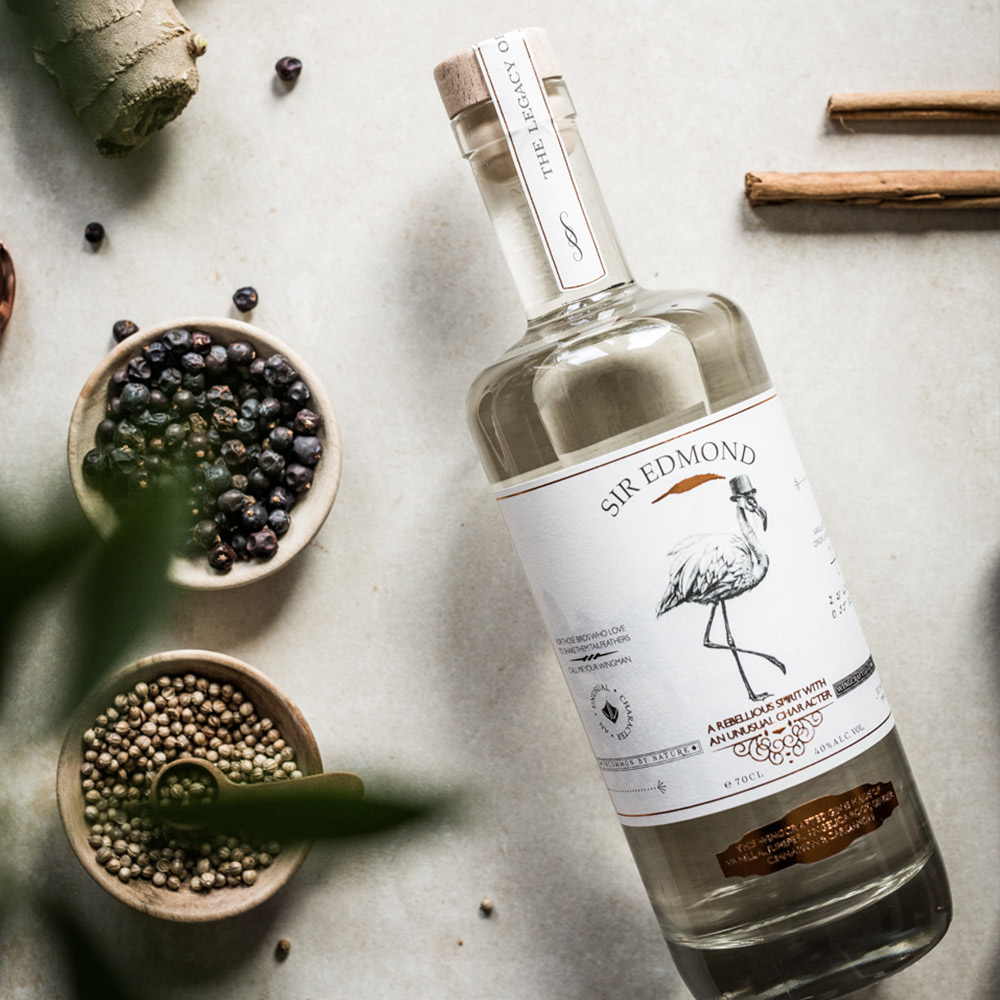 Why was the name "Sir Edmond" chosen and why is it a flamingo? Does this specific animal have any meaning to you?
Fleur Vonk: Our story starts with a man who felt like doing it differently. An unusual character who singlehandedly changed the future of vanilla. His name: Mr. Edmond Albius. History was made in 1841, when 12-year-old plantation worker Edmond Albius invented an unusual technique for pollinating vanilla orchids quickly and profitably. This hand-pollination method is still used today as the only viable way. The discovery of Edmond on the tropical French island Réunion started the world wide success story of vanilla. The young man lived long enough to see the end of slavery, but unfortunately didn't benefit from it and died poor.
Réunion Island is a tiny, isolated and untamed island almost nobody knew of. It has preserves beautiful treasures: volcanic landscapes, a rain forested interior, coral reefs and secluded palm tree beaches. One of the other treasures is the diversity of fauna found on the island. It is home to extensive animal wildlife with a lot of migratory birds. One of them is an intriguing and unusual species, called Phoenicopteriformes, better known as the flamingo.
The flamingo is a migratory bird from this island. He is standing out. He always did. As his fellow birds where balancing on their left leg, he stood on his right. While they sat at the table, he danced on top of it. When they settled for tropical bliss, he flew north. In Amsterdam, my adopted hometown, we created the unique gin we had envisioned for years.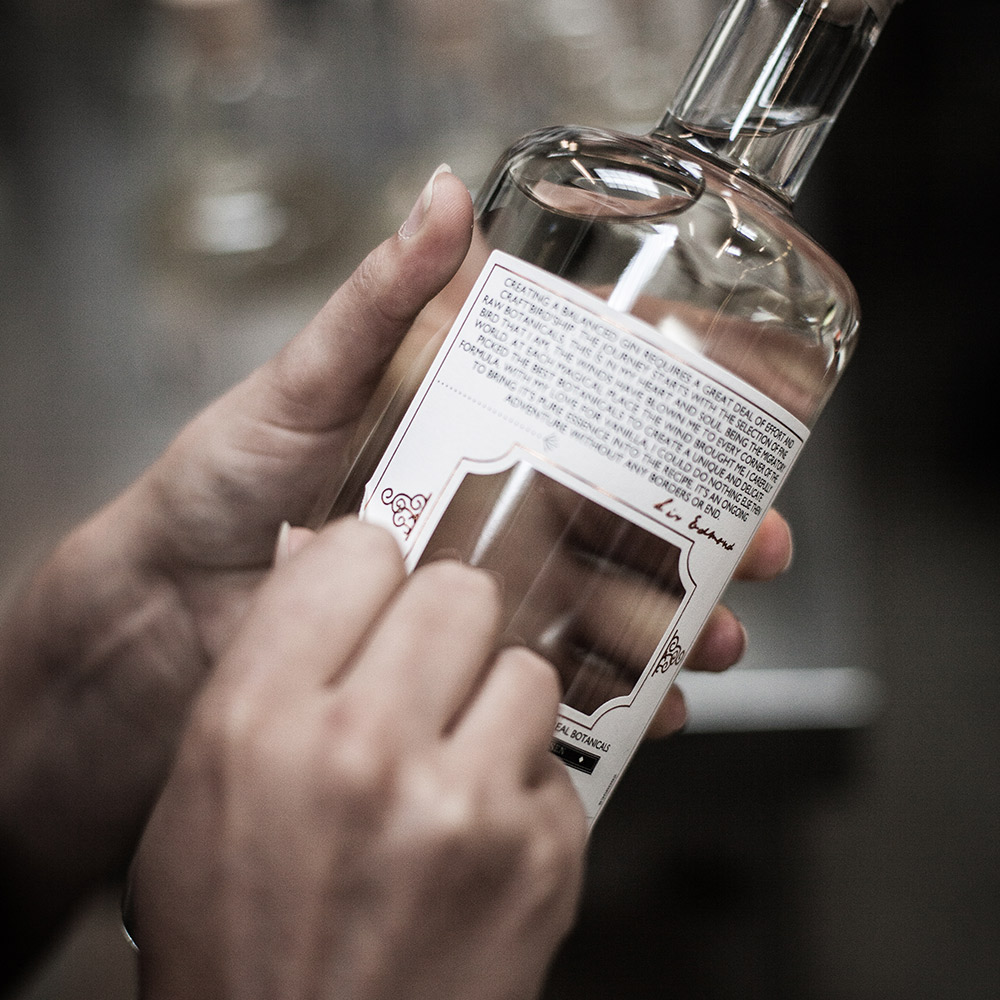 The taste is as unusual as the flamingo. Please tell us about the ingredients! Who did inspire you?
Fleur Vonk: As the unusual and rebellious character Sir Edmond is, we created world's first vanilla infused gin. Inspired by Michelin star chefs who use Bourbon vanilla in their kitchen to create culinary magic, the makers of Sir Edmond Gin gave this fantastic ingredient the main stage in their gin.
The gin comes about through a precise distilling process involving juniper, angelica root, ginger, cardamom and cinnamon. This distillate then gets infused with Bourbon vanilla for a few weeks, resulting in the game-changing taste of Sir Edmond Gin.
In your own words: How does the Gin taste and why is Sir Edmond non-comparable to any other Gin?
Fleur Vonk: I personally love Sir Edmond Gin because of the sweetness that comes from the vanilla. It makes your drink versatile. I honestly made a lot of friends with this gin already, because it fits almost everyone's taste. No wonder, because it's one of the most beloved ingredients in the world. Since I started working here, I turned a lot of my non-gin-drinking friends into Sir Edmond Gin drinkers … 😉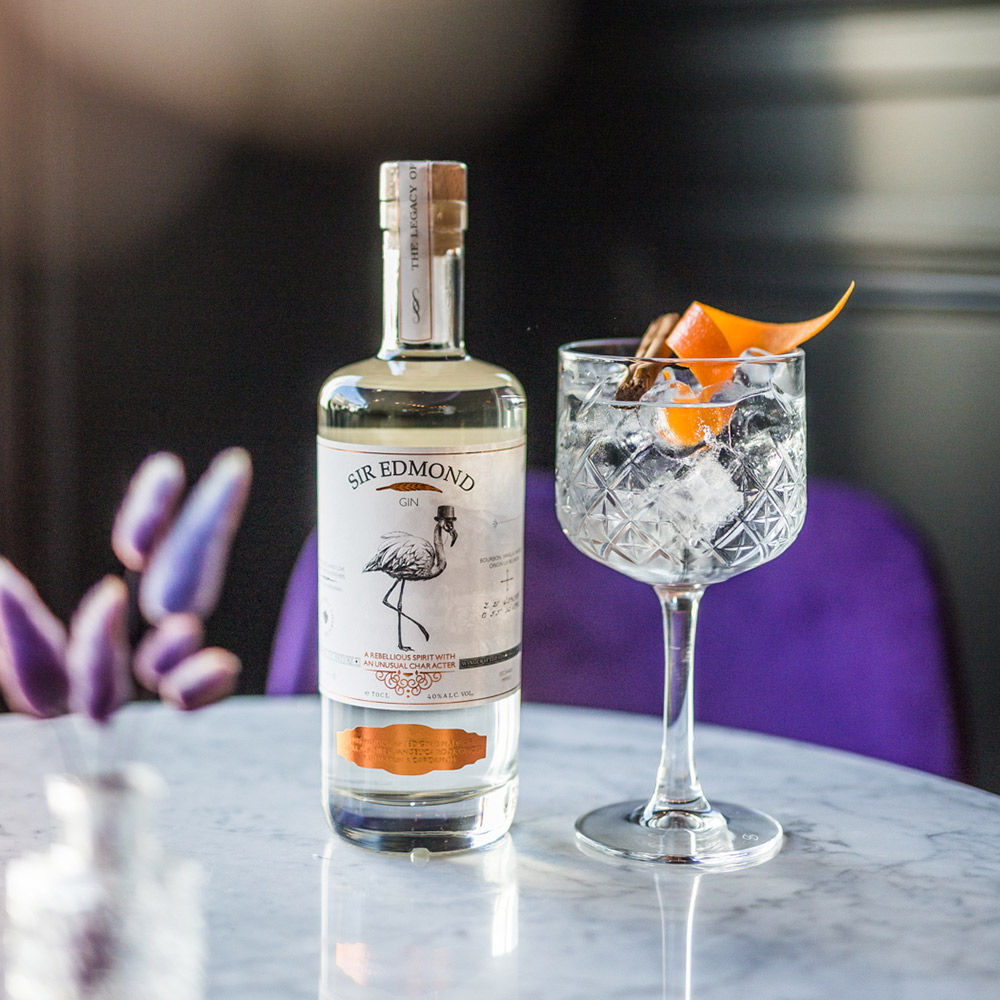 For which different serves Sir Edmond can be used?
Fleur Vonk: In my opinion, when we're talking Gin & Tonic's, the perfect serves are Sir Edmond gin in combination with a premium Indian tonic, garnished with strawberry & mint or orange & cinnamon. My favourite cocktail is the rebellious Pornstar Martini, which is made out of Sir Edmond Gin, passion fruit liqueur, passion fruit purée and vanilla sugar. The perfect serve for who is a little sweet and a lot of badass.
Where is the gin available in Europe?
Fleur Vonk: In Europe Sir Edmond Gin is available in The Netherlands, Belgium, United Kingdom, Germany, Spain, France, Italy, Portugal, Norway, Sweden, Denmark, Austria, Hungary, Poland, Switzerland and Singapore.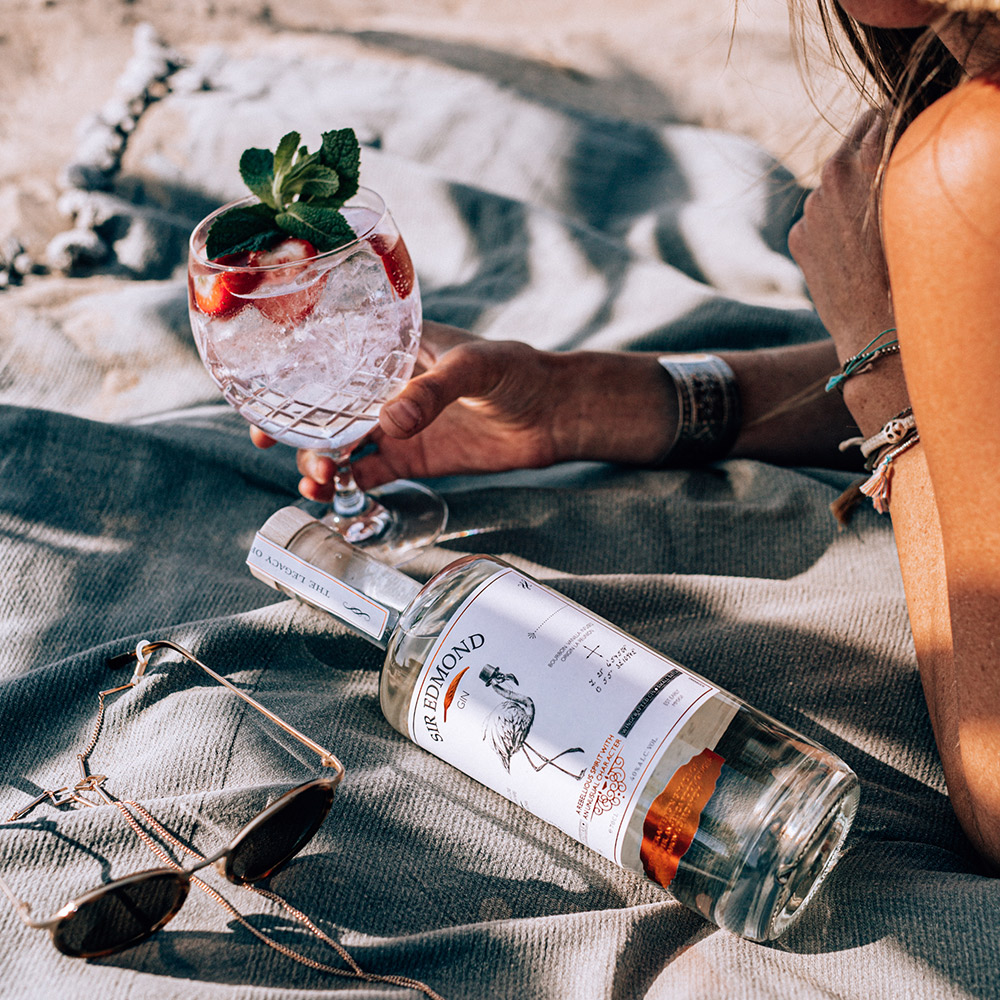 What do you do in the field of social media, advertising, campaigns to make "The Sir" popular?
Fleur Vonk: On our website we have The Flamingo Journal were we amuse our community with stories about rebellious people and unusual places the world over. Besides that, we send our community a monthly newsletter with some more exclusive content, we share stories about unusual characters, lifestyle tips and Sir Edmond Gin recipes. On our social media we share content which is in line with all of the above, but mostly to inspire our community. In short, that's how we bring the Sir Edmond lifestyle to live by translating this into visuals and stories, regarding the online part.
You have created a real lifestyle brand. This is also reflected in the advertising material. Which are there?
Fleur Vonk: We didn't create the regular advertising material, because you know, Sir Edmond is an unusual character. Our advertising material is a translation of the Sir Edmond lifestyle. With that thought in mind this resulted in leather jackets, surf boards, skateboards, wakeboards, skim boards, sunbeds, chest pins, swim shorts, different types of glasses and so on.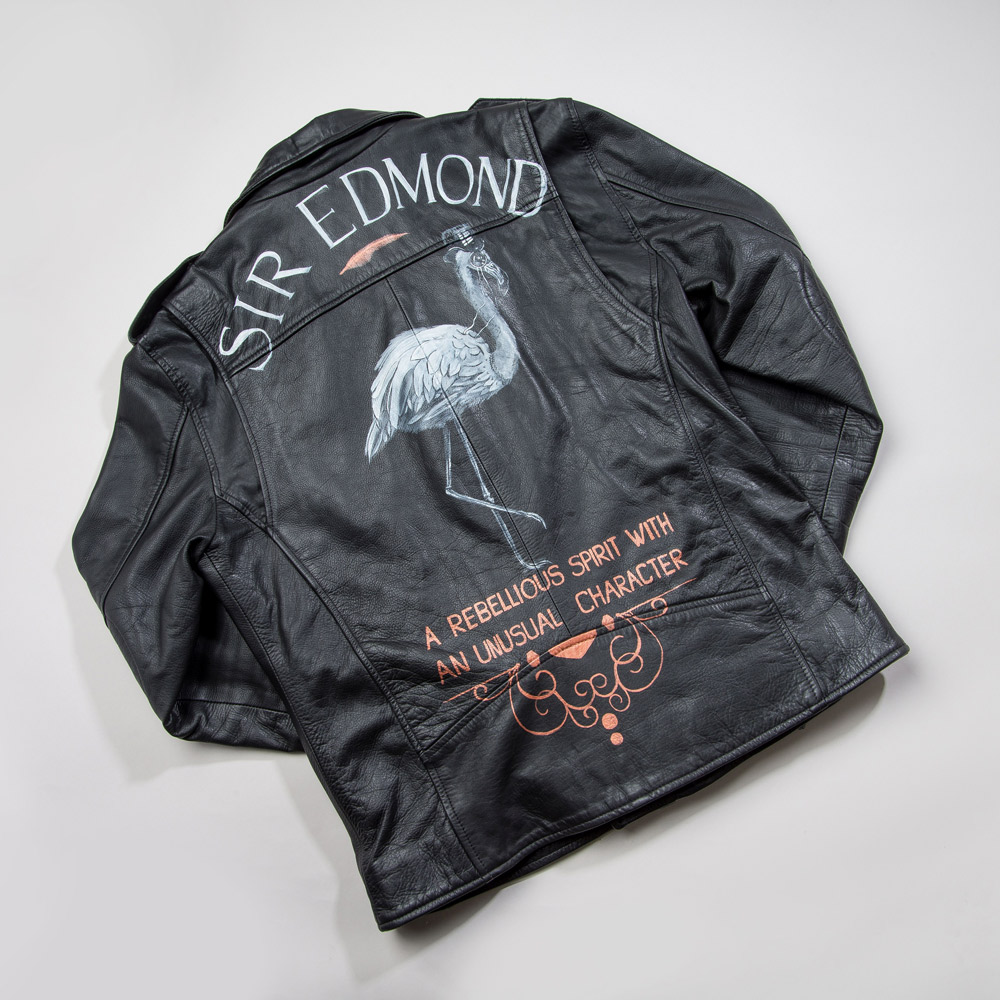 Looking ahead: What are your plans for this year?
Answer: Our main goals are intensifying the cooperation with our current partners and further expanding our international footprint and distributor network with qualitative partners. At this moment we are working on something new in our distillery as well, but we cannot tell you about this yet… So in short, our goal is hitting the shelves in even more countries all over the world, becoming even more bartenders favourites and continuing stealing the hearts of many gin lovers.
In one sentence: Why should everyone reading this interview try the Sir Edmond Gin?
Answer: It's one of a kind, unparalleled. Be careful when you drink Sir Edmond Gin, once you've tried it, you might never want to drink anything else anymore … 😉
Sir Edmond Gin | siredmondgin.com | facebook.com/siredmondgin | instagram.com/siredmondgin
+++ We thank Fleur Vonk for the open and very interesting interview and wish her continued success! If you have an interesting brand, then we should talk. Just send us an email with the subject "about-drinks interview" to redaktion@about-drinks.com – we look forward to hearing from you! +++
https://www.about-drinks.com/wp-content/uploads/2021/04/aboutdrinks_Interview_1200x630_SIR_EDMOND-1.jpg
630
1200
Redaktion
https://www.about-drinks.com/wp-content/uploads/2019/12/logo-ad-680.png
Redaktion
2021-04-22 16:20:05
2021-04-22 18:47:54
Sir Edmond Gin: Fleur Vonk about the Gin, the Vanilla and the Flamingo