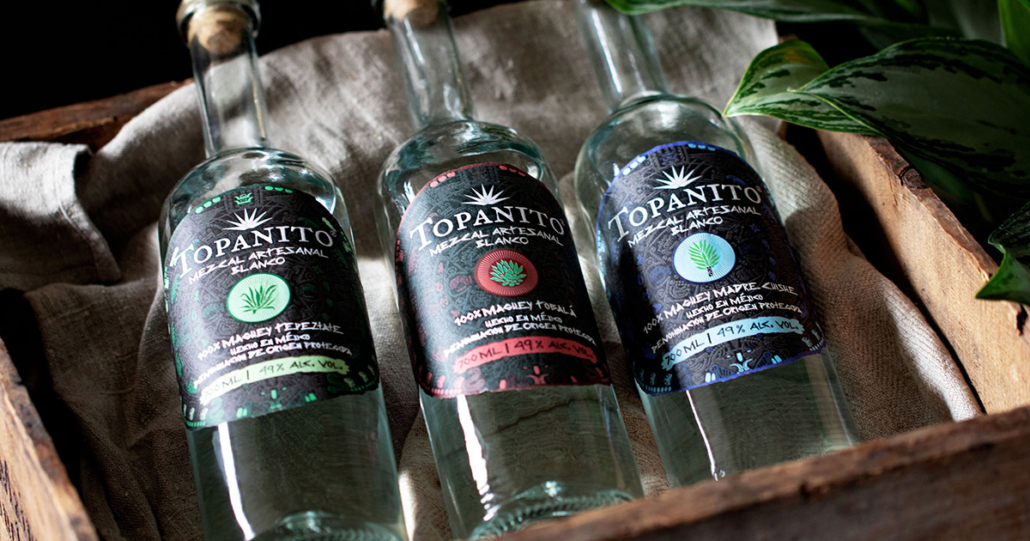 Now available
Mezcal made from rare agave varieties: Perola launches the Topanito wild agave series
Topanito represents authentically Mexican Craft Mezcals of the quality category "Artesanal". The new wild agave series with its three varieties – Madre Cuishe, Tobalá and Tepeztate – is available from 29 April 2022. The products are made from three rare agave varieties and provide plenty of variety in the glass.
Topanito produces its craft mezcals inside the praised distillery of Amantes de lo Ajeno in San Dionisio Ocotepec in the state of Oaxaca. Hand harvested agave hearts are roasted in earth pits filled with coal for 5-8 days, which lends Topanito it s typical mezcal smokiness. The cooked "piñas" are crushed with the help of a traditional stone mill ("Tahona"), which is pulled by a donkey. 5 days of fermentation are followed by double destillation in traditional copper pots called "alambiques".
"In order to provide our community with the full range of agave enjoyment, we have expanded our Topanito product range from the original three tequila qualities to include two Espadín mezcals in 2019. Since the Espadín agave is by no means the end of the line when it comes to mezcal, and mezcal offers an incredible variety of agave types that can be used, it was ultimately a logical step for us to further refine our agave range with three very unusual varieties", says Arno Schmid-Egger, Perola's managing director.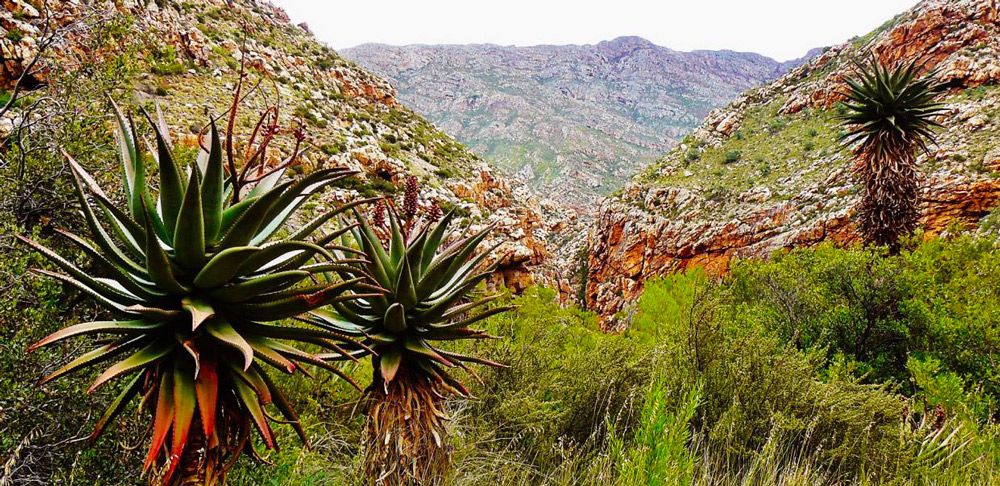 The Wild Series
Maguey Espadín marks the typical agave used for Mezcal Artesanal. Its relatively "short" maturing process of 5 to 12 years in combination with the sheer size of its agave hearts and content of starch predestines for extensive production of fine agave spirits.
While most mezcal is made out of rather easy to cultivate Maguey Espadín, there are also these rare, hidden agave treasures that grow in the wild … Remotely, sometimes over decades … Developing truly extraordinary notes and flavors. Topanito puts three of them into your Veladora glasses and Copitas and is very proud to present the "Wild Series".
Arno Schmid-Egger explains why exactly these three varieties were chosen: "With our wild agave mezcals, we wanted to present a series that forms a thematic unit in terms of factors such as cultivation and rare occurrence, but at the same time clearly differs from one another in terms of aroma and taste and conveys the almost limitless possibilities of Mezcal Artesanal. With the intensely berry-like Tobalá, the earthy and mild Madre Cuishe and the fruity and 'green' Tepeztate, I hope and think we have succeeded quite well."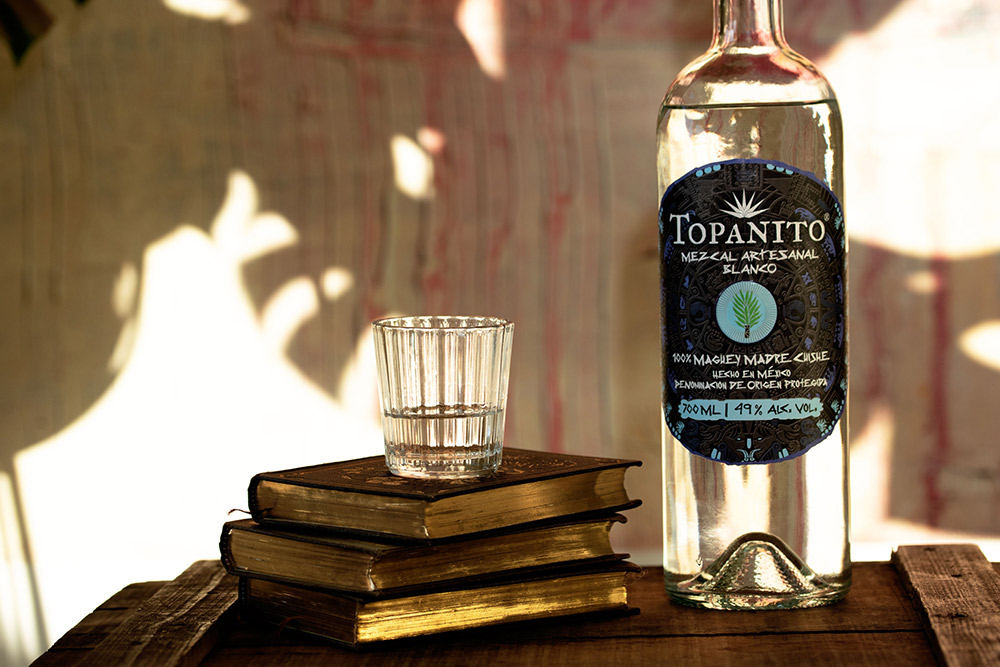 Topanito Mezcal Artesanal 100% Madre Cuishe
Madre Cuishe belongs to the family of "Karwinskii Agaves" and is typically harvested after 12 to 15 years. This species usually grows in lower altitudes with hot climate also known as "tierra caliente", which provide earthy, mineral notes. "Madre" is Spanish for "mother" – "Cuishe" marks an indigenous term for the "Mother Agave" owes her title to a biological phenomenon, which lets her produce seeds that develop into numerous agave varieties, for example Agave Verde, Coyote or Tobalá.
Tasting Notes
Poured into the glass, this mezcal is unobtrusive with pleasing fruity notes reminiscent of mango. They are underpinned by an earthy, mineral tone that also persists in the mouth. With a smooth mildness, the Topanito Mezcal Artesanal 100% Madre Cuishe impresses with a complex structure of salty, earthy and fresh nuances as well as notes of green pepper and parmesan. The equally mild finish provides a fitting conclusion to the taste experience. This Mezcal Artesanal is best enjoyed on its own or with Mexican food.

Topanito Mezcal Artesanal 100% Tobalá
Unlike Madre Cuishe, Maguey Tobalá is relatively tiny in size and growing at higher levels, which usually lends a sweeter and more fruity character to the final spirit. Tobalá is usually harvested after 12 to 15 years and it takes comparably high amounts of plants of this little agave to produce mezcal. The final result is a wonderfully aromatic and likewise intense agave spirit.
Unlike other species, Tobalá does not produce shoots ("hijuelos") but can only grow from seed. This circumstance in combination with its required quantity for production has led to the bitter fact that this variety is getting rare in many places, which makes sustainable production crucial for healthy populations in the future.
Tasting Notes
As soon as you pour it into the glass, the Topanito Mezcal Artesanal Blanco 100% Maguey Tobalá exudes a wonderful aroma of ripe red and blue berries as well as fresh mint, tobacco, coffee and smoke. On the palate, this fruity spectacle continues until it slowly subsides with a hint of dark chocolate. Enjoy this mezcal neat or in a berry Oaxaca Old Fashioned!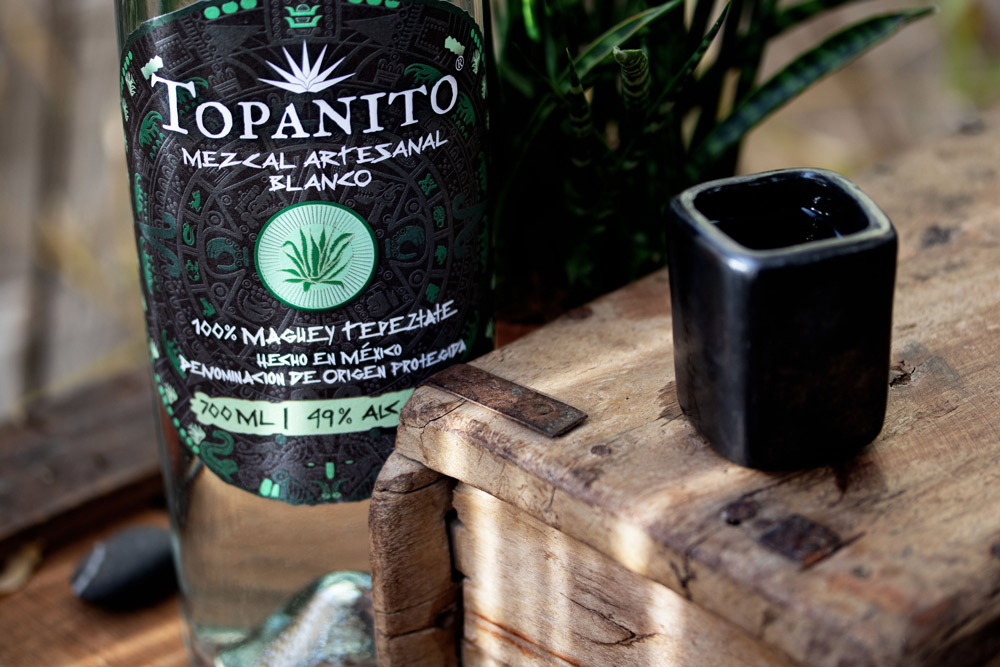 Topanito Mezcal Artesanal 100% Tepeztate
Tepeztate belongs to the agave family "Marmorata", named after the characteristic marbling on their plants. It takes up to 30, sometimes 35 years for Maguey Tepeztate to mature and be harvested. It grows in heights of 1.400 to 2.000 meters typically at steep hillsides and rocky cliffs, often near wild herbs. In addition, it is notorious among local distillers for its low sugar content. While 10 to 20 pounds of roasted agaves are sufficient for one liter of Mezcal Espadín, 60 to 180 pounds are needed for one liter of Mezcal Tepeztate. Long maturing time, occurrence at remote, dangerous slopes and its low yield in combination with its complex flavors make this species a true treasure to have in the glass.
Tasting Notes
On the nose, this rare mezcal has hints of green mango, green chilli, cucumber, kiwi and passion fruit. Take a sip and you will immediately notice the creamy texture, which harmonises perfectly with the fruity notes of passion fruit, mango and lime. These impressions are underpinned by spicy cayenne pepper and a hint of chilli, which also provides a light, pleasant spiciness in the finish.
The products are available in the Perola online shop and elsewhere from 29 April 2022.
Topanito – the brand
Topanito has made it its business to offer authentic mezcal and tequila for lovers of original Mexican agave spirits. Topanito was founded in 2011 by Perola GmbH shortly after its own brand was established a year earlier.
Due to a lack of suppliers of high-quality agave spirits with an attractive price-performance ratio for the gastronomy sector, the Franconian premium spirits importer and manufacturer decided without further ado to launch a suitable brand that met its own quality and pricing requirements. Topanito was born.
The name pays tribute to Aztec mythology and thus pays homage to the supposed inventors of mezcal. Thus, the legendary Mexican natives called the seat of their deities "Topan" and also described agave schnapps as a "gift from the gods". With each sip, Topanito thus aims to bestow a "small gift from above".
Another core of Topanito's philosophy lies in limiting itself to the essentials: A comparatively simple packaging implies full concentration on the content, the minimalist Topanito bottle enables quick, problem-free handling behind the bar. Topanito thus delivers premium agave spirits that are suitable for both professional bartenders and amateur mixologists with high standards.
Source: Perola GmbH
https://www.about-drinks.com/wp-content/uploads/2022/05/Topanito-Sorten-1030x541-1.jpg
541
1030
Redaktion
https://www.about-drinks.com/wp-content/uploads/2019/12/logo-ad-680.png
Redaktion
2022-05-10 09:35:58
2022-05-10 09:35:58
Mezcal made from rare agave varieties: Perola launches the Topanito wild agave series