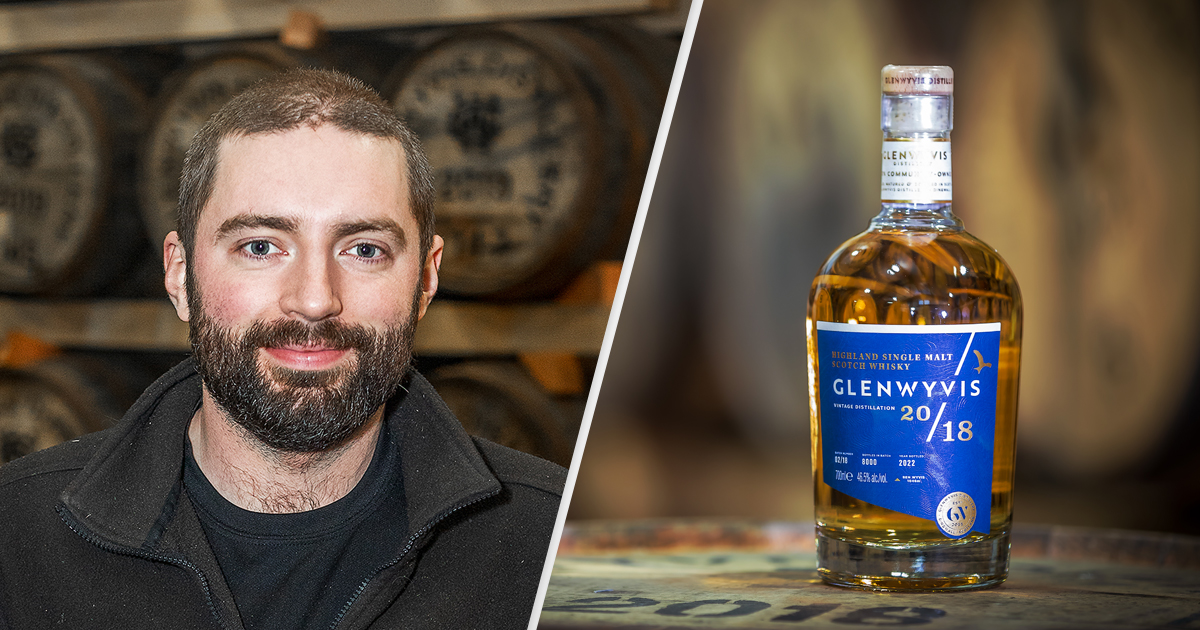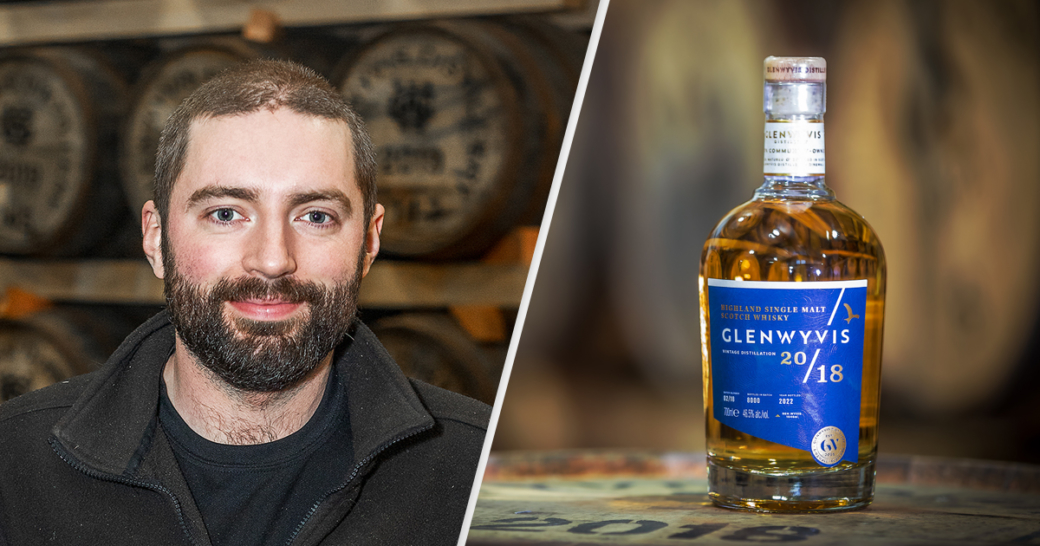 Interview with the Distillery Manager
GlenWyvis: Matthew Farmer on the world's first community-owned distillery
The story of Scotland's GlenWyvis Distillery began in 2015 with one of the UK's largest crowdfunding campaigns. More than 3,600 backers from over 30 countries and an amount of 3.8 million pounds (approx. 4.5 million euros) made it the world's first distillery under full community ownership. It also revived the distilling tradition of the town of Dingwall after 90 years. Matthew Farmer has been Distillery Manager since 2020 – his path to GlenWyvis is not ordinary either. He lived with his wife in the USA, applied for the job – with success – and so moved around the world in the middle of the pandemic.
We talked to him about the founding of the distillery, the tradition in Dingwall, and the distillery's independent power supply. He also talks about the first GlenWyvis products and the collaboration with Kirsch Import.
Who are you and how did you get into the whisk(e)y business?
Matthew Farmer: Well I'm technically Scottish, but I have an American accent so I don't know it it counts any more. My family moved to Seattle, USA when I was a teenager, and after a short stint as a chef I fell into the craft distilling scene that was just starting there around 2008.
10 years later I was still at it, making bourbon and rye whiskey, and our growing distillery had been consumed into a multinational conglomerate. At the same time, my wife and I were starting a family and we were just waiting for our cue to take the next big step.
The next big step was then the move to GlenWyvis?
Matthew Farmer: Yes, I had previously contributed to GlenWyvis' crowdfunding, as it was being built close to where I grew up and the social enterprise aspect really appealed to me. I had kept up with news from the distillery through its early years.
When it was announced they were looking for a new distillery manager in 2020, my wife and I decided it was worth a shot. Before we knew it, we were moving across the world in the middle of the pandemic! It's been an absolute adventure and we've been here for almost 2 years now.
You've already hinted at it: the story of how GlenWyvis came to be is extraordinary. Tell us about it!
Matthew Farmer: As a community benefit society, the distillery sourced the vast majority of its funding from individual investors through one of the UK's biggest ever crowdfunding campaigns. At the time, small distilleries were booming in Scotland, but a lot were being funded by outside investment.
The idea of a distillery built for community, owned by the community, really seemed to capture the public imagination. We know have over 3,800 members worldwide who all contribute in some way to making GlenWyvis a success.
With the distillery, you have revived the distilling tradition of the town of Dingwall. Why there?
Matthew Farmer: Ross-shire (editor's note: the traditional county in which Dingwall is located) has a long history of distilling, with the old Ferintosh distillery once being almost synonymous with scotch whisky. Dingwall itself was home to Ben Wyvis and Glenskiach was in nearby Evanton until both closed in 1926.
A lot of the natural environment that made it good for distilling back then still applies, and in a modern context it's a perfect place to harness renewable energy in the middle of an abundant barley growing region.
The Distillery is independently powered. How so?
Matthew Farmer: The distillery itself uses surprisingly little electricity, so we're able to share a wind turbine, solar panels and small hydro scheme with the surrounding farm to cover most of our usage.
Excess gets sold to grid, or we have the option to import certified green energy for immediate demand. This is then used to run a biomass (woodchip) boiler that supplies heat in the form of steam for the whole production process.
The distillery is community owned, and you also give part of the profits back to the community. How and who do you support?
Matthew Farmer: We've only just turned our first legitimate profit (whisky is particularly harsh in the early years), so volunteer directors from our membership have been elected to formalize our community funding into something called the GoodWill Fund.
We're currently taking grant applications from the local area for various projects focused on education, culture and entrepreneurship, and hope to have some successful candidates by the end of 2022. The great thing about being a distillery is that we understand patience, so we're looking to support projects that have room to grow and mature alongside our whisky.
The first whisky, GlenWyvis Batch 2 / 2018 Vintage, will be released at the end of 2021. Tell us about the product!
Matthew Farmer: Our inaugural release was incredibly limited and mostly reserved for crowdfunding rewards, so we consider Batch 2 our first 'major' release, although at 8000 bottles it's still comparatively tiny. Every year, we hope to release a unique, limited vintage batch that showcases the current offering of our distillery and provide a little snapshot of our journey.
As one of our first, this is a 3-year-old whisky that is meant to highlight and complement the unique character of our new make spirit while it's still in its youth. We produce a half-tonne mash of local malted barley every day (it was Concerto in 2018), ferment for 6 days in very cold temperatures then distill in in our traditional copper pot stills, taking a particularly tight cut.
This batch is a then a vatting of 60% first fill bourbon casks, where the sweet vanilla and oak create a nice backbone for our fruitier spirit. Then 25% first fill oloroso brings a really robust finish of dark chocolate. Finally, 15% refill casks add pure distillate flavour, letting the unique red-apple notes of our long fermentations really shine though. Finally, we bottle it all up at 46.5% abv. without chill filtration or artificial colouring.
GlenWyvis is one of the few distilleries that can produce both whisky and gin. Why? And is there already a gin in the pipeline?
Matthew Farmer: Gin was actually our first bottled product – because it doesn't have to mature, you can theoretically sell it to fund production of the whisky that does. Making the numbers work is another matter, but it did get the GlenWyvis brand out there from day one.
We originally contracted out gin production, but the members were really driven to bring it in-house – a second round of investment actually purchased the gin still for that very reason, and now we make whisky and gin at the same time!
The whisky has recently been distributed in Germany by Kirsch Import. Why did you choose Kirsch as your partner?
Matthew Farmer: For a small business like us, just getting our product to Germany in the first place is a maze of red-tape and regulation, especially after Brexit, so someone like Kirsch who had already steered other smaller brands through that was a huge help to us.
There was also the question of what happens to the whisky once it lands – we don't have the resources or staff to maintain a full-time presence in Germany, so other than being incredibly willing to work with us, their distribution network has been invaluable.
What other plans are there for this year?
Matthew Farmer: We're hoping to follow up Batch 2 with a single cask or small batch whisky later in the year, although supply chain issues continue to cause bugbears.
We have some fascinating casks coming along that we're really excited about, so it's just a matter how and when want to use them; ideally we can get at least one out exclusively for our fans in Germany!
GlenWyvis | glenwyvis.com | instagram.com/glenwyvis | facebook.com/GlenWyvis | linkedin.com/company/glenwyvis-distillery
Kirsch Import | kirschwhisky.de | instagram.com/kirsch_whisky | facebook.com/kirschwhisky | linkedin.com/company/kirsch-import-e-k
+++ We thank Matthew Farmer for the open and very interesting interview! If you also have an interesting brand, then we should talk. Just send us an email with the subject "about-drinks interview" to redaktion@about-drinks.com – we look forward to hearing from you! +++
https://www.about-drinks.com/wp-content/uploads/2022/08/GlenWyvis-Teaser-1.jpg
630
1200
Redaktion
https://www.about-drinks.com/wp-content/uploads/2019/12/logo-ad-680.png
Redaktion
2022-08-03 16:16:27
2022-08-03 16:16:27
GlenWyvis: Matthew Farmer on the world's first community-owned distillery