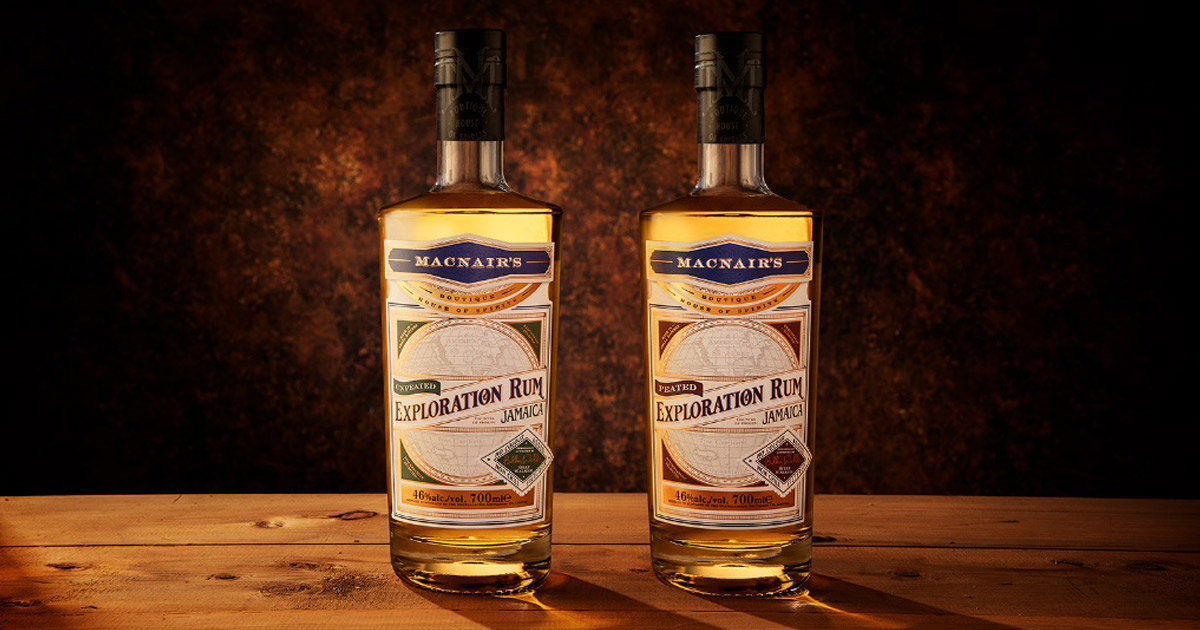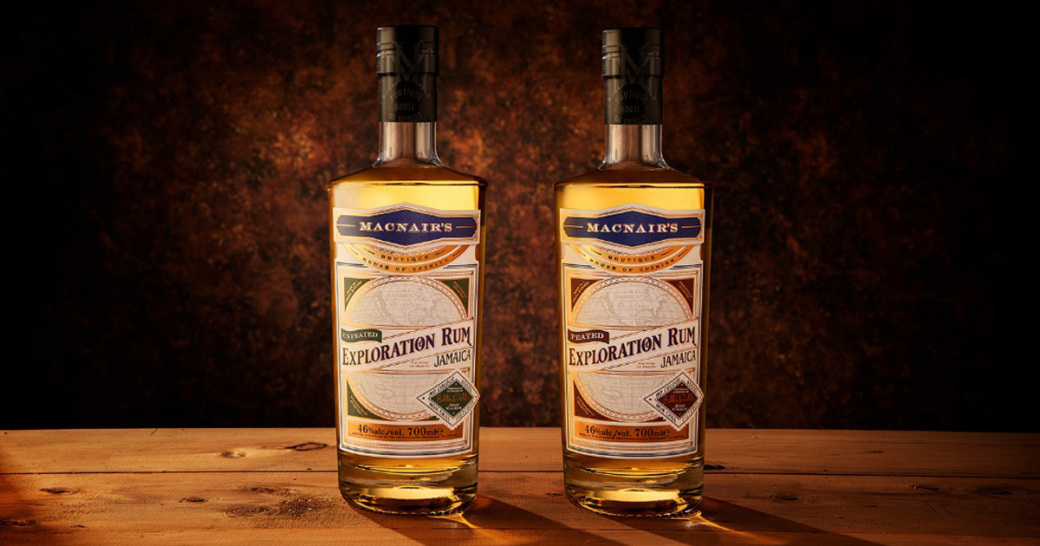 The GlenAllachie
Veteran Blender Billy Walker creates new MacNair's Rum duo
Independently owned and managed spirits firm The GlenAllachie Distillers Company today reveals a new Jamaican rum line for its MacNair's Exploration Rum brand. The new duo of small-batch rums comprises of Exploration Rum Jamaica Peated (UK RRSP £49.99) and Exploration Rum Jamaica Unpeated (UK RRSP £44.99), each carefully curated by revered Master Blender Billy Walker who this year celebrates a half-century spent in the spirits industry.
Seeking out the world's finest rum, Walker pinpointed Southern Jamaica's Clarendon Distillery situated on one of the oldest sugar cane plantations on the island. Renowned for crafting some of the most flavourful and intense rums in the world, Jamaica has been a rum production hotspot since the 17th century.
Following in the footsteps of MacNair's successful Exploration Rum Panama range, launched last year, the new Jamaican expressions were subjected to a similarly complex and innovative maturation journey, but this time are under the watchful eye of Walker throughout the entire aging process.
To create the new bottlings, Walker brought the premium Jamaican rum to Scotland be fully matured in the cool climate at The GlenAllachie Distillery in Speyside. He purposefully obtained spirit at high, medium and low ester levels in order to achieve a multitude of flavour attributes from the wood.
Following a primary maturation period of 30 months in Rye, Rioja and virgin oak casks at varying ester levels and at 86% ABV, the rum was expertly blended by Walker and reduced to 69% ABV in order to be aged at two different solution characteristics. In a similar vein to maturing at different ester levels, presenting the rum to the wood at two alcohol strengths allows a wider range of flavour components to be extracted.
For the Jamaica Unpeated variant, the rum subsequently underwent secondary aging in a similar assortment of casks, whilst the Jamaica Peated expression completed its maturation journey in casks which previously held peated spirit distilled at The GlenAllachie to add a distinctive twist.
MacNair's Exploration Rum is proudly presented at a high strength of 46% ABV, with no added colouring or chill filtration.
Reflecting on the exciting new releases, Walker comments: "We've been delighted at the overwhelmingly positive and inquisitive response to our MacNair's Exploration Rum offering. We are founded on whisky but exploring a new spirits category has been an extremely enjoyable new challenge, and the results offer something different for rum fans to get their teeth into. Bringing these rums straight to The GlenAllachie Distillery to be fully aged under our supervision in the cool Speyside climate has created a totally unique flavour experience. Our aim is to push the boundaries of convention to develop eclectic, innovative rums for the curious and adventurous consumer, and we strongly believe these Jamaican gems encapsulate that."
Last year, MacNair's underwent a refresh which included new packaging and a brand repositioning, becoming a 'Boutique House of Spirits' encompassing its Lum Reek Blended Malt Scotch Whisky and Exploration Rum sub-brands.
MacNair's Exploration Rum Jamaica Peated and Unpeated are available to purchase via global specialist retailers, with UK RRSPs starting at £44.99.
ABOUT MACNAIR'S BOUTIQUE HOUSE OF SPIRITS:
Since esteemed Master Distiller Billy Walker became custodian of MacNair's, his singular, defining purpose has been in step with the spirit of 19th Century founder Harvey MacNair.
Over the course of almost 50 years in distilling and blending, Billy has earned widespread acclaim for his peerless blending prowess. At the heart of MacNair's Boutique House of Spirits sits a meticulous attention to detail. Billy's renowned hands-on approach has earned numerous hats-off accolades, and he now looks to carry this philosophy into new spirits categories beyond Scotch whisky.
At MacNair's Boutique House of Spirits, we are pushing the boundaries of convention to create a boundless range of exceptional small-batch spirits. We are founded on whisky, with a future of diversity. We are wholeheartedly invested in enhanced maturation, and believe honesty and integrity matter, which is why all of our expressions are bottled at a minimum of 46% ABV, natural colour and non chill filtered for maximum flavour experience.
TASTING NOTES
MacNair's Exploration Rum Jamaica Peated – 46% ABV
Colour: Golden Barley.
Nose: Lashings of pineapple, smoked plantains and cinnamon, with vanilla, butterscotch and smoked Caribbean jerky.
Taste: Bursting with ripe bananas, grapefruit and butterscotch, with mango, sugar cane, cocoa, ginger and vanilla.
MacNair's Exploration Rum Jamaica Unpeated – 46% ABV
Colour: Golden Sunrise.
Nose: Bursting with tropical fruits, vanilla and orchard fruits, with golden syrup, strawberry coulis and butterscotch.
Taste: Layers of honey, pineapple and plantains, with dried banana chips, grapefruit and cinnamon.
Source: The GlenAllachie
https://www.about-drinks.com/wp-content/uploads/2022/07/Mac-Nairs-Rum-2022.jpg
630
1200
Redaktion
https://www.about-drinks.com/wp-content/uploads/2019/12/logo-ad-680.png
Redaktion
2022-07-05 10:42:52
2022-07-05 10:42:52
Veteran Blender Billy Walker creates new MacNair's Rum duo