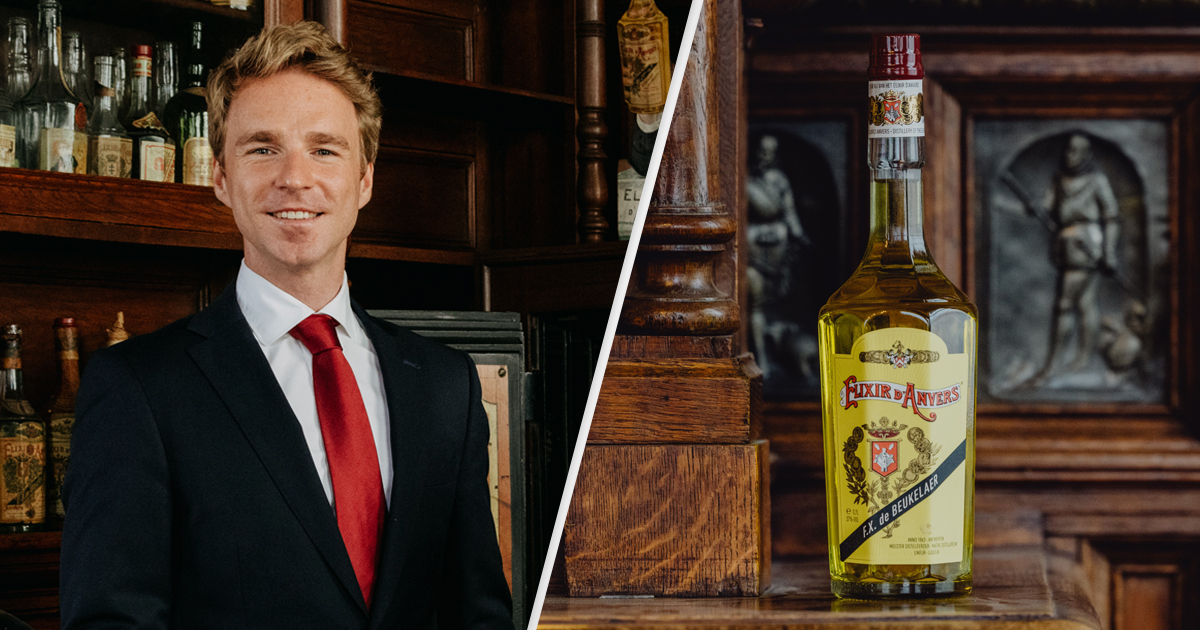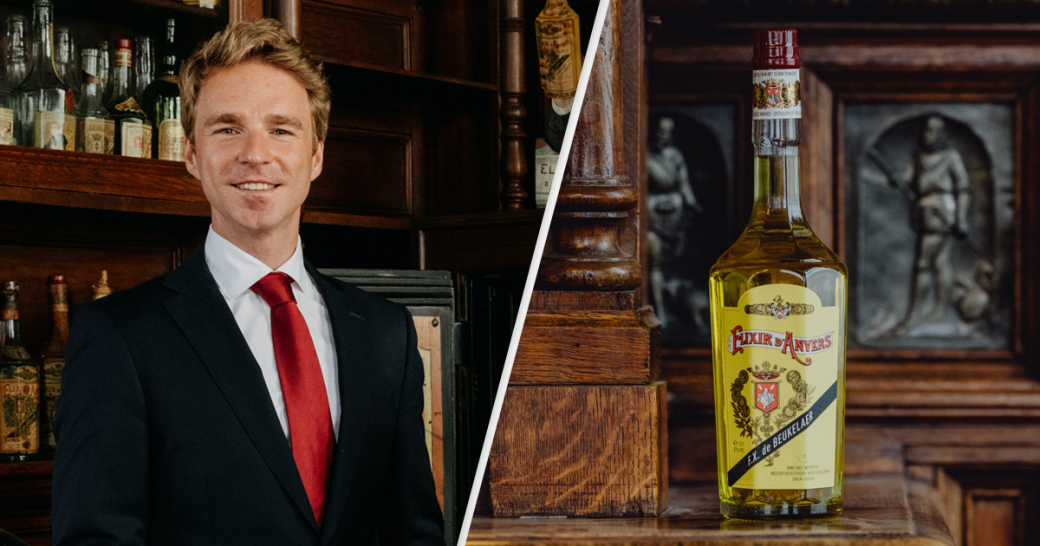 Interview
"Nostalgia in a bottle" – Carl-Ivan Nolet de Brauwere about Elixir d'Anvers
The traditional company F.X. de Beukelaer has been producing the world-famous liqueur Elixir d'Anvers for around 160 years, making it the oldest liqueur distillery in Belgium. The recipe for this historic liqueur is a well-kept family secret and has remained unchanged since François-Xavier de Beukelaer developed it in 1863. Traditionally, Elixir d'Anvers is drunk as a digestif, neat or on the rocks. But because of its unique taste, nowadays numerous mixologists and chefs create inventive cocktails or dishes with the liqueur that has been popular for generations.
We talked to Carl-Ivan Nolet de Brauwere, who runs the traditional company together with his father Ivan Nolet de Brauwere, about the historic liqueur and its history, as well as further plans for the future.
Mr Carl-Ivan Nolet de Brauwere, please briefly introduce yourself to our readers and tell us in what capacity you work for the oldest liqueur distillery in Belgium.
Carl-Ivan Nolet de Brauwere: My name is Carl-Ivan and I work with my father, Ivan, in the family business. We are scions of an old distilling family (over 330 years!). We lead the company together and we are the guardians of Elixir d'Anvers, one of the most iconic liqueurs brands in Belgium. In 2023, we will celebrate the 160 years of Elixir d'Anvers and our role is to perpetuate the tradition and the craftmanship of this historic liqueur.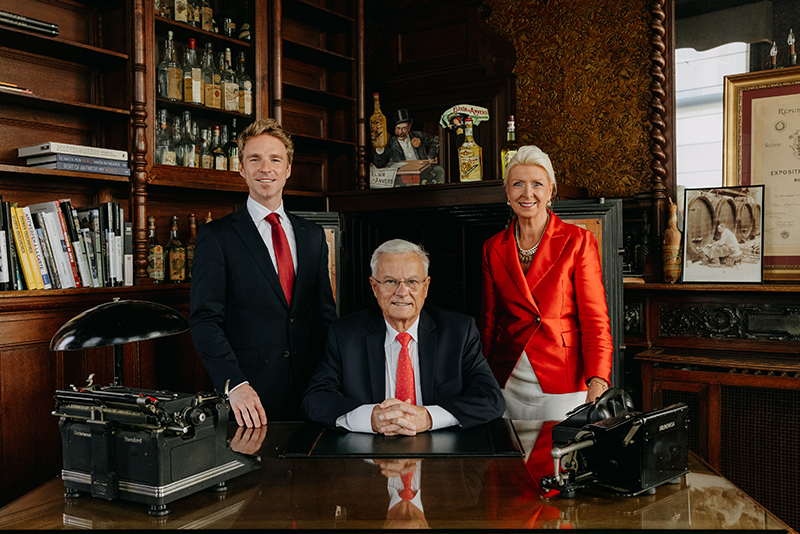 The recipe for Elixir d'Anvers has remained unchanged since François-Xavier de Beukelaer developed it in 1863. It's a national treasure. What makes it so appealing?
Carl-Ivan Nolet de Brauwere: Back in 1863, when Elixir d'Anvers was invented, modern medicine didn't exist yet and people were mostly treated with plants and herbs. The founder of Elixir d'Anvers, FX de Beukelaer, was a medical and pharmacy student and used his knowledge to create Elixir d'Anvers with specific plants, herbs and spices. Elixir d'Anvers was recognized to be an excellent digestive, even healing colics in horses (and even an elephant in the Zoo of Antwerp!).
Almost every Flemish household had a bottle of Elixir d'Anvers in their house and it quickly became a family tradition to drink Elixir d'Anvers. It was passed down from generation to generation. It has become, in some sense, the Proust's madeleine of a lot of Belgians, where drinking an Elixir d'Anvers make them nostalgic of the "good old days" or make them remember their parents or grandparents. We often hear people say that Elixir d'Anvers is "Nostalgia in a bottle".
Also, real craftmanship is hard to find in our hasty and commercialized world. For the past 160 years, Elixir d'Anvers has survived each new trend, which proves its high quality and huge consumer appreciation.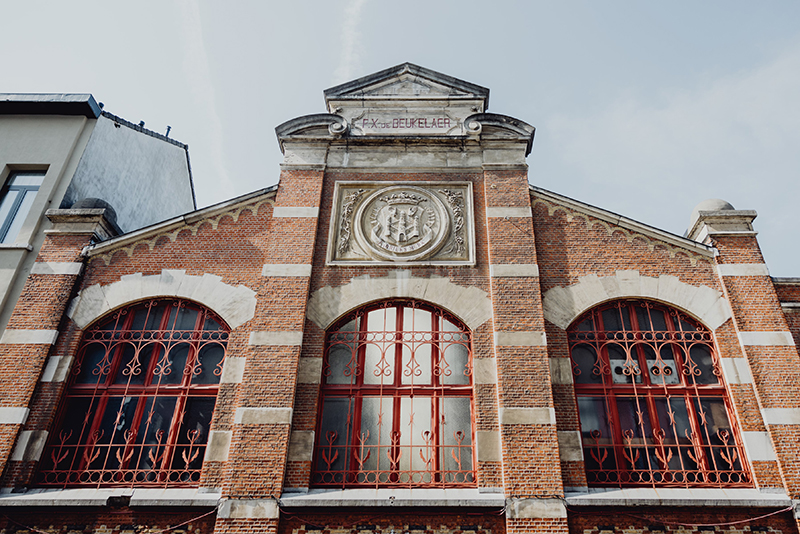 What exactly does the production process of Elixir d'Anvers look like?
Carl-Ivan Nolet de Brauwere: The production process starts in the herb room. There, the different herbs are mixed and placed into a burlap sack. This secret mixture of herbs ends up in the alembic. Pure alcohol is then added and the maceration begins. After maceration, we start the distillation. Steam is generated. The alcohol is heated and will start to evaporate after a while. This vapour escapes with all the aromas of the ingredients along the spirals into the cooling kettle. This kettle contains cold rainwater to ensure that the vapour condenses again. What remains here still has about eighty percent alcohol content, also called the alcoholate or the esprit.
It is then added to the mixing kettle together with pure alcohol, demineralised water and liquid sugar. Then everything is pumped into small, oak barrels. This is where the Elixir d'Anvers will mature. Later on, the spirit is transferred into a large barrel to age even more. After about six months, it is filtered, bottled and we can finally enjoy a delicious Elixirke. Elixir d'Anvers is still made in the same traditional way as 160 years ago, except for the bottling process which is now mechanized.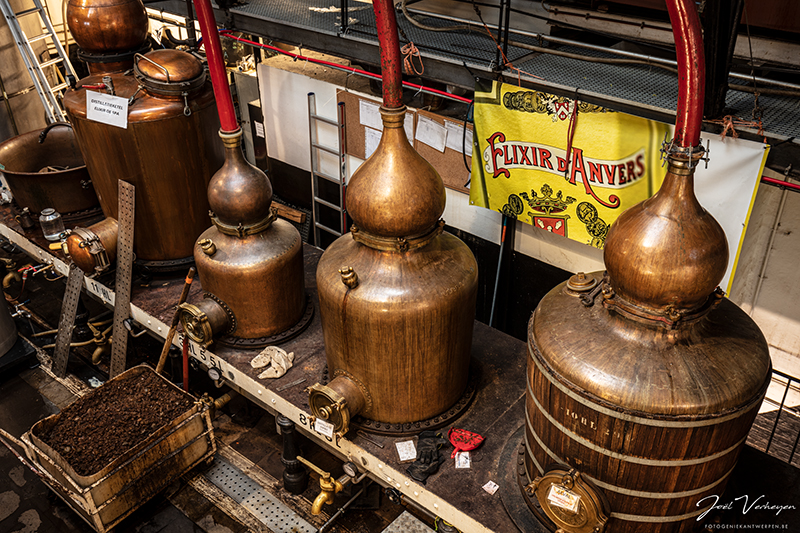 Despite being a well-kept family secret one can say that your use of botanicals and spices is unique. Why is that so?
Carl-Ivan Nolet de Brauwere: The plants, herbs and spices – which are the soul of Elixir d'Anvers –come from all over the world, where most contemporary liqueurs are made with local plants and herbs. This specificity gives Elixir d'Anvers its unique taste that has been left unmatched since 160 years. The recipe of Elixir d'Anvers is indeed still a well-kept family secret and only 3 people in the world know the recipe. We sometimes joke on the fact that probably more people know the recipe of Coca-Cola than the recipe of Elixir d'Anvers.
What are the different varieties in your portfolio?
Carl-Ivan Nolet de Brauwere: Beside Elixir d'Anvers, we also produce a very special and limited edition of Elixir d'Anvers "Reserve". Elixir d'Anvers is matured for a few years instead of a few months which adds an intense character, and a refined touch of oak wood, to the subtle aromas of the dozens of plants, herbs and barks. We also produce Elixir de Spa, a liqueur with a very rich history that goes back several hundred years and which was served on the tables of royal courts in Europe. Elixir de Spa also received the oldest Belgian Royal Warrant of Appointment in 1869.
During the second half of the 17th century, the Ardennes village of Spa became the fashionable wellness resort for the rich, as well as diplomats, writers, artists… and the clergy. There, the Capuchin monks founded a church and a monastery, alongside idyllic gardens with which to welcome visitors. The monks distilled a surprising liqueur with a subtle flavour and a smooth aroma, created from dozens of hand-selected aromatic plants, barks, and herbs. During the French revolution, the Capuchin library was almost lost, and with it the recipe for Elixir d'Anvers. Fortunately, a book collector retrieved the lost manuscript.
Today, we still produces the authentic Elixir de Spa in the original shape bottles, and we have done so for the past 70 years. Finally, we also produce artisan Advocaat, Jenever, Triple Sec.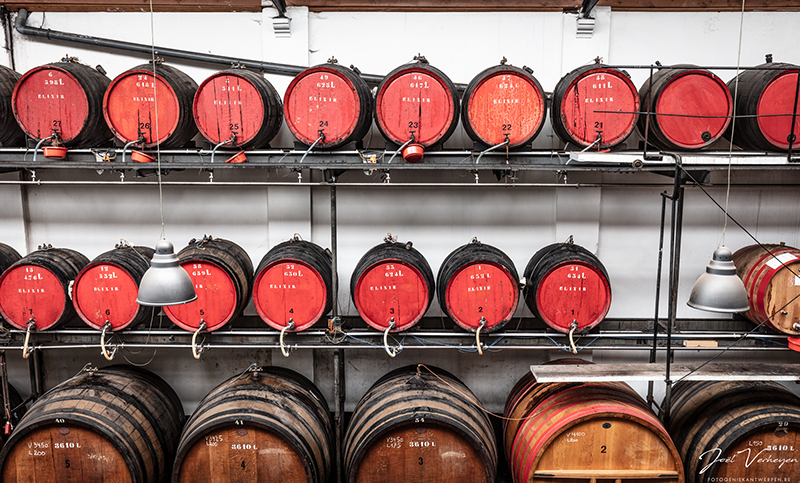 Appetizer or digestif? Or both?
Carl-Ivan Nolet de Brauwere: Elixir d'Anvers is historically drank as a digestive, pure or on the rocks right after diner or just before going to bed. Today, it is also often drunk as an aperitif, in cocktails. The deep flavours and the elegant sweet spiciness of Elixir d'Anvers mixes very well with all types of mixers: fruit juices, bitters, dry alcoholic beverages… We do see an upcoming trend of cocktails with Elixir d'Anvers.
Let's take a walk down the hall of fame. Your liqueurs have received many awards. What are the most important honors? And the latest ones?
Carl-Ivan Nolet de Brauwere: Over the years, Elixir d'Anvers has won many International diplomas and medals. The one we are the most proud of is the one that we won in 1887 during an exhibition in Boulogne-sur-Mer in France. The diploma was awarded by Louis Pasteur, who was the head of the Health Commission. The diploma, which was co-signed by him, therefore had a very special value. Elixir d'Anvers not only won prizes in Belgium and France, but the liqueur was highly appreciated and recognised in many European capitals, as well as Australia, the United States, Chile and El Salvador. In 2022, Elixir d'Anvers Extra ("Reserve") has been awarded with a Gold medal at the International Wine & Spirit Competition in London and the Frankfurt International Trophy.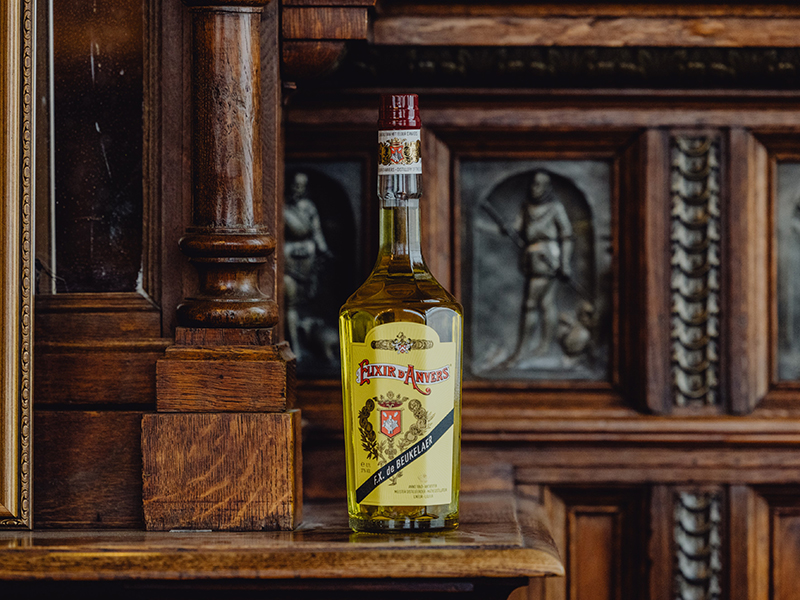 The distillery you are producing in is a living museum. Please tell us something about this exceptional building.
Carl-Ivan Nolet de Brauwere: We are very proud of our distillery. It has been officialised as a Heritage-listed building in Belgium a few years ago. Even our means of production like our alembics, oak barrels and co have been listed. We can now really say that we are producing in a living museum. The building dates back to 1894 and is seen as the most famous creation of Jules Hofman, one of the most important architects of the Art Nouveau movement, also known as the "Victor Horta from Antwerp". What is unusual and unique is the fact that the distillery is located in the middle of an residential area in the hearth of Antwerp. This can be explained by the fact that we have been in the same place since almost 130 years and that the city of Antwerp has continue to develop itself around the distillery.
How does a Signature Drink featuring Elixir d'Anvers look like?
Carl-Ivan Nolet de Brauwere: Elixir d'Anvers is best enjoyed pure or on the rocks but can also serve as a really good base to make cocktails. Our most famous cocktail is the Appletini, a very simple cocktail to prepare with very few ingredients. Just mix 5cl of Elixir d'Anvers with 10cl of fresh apple juice, 3cl of fresh lime juice in a glass full of crushed ice. This cocktail is appreciated by everyone and provide a good balance between the sweet spiciness of Elixir d'Anvers and the acidity of the lime and apple juice. A lot of well-known mixologist and chefs also use Elixir d'Anvers for their personal signature cocktails or dishes, like the Elixir d'Anvers Negroni, the Fiera Sour or the Antwerp Mule for example.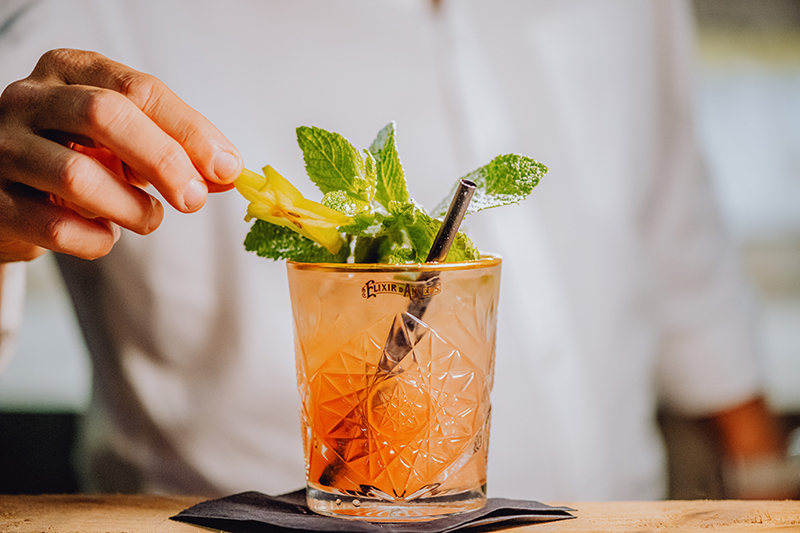 What next can we expect?
Carl-Ivan Nolet de Brauwere: We do have big plans for the future. We see potential in the export market and for innovation. Innovation with a traditional brand like Elixir d'Anvers is of course quite a challenge, as we don't want to lose the identity and the long history behind the brand. Innovating by creating a declination of Elixir d'Anvers – like we did with the Elixir d'Anvers "Reserve" a few years ago – where we extend the maturation process enables us to keep this identity while increasing the overall quality of the product. This is for us the right way to do innovation. The best way to stay up to date is to follow us on Social Media (Facebook, Instagram and soon TikTok) where we communicate abundantly or go to our website www.elixirdanvers.be/en/.
Elixir d'Anvers | elixirdanvers.be/en | facebook.com/elixirdanvers.be | instagram.com/elixirdanvers
+++ We would like to thank Carl-Ivan Nolet de Brauwere for the open and very interesting interview and wish him continued success! If you also have an interesting brand, then we should talk. Just send us an email with the subject "about-drinks interview" to redaktion@about-drinks.com – we look forward to hearing from you! +++
https://www.about-drinks.com/wp-content/uploads/2022/09/interview_elixirdanvers-1.jpg
630
1200
Redaktion
https://www.about-drinks.com/wp-content/uploads/2019/12/logo-ad-680.png
Redaktion
2022-09-29 10:23:30
2022-09-29 10:24:37
"Nostalgia in a bottle" – Carl-Ivan Nolet de Brauwere about Elixir d'Anvers