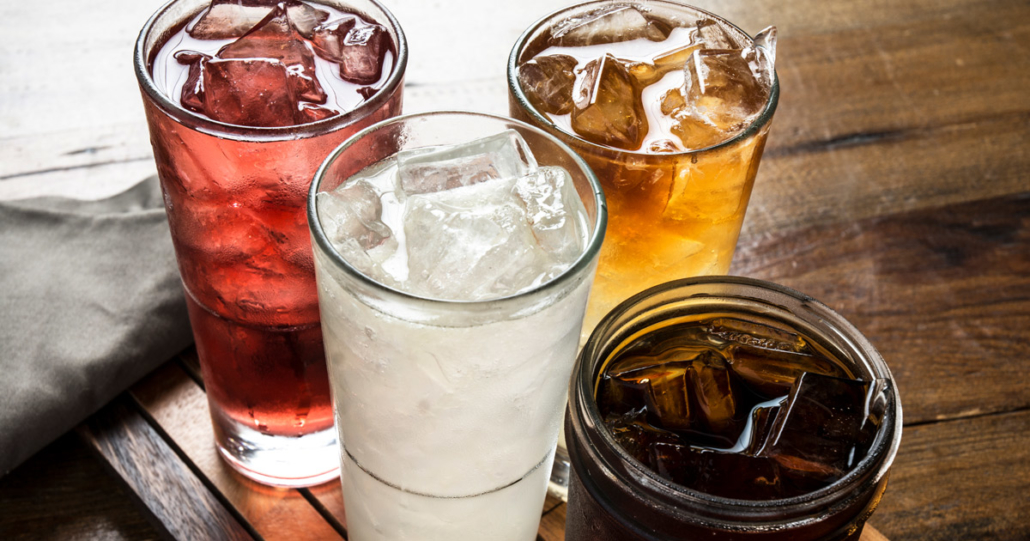 Survey
Mapped: Europe's favourite cocktails to indulge in
One of our favourite indulgences is an alcoholic beverage after a tough day at work or to enjoy whilst socialising with friends. For many, having a cocktail is seen as a treat, a popular component of a classic night out. Now that the summer months are here and things are opening back up, searches for 'Refreshing Summer Cocktails' have seen a 200% increase worldwide over the last 30 days.
But with the many varieties of cocktails available, which ones are considered to be our favourites? Online Cake Shop Jack & Beyond decided to investigate this question by collating search volumes for the top 50 highest rated cocktails, sourced from tasteatlas.com across 51 countries in Europe.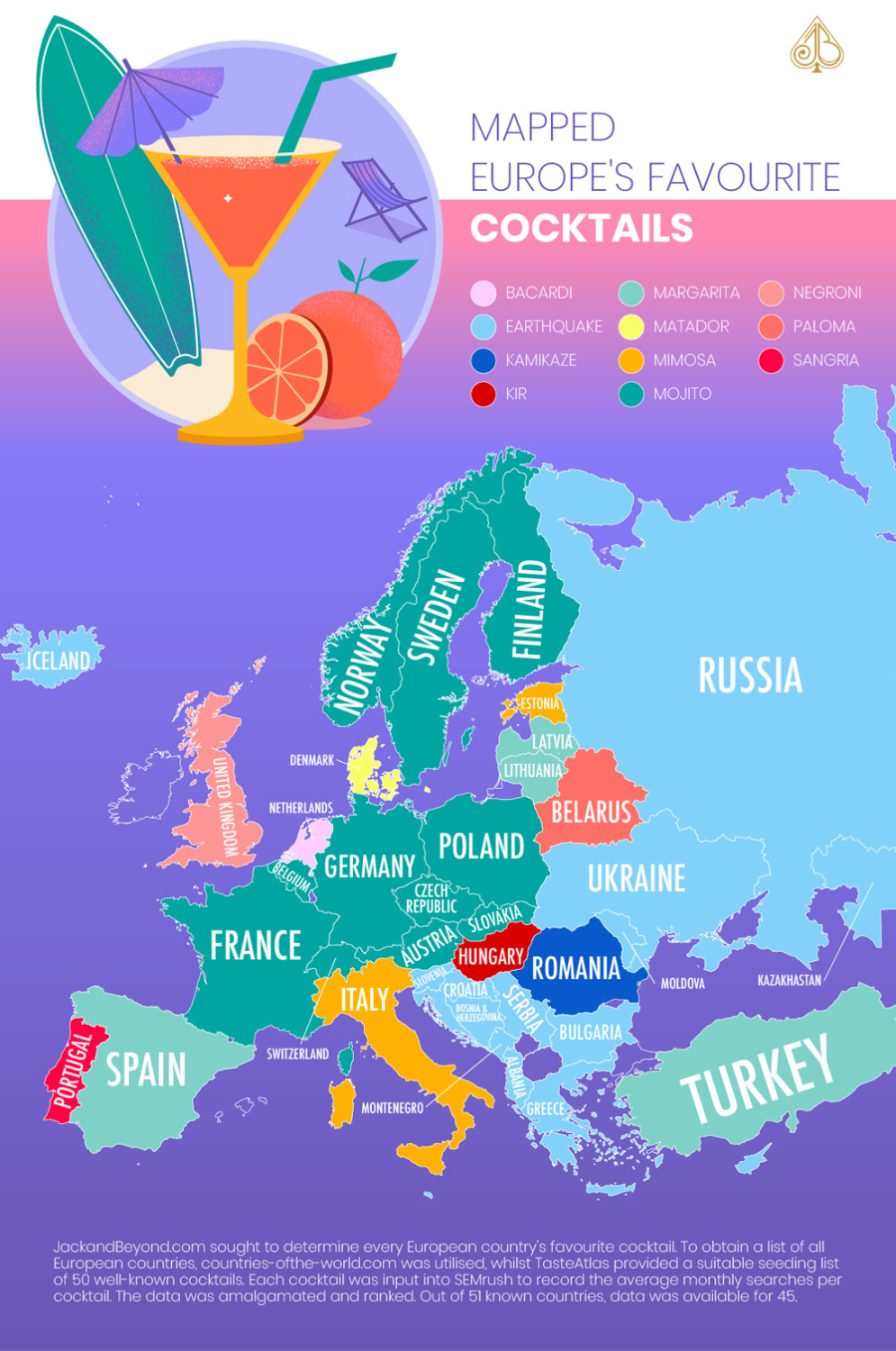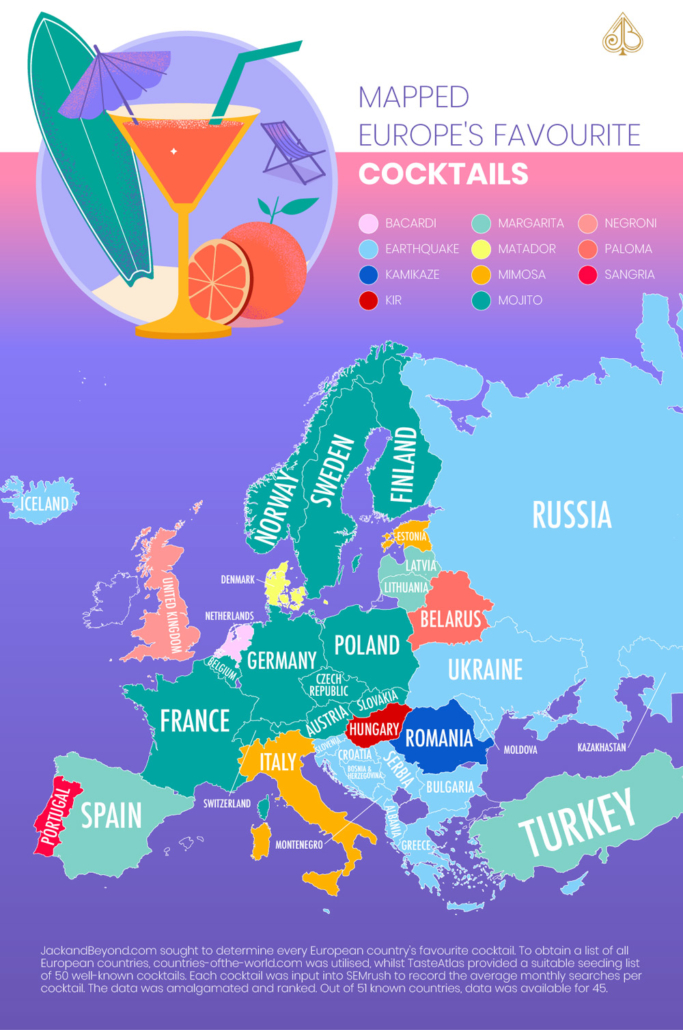 Which are the top 5 favourite cocktails in Europe?
A favourite across 18 different European countries is the Earthquake cocktail whose name derives from the effects 'to shake up' the drinker. This popular drink has amassed 72,800 average monthly searches as a consistent favourite in Europe alone. Croatia is the country with the highest average monthly searches for this cocktail at 31,000.
13 countries across Europe chose the well known traditional Cuban cocktail the Mojito as a favourite, which puts it in second place. The rum-based drink generated the highest number of average monthly searches at 259,850 in Europe, with Germany top, with average searches accumulating to 84,000.
In third place is the Margarita which is the most popular choice across 4 countries. Although it only has average monthly searches of 52,650 across Europe, Spain makes up 34,000 of searches.
Out of 11 cocktails chosen as the most popular across Europe, Sangria ranks 10th, having originated from Spain and Portugal, with 4,930 monthly average searches across Europe (2 countries). Likewise, the Mimosa features across two countries, however, is the cocktail with the second largest monthly searches generated across Europe at 83,400.
Several cocktails were picked only once across several countries. These include Negroni, Bacardi, Paloma, Kir, Kamikaze, and Matador.
Methodology
To obtain a list of all European countries, countries-ofthe-world.com was utilised, whilst tasteAtlas.com enabled a suitable seed list of 50 well-known cocktails to be referenced.
Each cocktail was input into search analytics tool SEMrush to record the average monthly searches per cocktail, per European country.
The data was amalgamated, analysed and ranked.
Out of 51 known European countries, data was available for 45.
Kosovo, Liechtenstein, Monaco, North Macedonia, San Marino, and Vatican City were excluded from this study due to restricted data.
All data was collected on 2/7/2021 and is correct as of then.
Source: Jack and Beyond | Photo: ©iStockphoto | JonGorr
https://www.about-drinks.com/wp-content/uploads/2021/07/Drinks.jpg
541
1030
Redaktion
https://www.about-drinks.com/wp-content/uploads/2019/12/logo-ad-680.png
Redaktion
2021-07-19 10:21:00
2021-07-19 13:14:51
Mapped: Europe's favourite cocktails to indulge in