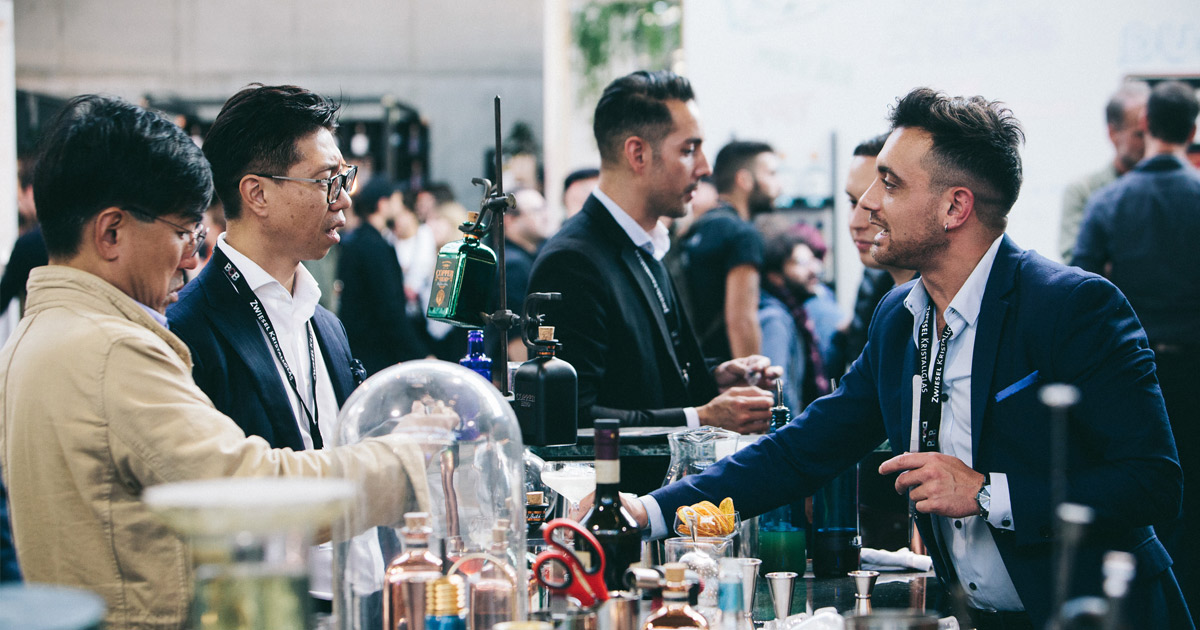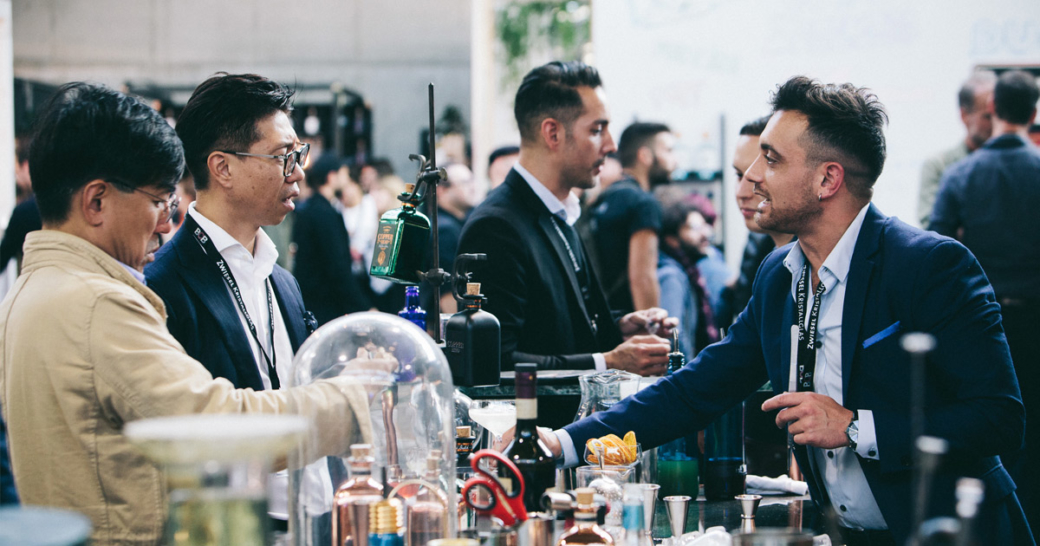 New concept
Exhibitors from 22 countries and side events in the city: this is on tap at Bar Convent Berlin 2021
Following a one-year break, this October the BCB will once again be bringing the bar industry together live and in person. The concept has been adapted to the pandemic and will focus on training, professional development and exciting side events in Berlin's bar scene.
The time is right for in-person interaction. From 11 to 13 October, the Bar Convent Berlin (BCB) will be taking place at Berlin ExpoCenter City for the very first time, with a new 'City Life Spirits' concept that retains the event's cult character. "The event has always been notable for its sense of community, and naturally this will be as strong as ever at its new venue – even during the pandemic," promised BCB Director Petra Lassahn, adding that: "We will continue to be an authentic and international event focused on premium segments and professional development." This is evident in the roster of some 200 international exhibitors and countless luminaries from the global bar world who have already announced their presence at this year's event.
Urban spirit in Berlin's exhibition halls
The organisers are bringing Berlin's urban spirit into the city's exhibition halls for the reunion of bartenders, bar operators, distributors, retailers, hotels, beverage companies and other service providers. The topic of 'urban gardening' will be one of the hotspots, while 'senses of the city' on the Liquid Stage promises to be another highlight. The event will be occupying Halls 18 and 20 and the Palais at Berlin ExpoCenter City.
Strong international interest
The event's return is hotly anticipated, and not just in Germany. Exhibitors from various countries have already booked their stands, including Canada, Columbia, Japan, Spain, Italy, the UK, Lithuania and Sweden. The event will be welcoming exhibitors from 22 countries in all, with Beam Suntory, TeamSpirit, Diageo, Fluere Drinks, Three Cents, Maison Ferrand, Hayman and Vranken-Pommery among those who will be at the trade show.
Japan and Italy are well represented
The Japanese pavilion is hosting 26 exhibitors with a wide range of Japanese products on offer, including sake, shochu/awamori, whisky and wine. With a total of 16 exhibitors, Italy will also have a major presence at the event. US-American products are also being represented at the show by DISCUS, the Distilled Spirits Council of the United States. 15 'young guns' – i.e. brands that have been on the market for less than three years – have already announced their attendance, including Anker Amsterdam Spirits, Dairy Distillery, Summerville Spirits, RTF Distillers and YourBarMate.
Berlin's bar scene will be part of the BCB
Another interesting feature: this year's trade show is being supplemented by side-events that provide visitors with a fascinating look at the scene and at new techniques and drinks – something that is fully in keeping with the 'City Life Spirits' theme. At 'Green Door', everything revolves around the senses, while 'Provocateur' is collaborating with Maison Ferrand on two captivating guest shifts and 'Velvet' is focusing on urban gardening. 'Wax-On' is celebrating its grand opening in September, and the 'Little Red Door' is coming from Paris for the BCB event. Both bars will be taking the guest shift concept to a new level and are collaborating to create a joint menu in advance. The events will be taking place on the first two evenings of the trade show.
Reflect, step back and rejuvenate: the presentation programme
Sean Finter, Jad Ballout, Vivian Pei, Phil Duff and Hannah Lanfear: prominent voices from the international bar scene are taking part in the BCB 2021. Angus Winchester has once again curated the presentation programme, which addresses the most important lessons from the pandemic, new concepts and up-and-coming bar hotspots, as well as craft and social topics. In addition, selected topics will be made available digitally to everyone interested.
RX is implementing a comprehensive safety and hygiene concept
To ensure the safety of everyone involved, this year's BCB features clearly-structured stands and a slightly lower number of visitors. The approx. 200 exhibitors will be adapting their exhibition areas accordingly. Face masks will also be required for all trade show participants, with the exception of seated areas such as those at the stands. Tastings will be possible as always. No one will be granted access to Berlin ExpoCenter City without proof of their coronavirus status as either vaccinated, recovered or tested.
Tickets entitle ticketholders to bring a colleague
Tickets for the three-day trade show will be available online from late July at www.barconvent.com. In response to the difficult financial situation of many visitors, this year's event will for the first time allow ticketholders to bring a colleague with them for free – in other words, each ticket entitles two people to enter the trade show and take advantage of the event programme.
About the BCB
The BCB is one of the leading international trade shows for the bar and beverage industry. Every year, this is where a veritable who's who of the German and European bar and beverage industry gets together to make new contacts, find out about the latest product innovations and attend educational seminars.
About RX
RX strives to create business opportunities for individuals, communities and organisations. With its combination of data and digital products, RX increases the appeal of 400 events in 22 countries and 43 sectors. RX is part of RELX, a global provider of information-based analytical and decision-making tools for professional and business clients. www.rxglobal.com
Source: Reed Exhibitions | Pictures: Bar Convent Berlin
https://www.about-drinks.com/wp-content/uploads/2021/09/BCB_Messe_Mood-1.jpg
630
1200
Redaktion
https://www.about-drinks.com/wp-content/uploads/2019/12/logo-ad-680.png
Redaktion
2021-09-09 13:25:19
2021-09-09 13:27:38
Exhibitors from 22 countries and side events in the city: this is on tap at Bar Convent Berlin 2021