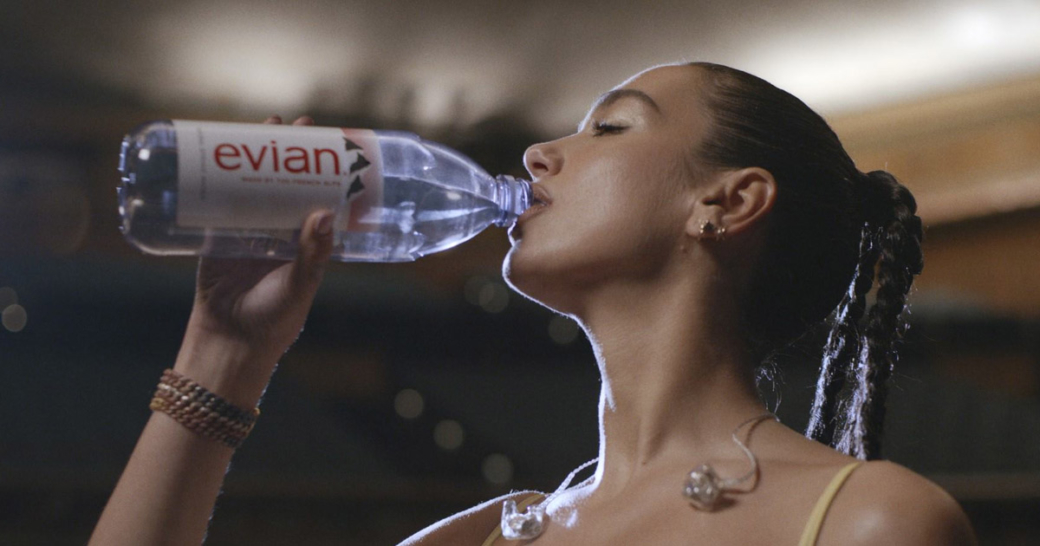 New campaign
evian launches 'Drink True' campaign starring Dua Lipa
evian launches its new Drink True platform, with a striking campaign featuring Global Ambassador Dua Lipa. The stunning short film sees Dua connect to her true self and perform in a stripped-back and pure style, showcasing her natural talent.
The 'Drink True' campaign celebrates authenticity, transparency, and honesty. This notion perfectly reflects the purity* of the uniquely sourced evian natural mineral water the way nature intended; mirrored in Dua's pure and stripped back a cappella performance. The documentary style film follows Dua Lipa in real time, as she walks on stage to complete a soundcheck. We see Dua relaxed and happy, as she prepares for her performance.
When Dua walks on stage there is a sense of calm. After hydrating herself with a sip of evian, Dua is ready for her soundcheck and to perform a mesmerizing a cappella version of her hit single Levitating – off of her platinum album Future Nostalgia which has a staggering 7 billion streams. evian partnered with award-winning Director, Vincent Haycock, on the new Drink True commercial. Haycock has previously worked with a range of global talent and perfectly brought to life the intimate details of the commercial; illustrating the authentic moment in which Dua's voice breaks through the silence with nothing to hide.
Dua Lipa said: "I had so much fun filming the new Drink True ad for evian. Stripping everything back to a beautiful and calm flow felt refreshingly different. It's not often I get the chance to pause and sing my music a cappella, so I hope the fans enjoy it. Being part of this campaign means a lot to me; I have always found that being true to myself is extremely empowering and I love that it is important to evian as well." Commenting on the new global campaign, Shweta Harit, VP of Marketing at evian, said: "Dua Lipa's iconic music and raw talent make her the perfect match for our uniquelysourced evian natural mineral water. At evian we believe in empowering, liberating and greatly improving both people and the planet. We owe everything to nature, so in accordance with the Drink True campaign, it's important to be honest and transparent about how we continue to deliver our natural mineral water in a more sustainable way."
In the new short film, Dua Lipa is seen drinking evian natural mineral water from a bottle made from 100% recycled plastic*, also known as rPET. In 2020, evian launched its most popular formats in bottles made from 100% recycled plastic* in the UK, and the brand is on track to becoming a circular brand by 2025, meaning all of its bottles will be made from 100% recycled material*.
Dua Lipa was announced as the new global ambassador in July 2020, when she became the first female music artist to join the evian team. A champion of the young-at-heart, Dua empowers those who have new ideas and authentic energy that will challenge the status quo and regenerate the world; moving culture forward with their passion and consciousness.
Activate Movement Competition
Like Dua, evian is a champion of empowering positive change through supporting young people's creativity. Earlier this year, evian launched the Activate Movement Competition as the brand looks to invest in future generations, sustainable design solutions and progressive innovation. evian has also recently donated to the Virgil Abloh "Post-Modern" Scholarship Fund which aims to foster equity and inclusion within the fashion industry by providing scholarships to students of academic promise of Black, African-American, or of African descent. evian will continue to provide support to this scholarship on a long-term basis.
The Drink True campaign follows a series of exciting announcements as the brand continues to demonstrate its commitment to a more sustainable future. Last year, evian gained global certification for becoming carbon neutral, and across the year the brand continues to take steps towards its goal of becoming a circular business model by 2025. The campaign was created in partnership with the global creative agency, Wieden & Kennedy Amsterdam and is available on evian.com
* as all other natural mineral water
** excluding cap and label

About Dua Lipa
Since the release of her first single in 2015, Dua Lipa has become one of the music world's hottest young artists. Her eponymous debut album has eclipsed 6 million sales worldwide, with single sales reaching 80 million and the video for her break-out hit "New Rules" ("the song that changed my life," she says), made her the youngest female solo artist to reach one billion views on YouTube. She made BRIT Award history in 2018 as the first female artist to pick up five nominations, with two wins for British Breakthrough Act and British Female Solo Artist. She then went on to receive two Grammy awards for Best New Artist and Best Dance Recording for "Electricity," her collaboration with Silk City the following year. At the end of 2019, Dua performed her Number 1 global hit single 'Don't Start Now' at the MTV EMAs, ARIAs and AMA's in the lead up to the release of her latest album, Future Nostalgia. Her sophomore record was released in March 2020 and surpassed 294 million streams in its first week and has reached 3 million global sales, exceeded 6 billion streams across all of its tracks and has just been certified platinum in the UK.
To celebrate the release, Dua performed a star-studded livestream version of the album called 'Studio 2054' which broke records for global livestream sales after attracting millions of viewers worldwide. Future Nostalgia has been nominated for 6 Grammy Awards including Album of the Year & Best Pop Vocal and also holds the record for the most streamed album in a single day by any British female artist. Dua is the most listened to British artist on Spotify globally and the most listened to female artist on the platform. She has also had the longest run of 3 tracks in the top 10 by a female artist since 1955 and the album has spent 26 (NOW 28) weeks in the top 10 since its release.
About evian®
evian® natural mineral water comes from the heart of the French Alps, a unique geological site in the world. For more than 15 years, it travels through the rocks, where it picks up minerals. The brand has been working for over 25 years to preserve natural surroundings of the source, in an effort to preserve evian® natural mineral water's exceptional quality for generations to come. Natural and uniquely balanced, evian® natural mineral water is a healthy choice throughout the day.
evian®, a Danone brand, embraces the company's One Planet. One Health vision that the health of the people and the health of the planet are interconnected and therefore seeks to protect and nourish both.
For more information on evian and the planet, please visit: https://www.evian.com/de/unsere-nachhaltigkeitsarbeit
Source: Danone GmbH
https://www.about-drinks.com/wp-content/uploads/2021/03/evian-Dua-Lipa-2021.jpg
630
1200
Redaktion
https://www.about-drinks.com/wp-content/uploads/2019/12/logo-ad-680.png
Redaktion
2021-03-09 13:50:37
2021-03-10 11:03:16
evian launches 'Drink True' campaign starring Dua Lipa