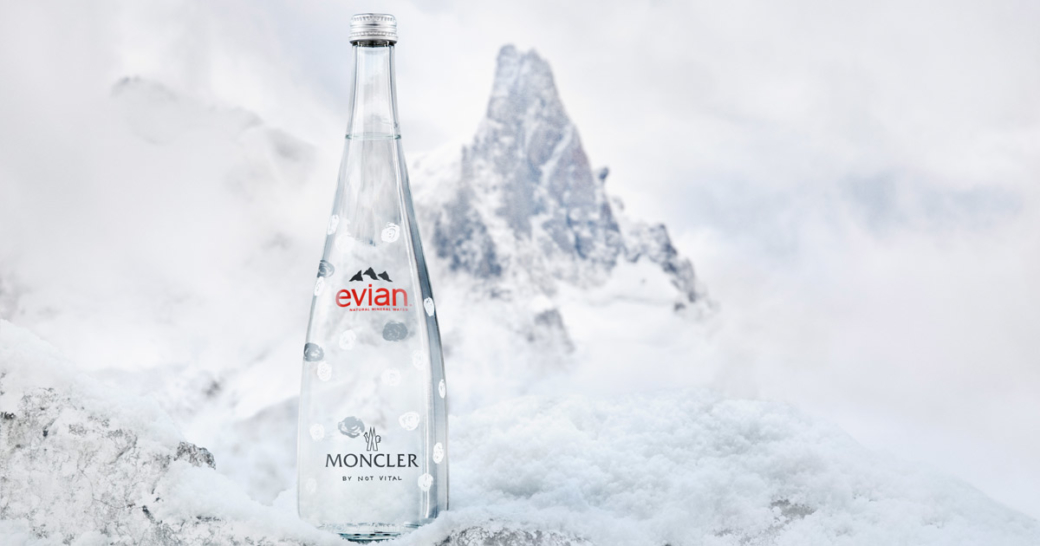 Limited Edition
evian® launches designer collaboration with Moncler & Not Vital
Today, evian® reveals its latest designer collaboration with pioneering global luxury brand, Moncler. The collaboration sees a re-imagined, limited-edition 75cL glass bottle and strikingly unique art form hit shelves across multiple markets, perfect for gifting ahead of the holiday season.
With a heritage that sits firmly in the mountains, Moncler is known for its unique and innovative approach to design. Its clothing and accessories for men, women and children radiate both on the slopes and on the streets. Staying true to its one house, all voices philosophy, Moncler also invites international visionaries into its world of Moncler Genius to co-create and take the hallmarks of quality, performance and aesthetics beyond the limit of conventions. Reinventing the imagination and pushing boundaries, Moncler is a statement, a symbol and a lifestyle.
As part of the collaboration, evian® and Moncler have commissioned Swiss artist, Not Vital, to design a customised bottle design for the 75cL glass format. Marking the first time evian® has worked with a contemporary artist, the one-of-a-kind collaboration reinforces the brand's aptitude for inspiring collaborations.
Energised by nature and origins in the snow, internationally acclaimed multidisciplinary artist, Not Vital, has built himself a highly credible reputation by exploring the intimate relationship between sculpture, architecture and materials. In doing so, his work can be seen in its many forms across the globe. The unique concept of Not Vital's bottle design nods to his childhood memories spent in the Alps and a return to the origins of where the two iconic brands were born, reflecting the source and natural purity* of evian® natural mineral water.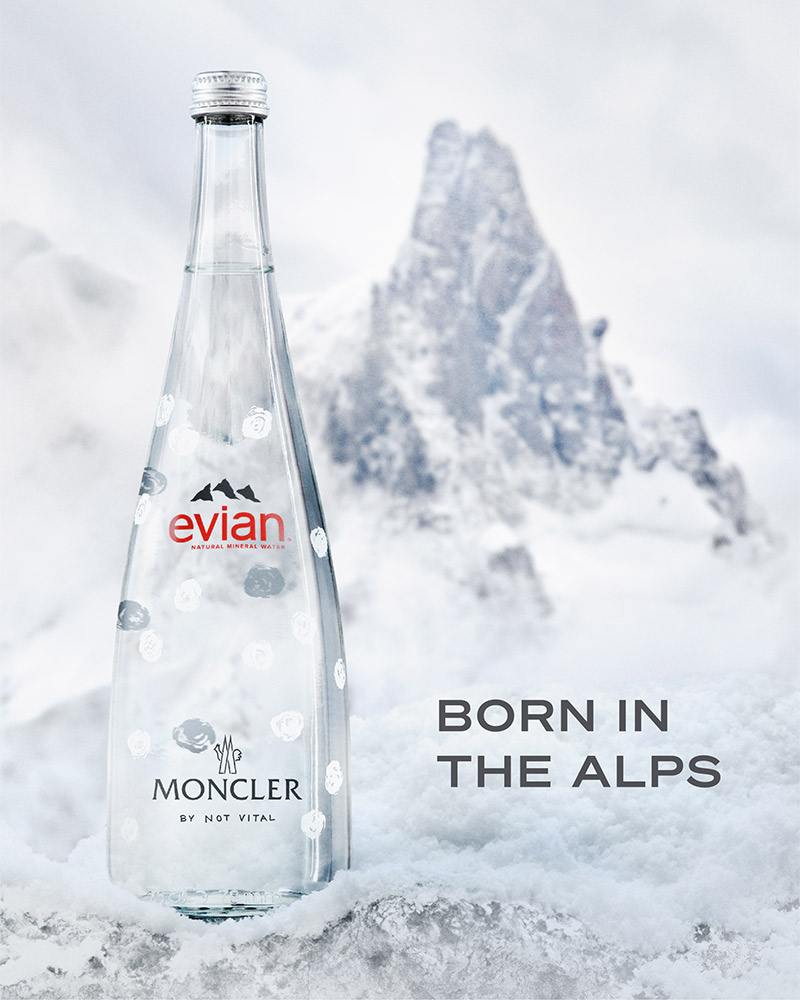 The design takes inspiration from snowflakes and the emotions that memories of the snow bring. Elements of mountain slopes and Alpine meadows also influence the creative; both hallmarks at the core of evian® and Moncler's heritage. The Alps signify a natural connection between evian® and Moncler. The pure* taste of evian® natural mineral water comes from a pristine and protected Alpine Mountain source in the French Alps, after being first discovered in Évian-les-Bains 230 years ago. Moncler has similar Alpine Mountain origins; the name being an abbreviation of Monestier-de-Clermont, a mountain village near Grenoble.
Shweta Harit, VP of Marketing at evian®, says: "The origins of evian®'s uniquely sourced and pure* natural mineral water is a fundamental part of our story. Moncler and Not Vital share our meaningful connection to the Alps and this collaboration has allowed us to join forces to celebrate our heritage by creating a beautiful, limited-edition bottle – ideal for gifting during the festive period and beyond. The iconography of snow depicted on the bottle lends itself perfectly to holiday table settings. It also makes a wonderful gift for those with an appreciation for design, further positioning evian® as a key player in this industry."
Discussing the design, Swiss artist, Not Vital, says: "When Moncler and evian® asked me to imagine a design for their collaboration, it took me back to our shared heritage in the snow-capped mountains and my childhood memories of being in the snow – its smell and cosiness. My Alpine Mountain origins have been a common theme throughout my work, and I've always been inspired by snow and ice. As an artist, I like to explore the relationship between form and materials and have long been making sculptures with white plaster and creating snowballs out of glass and ceramics. Through our collaboration, I have bottled the feeling of being in the snow – inspired by the snowflake".
The announcement follows the launch of the global evian® 'Drink True'* campaign which celebrates authenticity; echoing the collaboration between two brands born in nature, while reflecting the purity* of the uniquely sourced evian® natural mineral water. As a brand constantly working to be more sustainable, evian® is acting to not only protect its water source, but to continually invest in bringing innovation for the generations to come.
*evian® is pure, as all other natural mineral waters
**excluding cap and label
About evian®
evian® natural mineral water comes from the heart of the French Alps, a unique geological site in the world. For more than 15 years, it travels through the rocks, where it picks up minerals. The brand has been working for over 25 years to preserve natural surroundings of the source, in an effort to preserve evian® natural mineral water's exceptional quality for generations to come. Natural and uniquely balanced, evian® natural mineral water is a healthy choice throughout the day. evian®, a Danone brand, embraces the company's One Planet. One Health vision that the health of the people and the health of the planet are interconnected and therefore seeks to protect and nourish both.
About Moncler
Moncler was founded at Monestier-de-Clermont, Grenoble, France, in 1952 and is currently headquartered in Italy. Over the years the brand has combined style with constant technological research assisted by experts in activities linked to the world of the mountain. The Moncler outerwear collections marry the extreme demands of nature with those of city life. Moncler manufactures and directly distributes the clothing and accessories collection under the brand Moncler through directly operated physical and digital stores as well selected multi-brand doors, department stores and e-tailers.
About Not Vital
Not Vital (b.1948) is from the mountain village of Sent, located in the Swiss Engadin. He currently lives and works in Rio de Janeiro, Beijing, and Sent. Vital studied art in Paris and Rome before moving to New York in 1976. He is an unconventional sculptor in many ways, not least because he also produces extraordinary prints, drawings and, portrait paintings. Since 2000, his practice has expanded to include buildings such as houses, schools, towers, bridges and tunnels, which blur the boundaries between art and architecture. In 2009, Vital coined the term SCARCH in order to give a name to these structures that transcend the boundaries of both formal terms. These constructions, often conceived to fulfil a single purpose, such as watching the sunset or the night skies, are permanent structures, many of which can be seen in his sculpture park in Sent – as well as in Belgium, Brazil, Indonesia, Niger, Patagonia and the Philippines.
Vital leads a nomadic life, and this directly influences his work, as he often engages with local materials and craftsmanship. For example: in Murano (Italy) he worked with glassblowers; in Agadez (Niger) with the Tuareg silversmiths; in Bhutan with papermakers, and in Beijing (China) with steel-welders and woodworkers. The subject matter often revolves around animals and nature, yet Vital presents these familiar sights to us in wholly unexpected ways.
Vital has recently had solo institutional exhibitions at: Abbazia San Giorgio Maggiore, Venice (2021); Museum der Moderne, Salzburg (2020-21); Ateneum, Helsinki (2018); Bündner Kunstmuseum, Chur (2017); Yorkshire Sculpture Park, Wakefield (2016); Musées d'Art et d'Histoire, Geneva (2014); Isola di San Giorgio Maggiore, Venice (2013); Ullens Centre for Contemporary Art, Beijing (2011); Museo Cantonale d'Arte di Lugano (2007); The Arts Club of Chicago (2006); and Kunsthalle Bielefeld (2005). In 2001 Vital took part in the 49th Venice Biennale (curated by Harald Szeeman), and in 2021 he took part of the 17th Venice Biennale, (curated by Hashim Sarkis).
Vital's work is included in a large number of public collections, including: Carnegie Institute, Pittsburg; Dallas Museum of Art, Dallas; Solomon R. Guggenheim Museum, New York City; Kunstmuseum Bern, Bern; Kunsthalle Bielefeld, Bielefeld; Kunstmuseum Luzern, Lucerne; Musées d'Art et d'Histoire, Geneva; Museum of Fine Arts, Boston; Museum der Moderne, Salzburg; Philadelphia Museum, Philadelphia; The Museum of Modern Art, New York City; The Ashmolean Museum, Oxford; The Brooklyn Museum, Brooklyn; Toyota Municipal Museum of Art, Aichi.
Source: evian®
https://www.about-drinks.com/wp-content/uploads/2021/11/evian_moncler_limited-edition.jpg
630
1200
Redaktion
https://www.about-drinks.com/wp-content/uploads/2019/12/logo-ad-680.png
Redaktion
2021-11-17 10:45:47
2021-11-17 10:45:47
evian® launches designer collaboration with Moncler & Not Vital