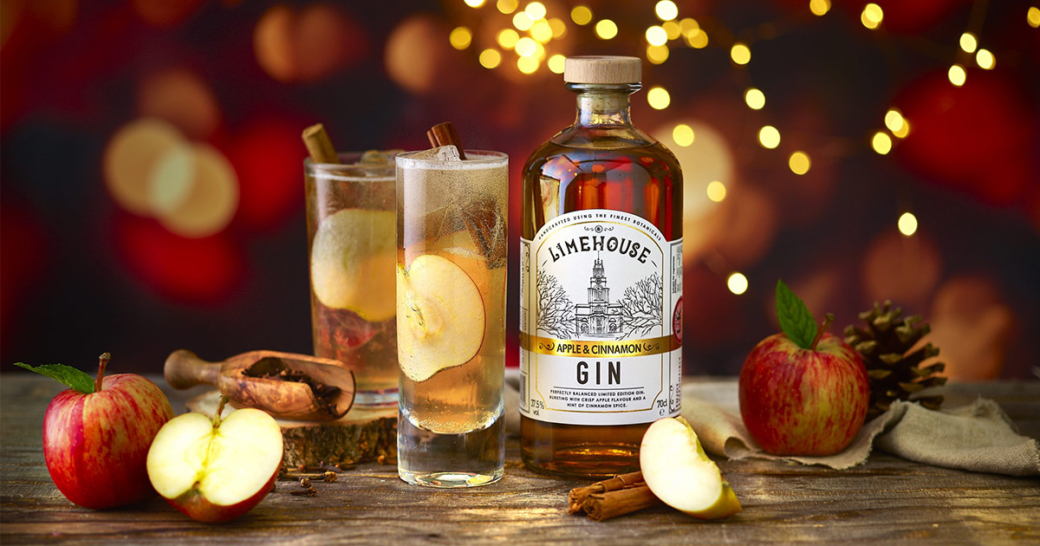 New Gin
Cosy Autumn Vibes are here with new Limehouse Apple & Cinnamon Gin
The summer may be drawing to a close, and whilst social distancing doesn't look to be going anywhere any time soon, there's reasons to be cheerful as autumn approaches and we face yet more time indoors – such as the delicious, new Limehouse Apple & Cinnamon Gin, available exclusively in Tesco from this month at the bargain price of £15!
A perfectly balanced, limited-edition gin bursting with crisp apple flavour and a hint of cinnamon spice, Limehouse Apple & Cinnamon Gin (37.5% ABV) is delicious served over ice with a good quality tonic water or ginger ale, along with a slice of your favourite apple variety, but as the days and nights get colder, why not warm your cockles with a delicious and super-simple, Limehouse Apple & Cinnamon hot toddy?
Limehouse Hot Toddy recipe
Apple, cinnamon and honey are a winning combination in this cosy cocktail that's perfect for all sorts of Autumnal occasions, from curling up with a book on a rainy day to warming up after an evening walk on a chilly night or simply as an after dinner treat.
Ingredients for a single serve:
(multiply by the number of people you're serving if you're serving in a pitcher or punch bowl)
50 ml Limehouse Apple & Cinnamon Gin
200 ml pressed apple juice, gently heated
One teaspoon of honey
Garnish: Cinnamon and cloves
Method and serve suggestion:
Warm the apple juice in a saucepan, on a medium heat on the hob until it starts to gently bubble. Meanwhile, add the Limehouse Apple & Cinnamon Gin in a glass mug, adding a teaspoon of honey for a touch more sweetness. Stir the gin and honey as you add the warm apple juice. Add a cinnamon stick to garnish, with a couple of cloves sprinkled on top for good measure.
The perfect accompaniment to: Apple crumble after a roast dinner – or an alternative to dessert if you've overdone the roast potatoes (no judgement, we've all been there).
Apple & Spice Cooler cocktail recipe
If hot gin isn't your thing, you can still get a burst of autumn flavours in your gin with this deliciously refreshing cocktail that's sure to get you feeling in the mood for festivities with its subtle warming spices.
Ingredients for a single serve:
(multiply by the number of people you're serving if you're serving in a pitcher or punch bowl)
50ml Limehouse apple and cinnamon gin
150ml ginger ale
Garnish with a thin slice of apple & a cinnamon stick
Method and serve suggestion:
Add ice to a tumbler glass, followed by the apple & cinnamon gin, then the ginger ale. Give the ingredients a stir with your cinnamon stick garnish and add a thin slice of apple to finish.
Best enjoyed as: A deliciously cosy autumnal drink for any afternoon or evening, so why not impress your book club mates by serving this when it's your turn to host?
Available now in stores nationwide and online from www.tesco.com/groceries/en-GB/products/306943971
ABOUT LIMEHOUSE GIN
Crafted by the award-winning distilling team at the UK's foremost gin distillery, G&J Distillers, the Limehouse Flavoured Gin Collection – which also includes Limehouse Pink Gin and Limehouse Rhubarb & Ginger – gets its name from the vibrant streets and waterways of Limehouse in East London, an area steeped in history, renowned as a bustling port for centuries with ferryboat-men bringing new tastes and flavours to the capital from around the world. Inspired by the creative spirit of Limehouse, the Limehouse Gin Collection, which is available exclusively in Tesco, aims to help gin fans discover new, delicious flavour combinations that complement gin's natural flavour profile.
ABOUT QUINTESSENTIAL BRANDS GROUP
Quintessential Brands is an award-winning international spirits company, dedicated to distilling and crafting the world's best alcohol brands for consumers and customers globally. Pioneering spirits of the industry, inspired since 1761 by their founder, Thomas Dakin, Quintessential Brands Group delivers a diverse portfolio of award-winning, best-selling spirits with unrivalled heritage and craftsmanship.
Founded in 2011 by Enzo Visone, former CEO of Gruppo Campari, and entrepreneur, Warren Scott, Quintessential Brands Group owns world-class manufacturing facilities across Europe, including G&J Distillers, the world's oldest continuous gin distillers, in Cheshire, UK; L&L in France, a leading manufacturer of fruit spirits and liqueurs; Irish Cream artisan producers, First Ireland Spirits; and the Dublin Liberties Distillery, which opened in 2019. Renowned for its white spirits expertise at G&J Distillers, Quintessential Brands has won International Spirit Challenge Gin Producer of the Year three times and is fast winning a reputation as one of the most exciting new Irish whiskey producers to emerge on the scene.
Quintessential Brands' award-winning premium brands portfolio includes Greenall's The Original Handcrafted Gin, BLOOM London Dry Gin, Thomas Dakin Small Batch Gin, Berkeley Square London Dry Gin, and Opihr Gin. Its Irish brands include The Dubliner Irish Whiskey, The Dublin Liberties Irish Whiskey, The Dead Rabbit Irish Whiskey, Feeney's Irish Cream Liqueur and O'Mara's Irish Country Cream. iqueurs in the portfolio include Alizé and Toussaint Coffee Rum Liqueur. The company is also a leader in contract bottling and own label & private label spirits, working with retail partners across the world to provide spirits solutions of unrivalled quality.
quintessentialbrands.com
spiritsolutions.quintessentialbrands.com
https://www.about-drinks.com/wp-content/uploads/2020/10/Drinks_about-drinks_1200x630_Limehoouse-Gin-Apple.jpg
630
1200
Redaktion
https://www.about-drinks.com/wp-content/uploads/2019/12/logo-ad-680.png
Redaktion
2020-10-08 15:18:14
2020-10-08 15:18:14
Cosy Autumn Vibes are here with new Limehouse Apple & Cinnamon Gin