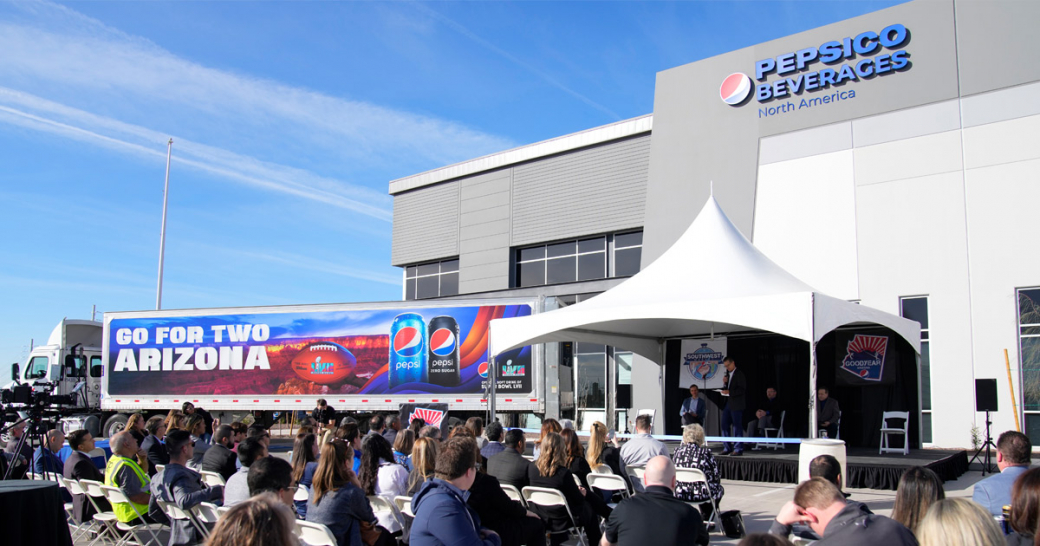 Opening
PepsiCo Beverages North America: opening of the new 238,000 square foot warehousing
PepsiCo Beverages North America (PBNA) celebrated the opening of its new 238,000 square foot warehousing facility in Goodyear, Arizona with local government representatives, community partners and more than 250 local PBNA employees in attendance at the ribbon cutting ceremony.
The new state-of-the art facility, which is the size of more than 4 football fields, will bring 65 new jobs to the area and house 300 employees at full capacity. With sustainability at the core, the facility was designed to meet the sustainable needs of the future – with features including solar charging for delivery trailers and electric Material Handling Equipment for increased energy efficiency and safety.
The Goodyear facility is currently hiring, and job opportunities can be found at www.pepsicojobs.com.
WHERE: 3105 N. Cotton Lane, Goodyear, AZ 85395
WHO: PBNA leadership along with local dignitaries took part in today's ribbon cutting event. It was attended by more than 250 local PBNA employees, as well as:
Johannes Evenblij, President, PepsiCo Beverages North America, West Division
Josh Crosman, Vice President GTM, Strategy and Transformation PBNA West Division
Arturo Petrozza, Vice President / General Manager West Division
WHY: PepsiCo has a longstanding commitment to the communities in which it operates. With a presence in Arizona since the mid-1970s, PepsiCo is furthering its investment in the greater Phoenix metro community as it continues to grow through sustainable business solutions and new job opportunities for its residents. The new Goodyear facility services the West side of the Phoenix metro area and is designed to accommodate more than ten years of high growth in the region.
About PepsiCo
PepsiCo products are enjoyed by consumers more than one billion times a day in more than 200 countries and territories around the world. PepsiCo generated more than $79 billion in net revenue in
2021, driven by a complementary beverage and convenient foods portfolio that includes Lay's, Doritos, Cheetos, Gatorade, Pepsi-Cola, Mountain Dew, Quaker, and SodaStream. PepsiCo's product portfolio includes a wide range of enjoyable foods and beverages, including many iconic brands that generate more than $1 billion each in estimated annual retail sales. Guiding PepsiCo is our vision to Be the Global Leader in Beverages and Convenient Foods by Winning with PepsiCo Positive (pep+). pep+ is our strategic end-to-end transformation that puts sustainability and human capital at the center of how we will create value and growth by operating within planetary boundaries and inspiring positive change for planet and people. For more information, visit www.pepsico.com, and follow on Twitter, Instagram, Facebook, and LinkedIn @PepsiCo.
Source: PepsiCo
Picture credit: Rick Scuteri, Associated Press
https://www.about-drinks.com/wp-content/uploads/2023/01/PepsiCo-Warehouse-Arizona-Opening.jpg
630
1200
Redaktion
https://www.about-drinks.com/wp-content/uploads/2019/12/logo-ad-680.png
Redaktion
2023-01-13 08:24:00
2023-01-13 08:24:00
PepsiCo Beverages North America: opening of the new 238,000 square foot warehousing