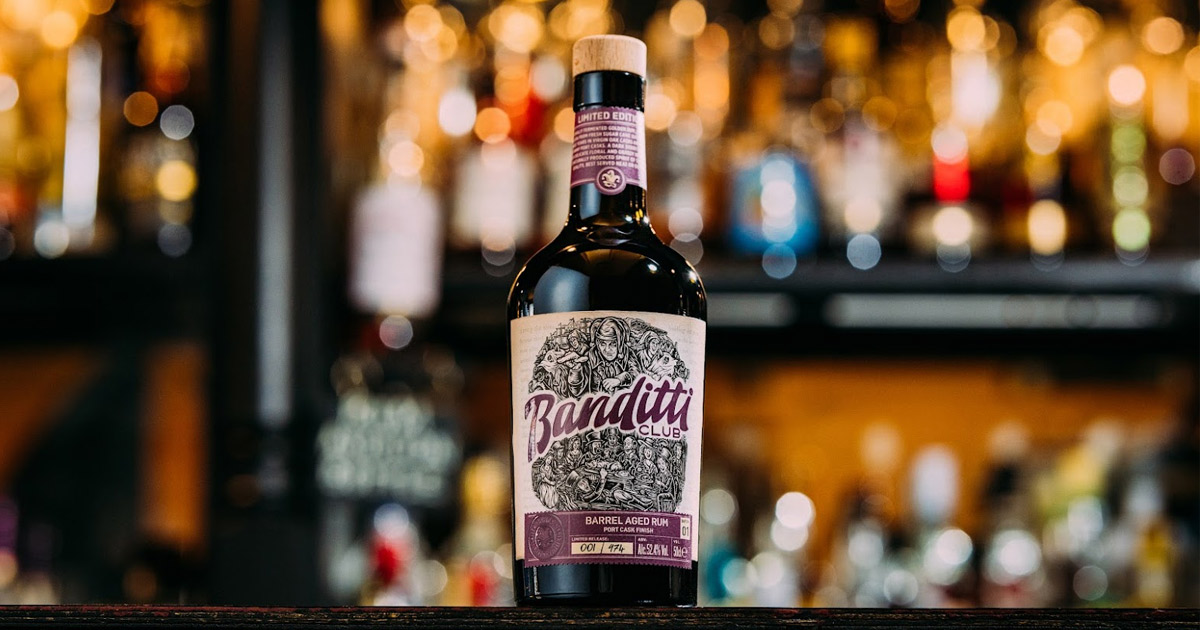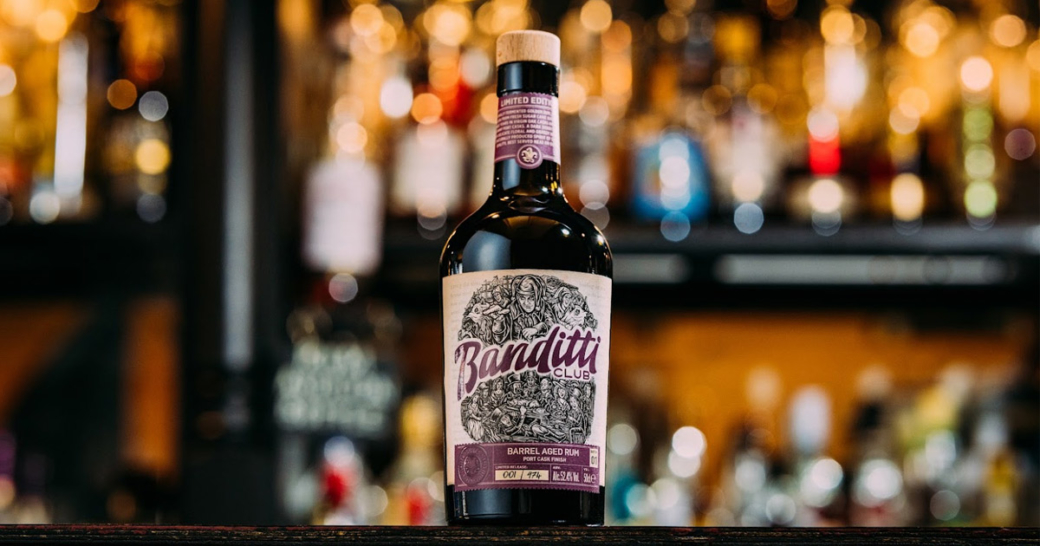 Banditti Club Port Cask Finish
Limited edition Glasgow Rum launches following double award win
Glasgow-based contemporary urban distiller, The Glasgow Distillery, has launched its first ever limited-edition Rum following the spirit winning two medals at the 2022 World Rum Awards.
Now available in a limited quantity of 974 bottles, the Banditti Club Port Cask Finish won Gold and overall Style Winner in the non-age statement category for rums of agricole & sugar cane juice origin at the global awards.
The new limited edition expression is cask matured in Glasgow after being naturally fermented and distilled from fresh sugarcane juice on the island of Madeira. Matured initially in new virgin oak casks and finished in first-fill tawny port casks before being bottled at 52.4% ABV, each bottle within the small batch release is individually numbered and hand labelled.
The new release is available from today and can be purchased from The Glasgow Distillery website or at The Good Spirits Co. in Glasgow. The spirit is also available at The Rum Shack in Glasgow's Southside where limited-edition cocktails are on offer to try.
As with all the distillery's products, it is naturally coloured with no artificial flavours or sugar added.
Mike Hayward, Director of Brands and The Glasgow Distillery, commented: "This new limited-edition expression of our Banditti Club rum has been in the pipeline for a while, and we're really excited to get it out onto the market. We're continually looking at how we can develop new, innovative and exciting spirits at The Glasgow Distillery, and this cask matured variant is a great example of the innovation and experimentation that is at our heart. Banditti Club Port Cask Finish is naturally fermented, giving it a wonderful grassy and fruity flavour profile. The long and slow maturation in virgin oak offers notes of vanilla and woody spice. The finishing period in tawny port casks takes this spirit to another level, adding rich fruity layers of strawberries, blackberries and dark chocolate."
The award-winning new release joins the distillery's Banditti Club Glasgow Spiced Rum which was launched in 2019 and has been awarded a Gold Medal at the 2020 London Spirits Competition and a Gold Medal at the 2021 Spirits Business Rum & Cachaca Masters.
Priced at £28 per bottle, and with only 974 bottles available, the Port Cask Finish expression can be purchased now at www.glasgowdistillery.com or at The Good Spirits Co. Glasgow Bath Street and Clarence Drive.
About Banditti Club Rum:
Banditti Club Rum was launched in 2018 with the expression 'Glasgow Spiced Rum'. Banditti Club Glasgow Spiced Rum is matured for 12 months in oak casks and spiced with natural fruit and spices, including pineapple, orange, cacao and allspice. The name Banditti Club is taken from a band of ardent spirits who would meet in Glasgow's local public houses in the late 18th and early 19th century, singing, eating and playing music late into the night.
About The Glasgow Distillery:
The Glasgow Distillery Company was established in 2012 by Liam Hughes, Mike Hayward and Ian McDougall. Together, they opened Glasgow's first independent single malt whisky distillery since 1902, with the unwavering mission to bring single malt distilling back to the city, alongside a portfolio of premium handcrafted spirits. The The company produces an award-winning portfolio of brands which each tell a story rooted in Glasgow's heritage, including:
Glasgow 1770 Single Malt Scotch Whisky. Launched in 2018, the distillery launched its first batch of single malt Scotch whisky with Release No. 1 selling out within days via an online ballot. The Original has subsequently been followed by the release of a Peated expression in 2019 and a Triple Distilled expression in May 2020, with all three expressions collectively forming the Glasgow 1770 'Signature Range'.
Makar Gin, which boasts an impressive 60 international awards since launch in 2015, including World's Best Flavoured Gin for their Makar Cherry expression. G52 Botanical Vodka, natural flavoured vodka distilled with real botanicals.
Malt Riot Blended Malt Scotch Whisky launched in June 2020. Malt Riot is a blend of single malt scotch whiskies from across Scotland with distillery's Glasgow 1770 Single Malt Scotch Whisky at its heart.
The Glasgow Distillery Company were crowned 'Scottish Whisky Distillery of the Year' at the 2020 Scottish Whisky Awards and are finalists for the same award in 2021.
Source: The Glasgow Distillery
https://www.about-drinks.com/wp-content/uploads/2022/04/Banditti-Club-Rum.jpg
630
1200
Redaktion
https://www.about-drinks.com/wp-content/uploads/2019/12/logo-ad-680.png
Redaktion
2022-04-21 13:56:34
2022-04-21 13:56:34
Limited edition Glasgow Rum launches following double award win