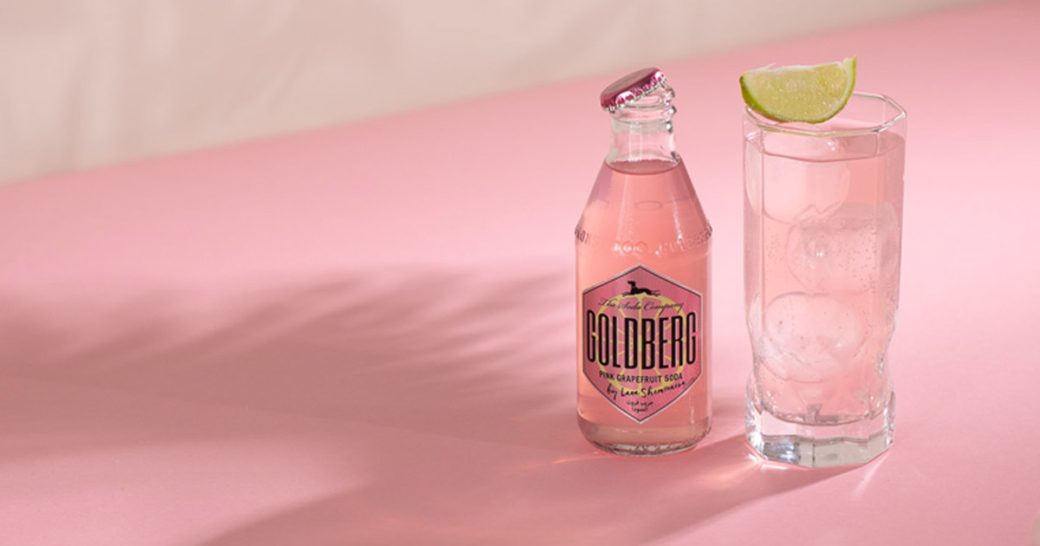 In cooperation with Lana Shemonaeva
GOLDBERG launches the new Pink Grapefruit Soda
GOLDBERG & SONS announced and celebrated the launch of its latest premium mixer innovation at the Seven Sisters in the heart of Dubai. GOLDBERG Pink Grapefruit Soda was co-developed with a highly experienced bartender Lana Shemonaeva – member of the international GOLDBERG collective team.
Following the successful cooperation with Zuma's star-barkeeper Jimmy Barrat, who co-developed the internationally successful GOLDBERG Japanese Yuzu Tonic, the premium brand has once again teamed up with a professional bartender to create an innovative, new perfect fruity-tangy mixer. This time with the expert Lana Shemonaeva – nominee for Bartender of the Year award and professional bartender in first-class class venues like Artisan, GAIA, Scalini and Shanghai Me
"GOLDBERG was open to really listen to my suggestions about what the Dubai market needed and gave me freedom to create a flavour which not only made sense for the bar itself, but also for the customer in terms of how approachable it is as a flavour profile", Lana explained.
On September 27th, Lana and GOLDBERG celebrated the new Pink Grapefruit Soda launch at Seven Sisters – an upscale bar and lounge located in the heart of Dubai's Business Bay, on the first floor of the five-star hotel JW Marriott Marquis. With a unique "Mediterranean-Asian"-food and cocktail menu served alongside breath-taking views of the Dubai Canal and skyline, the Seven Sisters is the perfect spot for GOLDBERG premium mixers.
GOLDBERG Pink Grapefruit Soda
A unique composition between fruity and tangy, which gives this premium mixer its distinctive character for a variety of occasions. Pink Grapefruit Soda tastes excellent in a Paloma, but also in many other creations like with Vodka, Rum, Whiskey and as a light drink with low-proof spirits such as Prosecco or Aperol. Or simply refreshing served pure, on ice with a squeeze of lime.
"I wanted to add deeper flavours and did some research on the citrus range. Apart from pink grapefruit, there are touches of bergamot and Meyer's lemon. Meyer's lemon itself, is a cross between a citron and a mandarin-pomelo hybrid. So theoretically, there are five different citruses involved, with pink grapefruit obviously being the dominant flavour. Bergamot peels and Meyer's lemon juice helping to round it out and provide balance", illustrates Lana further.
The flavour aspects are easily recognizable in the design. The pastel pink and rich yellow perfectly echo the marriage between fruity-sweet and fruity-tangy. Combined with the accents of pink grapefruit, the GOLDBERG Pink Grapefruit Soda design is a unique tribute to warm vacation days by the crystal-clear sea.
About MBG Group
The MBG GROUP is one of Germany's leading groups of companies in the beverage manufacturing and development sector. MBG owns and distributes the brands SCAVI & RAY Winery, SALITOS, effect®, 9 MILE Vodka, ACQUA MORELLI, GOLDBERG & SONS, SEARS, JOHN'S, DOS MAS etc.
MBG employs 250 people and generates an annual turnover of over 200 million euros with its comprehensive portfolio of own brands and 3rd party brands.
Source: MBG Group
https://www.about-drinks.com/wp-content/uploads/2021/09/GOLDBERG-Pink-Grapefruit-Soda-Mood.jpg
630
1200
Redaktion
https://www.about-drinks.com/wp-content/uploads/2019/12/logo-ad-680.png
Redaktion
2021-09-28 13:09:06
2021-09-28 13:24:19
GOLDBERG launches the new Pink Grapefruit Soda