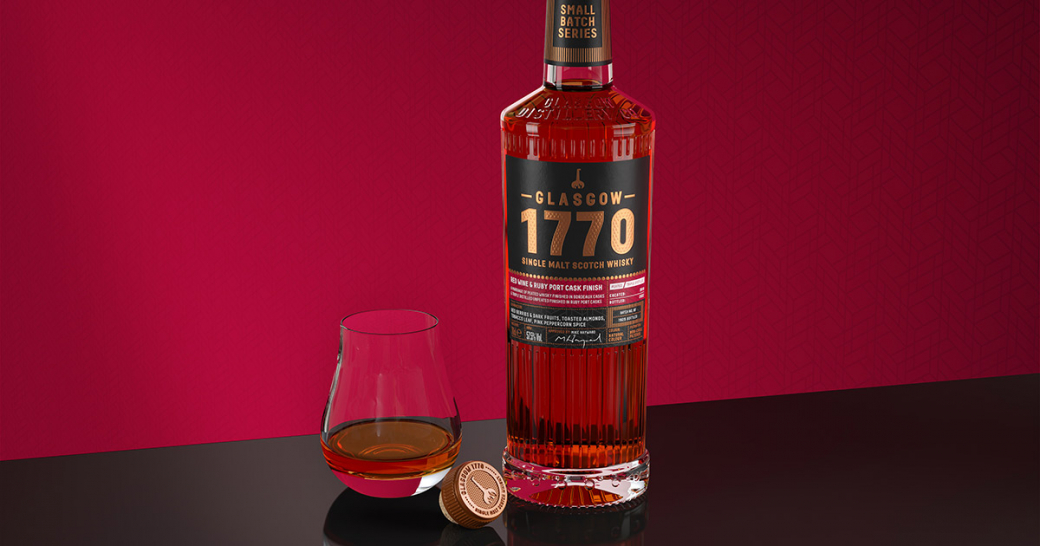 Whisky
Glasgow 1770 Whisky releases latest small batch expression
The Glasgow Distillery has announced its latest 'Small Batch Series' bottling, amping up its commitment to flavour experimentation by marrying together two distinct Glasgow 1770 single malts that have undergone different maturation processes.
Glasgow 1770 Red Wine and Ruby Port Cask Finish is the first time the distillery has married together two spirit styles that have undergone two maturation styles – its Peated whisky, matured in virgin American white oak and finished in Bordeaux red wine casks and its Triple Distilled whisky, matured in first fill ex-bourbon casks and finished in ruby port casks. Both cask types were initially laid down in early 2018 and bottled in late 2022 with an ABV of 57.5%.
A limited run of 1925 bottles is now available, with the distillery upping the number of available bottles compared to previous releases to meet the demand after the success of its Tequila, Cognac, Innis & Gunn beer and Tokaji wine cask finishes which all sold out soon after release.
Mike Hayward, Founder of The Glasgow Distillery said: "The foundation of our Small Batch Series has always been about pushing the boundaries of flavour profiles in whisky and our Glasgow 1770 Red Wine and Ruby Port Cask Finish takes this to the next level, marking our first foray into combining two distinct spirit styles with two distinct maturation processes."
"Married together in equal parts, our smoky peated and our smooth triple distilled whisky, finished in Bordeaux red wine casks and ruby port casks respectively. The peated whisky element offers a crisp, fruity and smoky experience while the triple distilled element contributes a lighter and smoother style with notes of summer berries and bright spice. Together, they harmoniously combine and balance beautifully, jointly offering notes of red berries and dark fruits on the nose, toasted almonds and tobacco on the palate and a long and spicy finish with hints of pink peppercorns."
"The response to previous limited runs in our Small Batch Series has been great, so we've increased the availability for this release to make it more accessible to our customers around the world."
Glasgow 1770 Red Wine and Ruby Port Cask Finish was created by the whisky making team at The Glasgow Distillery, in a project led by Mike Hayward – showcasing the distillery's commitment to the true collaboration at the heart of its craft.
Glasgow 1770 Red Wine and Ruby Port Cask Finish is housed in the distillery's signature, industrial bottle and is available to order now from the distillery website and selected specialist retailers in the UK. This limited release will soon be available in Germany, Taiwan, Belgium, The Netherlands, Denmark, Switzerland and Italy.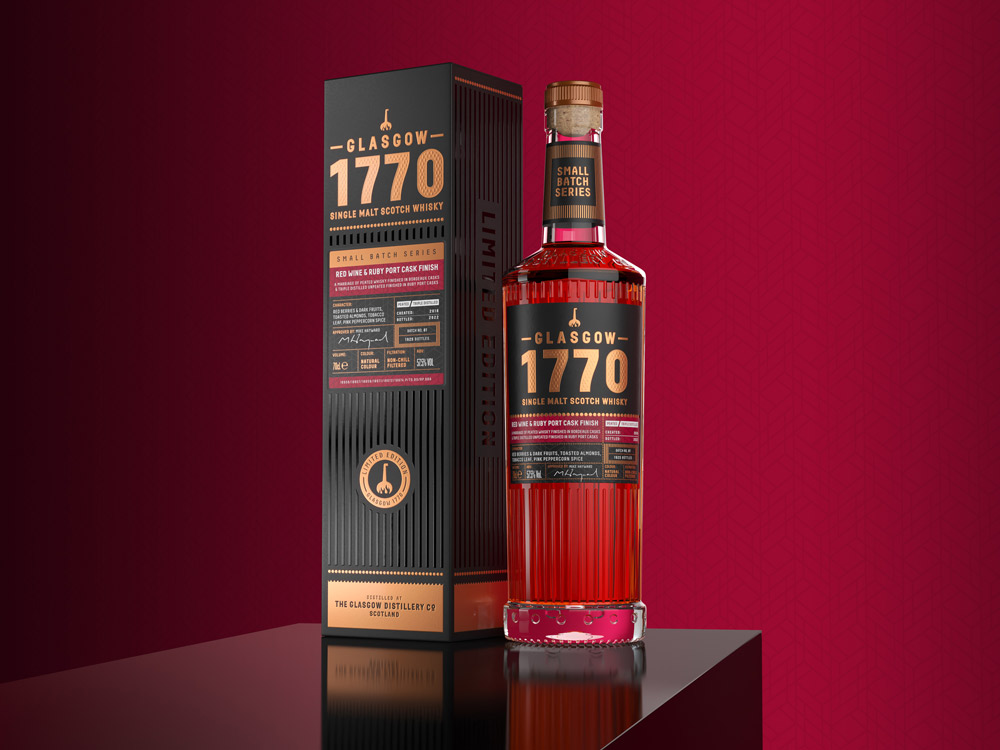 Tasting notes:
Married together in equal parts before bottling at 57.5% ABV, non-chill filtered and natural in colour, this is a limited release of 1925 bottles.
Nose: Notes of red berries and dark fruits
Palate: Toasted almonds, and rich tobacco leaf
Finish: Long and spicy with hints of pink peppercorns
RRP: £59
About Glasgow 1770 Single Malt:
Glasgow 1770 is The Glasgow Distillery's signature single malt and demonstrates a commitment to authenticity and quality, realising their mission as contemporary urban distillers. Honouring the heritage of single malt distilling in Glasgow by using the date 1770, paying homage to the original foundation of Glasgow Distillery, before its closure in 1902. Proudly handcrafted in their special copper pot stills, christened: Tara, Mhairi, Margaret and Frances, Glasgow 1770 Single Malt Scotch Whiskies combine barley and the exceptionally pure water of Loch Katrine to create the finest spirit. Matured in hand-selected casks, always non-chill filtered and only ever natural in colour, the Glasgow 1770 Signature Range consists of: The Original, Peated and Triple Distilled; three single malts of sublime quality that have successfully brought single malt whisky back to the city of Glasgow.
Peated and The Original were awarded gold at The Scotch Whisky Awards in 2020 and 2021 and Triple Distilled recently won gold at International Wine & Spirits Competition. The full range has been named 'Best Lowland Single Malt' consecutively for the past four years at the International Whisky Competition.
About The Glasgow Distillery:
The Glasgow Distillery Company was established in 2012 by three friends. Together, they opened Glasgow's first independent single malt whisky distillery since 1902, with the unwavering mission to bring single malt distilling back to the city. The company produces an award-winning portfolio of brands, each inspired by the city's rich past, including:
Glasgow 1770 Single Malt Scotch Whisky. Launched in 2018, the distillery launched its first batch of single malt Scotch whisky with Release No. 1 selling out within days via an online ballot. The Original has subsequently been followed by the release of a Peated expression in 2019, and Triple Distilled expression in 2020, forming the distillery's 'Signature Range'.
Makar Gin, boasts an impressive 60 international awards since its launch in 2015, including World's Best Flavoured Gin for their Makar Cherry expression.
Banditti Club Rum, which launched in 2019.
G52 Botanical Vodka, which consists of G52 Fresh Citrus and G52 Rich Coffee, launched in February 2020.
Malt Riot Blended Malt, launched in 2020 it tells the story of the 1725 Malt Riots which started in Glasgow and spread across Scotland.
The Glasgow Distillery was awarded 'Craft Producers of the Year' at the Whisky Magazine Icons of Whisky Awards in 2017 and 2019 as well as being named 'Scottish Whisky Distillery of The Year' at The Scottish Whisky Awards in 2020.
Source: The Glasgow Distillery Company
https://www.about-drinks.com/wp-content/uploads/2023/02/Glasgow-1770-Red-Wine-Ruby-Port.jpg
630
1200
Redaktion
https://www.about-drinks.com/wp-content/uploads/2019/12/logo-ad-680.png
Redaktion
2023-02-28 12:04:24
2023-02-28 12:04:24
Glasgow 1770 Whisky releases latest small batch expression