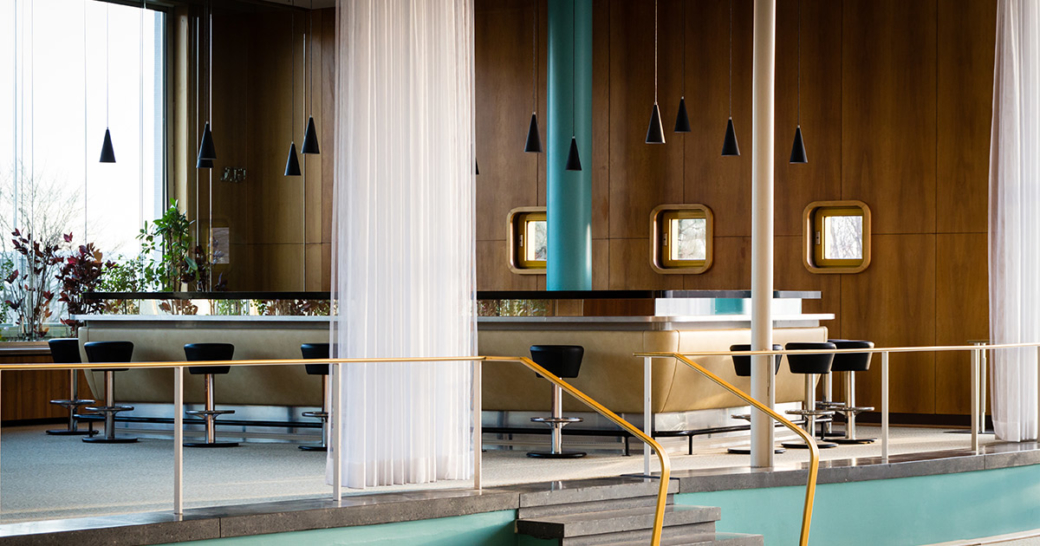 With Russian Standard Vodka
Known as the 'bar with no name', it is famous for its minimalist Bauhaus style. Now the BCB is working with Russian Standard Vodka to bring this popular London bar run by Rémy Savage to Berlin.
The historic Palais of Messe Berlin will be a very special attraction at the Bar Convent Berlin (BCB): Rémy Savage and team will be taking over the bar there for three days. They have brought with them their minimalist concept inspired by the Bauhaus, one of the most influential educational institutions in the field of architecture, art and design in Germany in the 1920s and far beyond.
Rémy Savage is one of the most inspiring personalities in the international bar industry. In London's 'Artesian Hotel', he accepted the challenge of following in the giant footsteps of Alex Kratena and managed to impress with his menu of two-component drinks. Before this he had caused a stir in Paris, making famous its 'Little Red Door' establishment whose bar menus enchanted patrons with the interplay of each drink with design, architecture and art. It is an idea that he has taken a step further in a bar of his own that he has recently opened.
Bar with no name
His bar in East London, for example, is entirely devoted to the ideas, concepts and principles of Bauhaus. This begins with the design and certainly does not end with the drinks. The principle of minimalism applies here. The team uses only 20 bottles for their creations. All recipes are made public. The bar does not need a name, only a yellow triangle, red square and blue circle mark it according to Kandinsky's teachings. Rémy Savage and his team are now carrying this concept to the BCB. It is not the usual guest shift, but rather a takeover that exhibitors and visitors have every right to look forward to. Because they can expect nothing less than the classics that the bar offers in London.
"Zeitlos Berlin" with the originals
To ensure that the Messe Berlin Palais also shines in Bauhaus style, the BCB is working with "Zeitlos Berlin". The design studio sells, restores and rents out the furniture and design objects. Film productions like to make use of the magnificent originals, and this year they will be used at the trade fair and lend the perfect ambience to Rémy's "takeover".
About the BCB
The BCB is one of the leading international trade shows for the bar and beverage industry. Every year, this is where a veritable who's who of the German and European bar and beverage industry gets together to make new contacts, find out about the latest product innovations and attend educational seminars. www.barconvent.com
About RX
RX strives to create business opportunities for individuals, communities and organisations. With its combination of data and digital products, RX increases the appeal of 400 events in 22 countries and 43 sectors. RX is part of RELX, a global provider of information-based analytical and decision-making tools for professional and business clients. www.rxglobal.com
Quelle: Reed Exhibitions | Picture: © Messe Berlin
https://www.about-drinks.com/wp-content/uploads/2021/10/BCB-Messe-Berlin-Bauhaus-Bar-1.jpg
630
1200
Redaktion
https://www.about-drinks.com/wp-content/uploads/2019/12/logo-ad-680.png
Redaktion
2021-10-06 14:39:54
2021-10-06 14:39:54
BCB implements Bauhaus pop-up bar with Rémy Savage